Clean Technology Industry on Track to End 2003 with More Than $1.3 Billion Invested
ANN ARBOR, MI, DECEMBER 15, 2003 - Investments in the clean technology industry in North America continued to hold steady in the third quarter of 2003, according to data in the most recent issue of the Cleantech Venture Monitor, just released by the Cleantech Venture Network. Overall investment activity in clean technology declined by just over 2 percent to $316 million compared to Q2 of 2003, and by just under 2.5 percent compared to the third quarter of 2002. At the current investment pace, clean technology is projected to end 2003 with more than $1.3 billion invested, slightly ahead of 2002 totals.

Clean technology captured 7.4 percent of the $4.3 billion invested overall in the U.S., down just .1 percent from the previous quarter but up.2 percent compared to the prior year.
"While overall clean technology investment numbers are steady, we continue to see an increased level of activity in the industry," said Nicholas Parker, co-founder and chairman of the Cleantech Venture Network. "A significant number of new investors, combined with heightened media interest, suggest a genuine 'cleantech' community of investors, entrepreneurs and stakeholders is emerging. We look forward to continuing to report on the clean technology industry's growth and offer insight on trends through both our quarterly Venture Monitor and our semi-annual Venture Forums."
Key Data Points:
The number of companies receiving capital increased to 52 from 42 in the previous quarter, back to a level consistent with those seen for the past two years
Average deal size decreased to just over $6.1 million from $8.2 million in Q2 2003, and the $6.4 million recorded in Q3 2002.
Energy related investments increased by 80 percent to $165 million. Transaction volume increased to 23 from 16 in Q2. Unlike the last quarter where none of the five largest deals completed was energy-related, Q3 saw four of the five largest clean technology deals were energy-related.
Activity on both the West Coast and in the Northeast significantly declined in Q3 from previous quarters. Investments in each region declined by more than 40 percent with the West Coast down to just over $83 million and the Northeast to just under $60 million. Together the two regions took 46 percent of all capital invested in Q3 as compared to 81 percent of the total in the previous quarter.
However, other regions of the country are showing activity. The Midwest Q3 investment of $20.6 million remained quite consistent with that recorded in Q2. The Northwest captured 4.9 percent ($15.3 million) of the capital invested, and the Southwest at 8.9 percent ($27.8 million). Investment in the Rockies/Plains regions remained virtually insignificant at just .2 percent of the total.
Canada continued its increase in activity capturing 7.6 percent of the capital invested for a total of $23.8 million - up 52 percent from the $15.6 million recorded in Q2.
Canada-based Hydro-Quebec CapiTech and OPG Ventures were the most active investors with three Q3 deals each. Several others completed two deals in Q3 - 3i, Crossbow Ventures, Draper Fisher Jurvetson, E2 Venture Fund, Firelake Capital Management, Morgenthaler Ventures, NGEN Partners, Nth Power, Perseus 2000 LLC., U.S. Venture Partners, and Ventures West Management.
80 percent of invested capital went into follow-on rounds - up from 71 percent in Q2. The number of follow-on investments increased significantly to 35 from 16 in Q2, while the average investment declined to $7.4 million from $15.0 million in Q2.
The quarter ended with seed and first round financings continuing their lengthy decline receiving only 20 percent of the capital invested, compared to 29 percent in the previous quarter, and 41 percent in Q1.
About the Cleantech Venture Network
The Cleantech Venture Network (CLEANTECH) is a market facilitation service supported by private investors. The company believes "clean technologies" - from solar energy to water purification - are the next wave of venture investing. CLEANTECH introduces promising young companies to investors and investors to quality deal-flow. The company has developed a community of money managers, business executives, professional advisors, and other stakeholders active in the clean technology venture arena. CLEANTECH organizes venture forums, provides deal flow, publishes its quarterly venture monitors and offers related services to investors and entrepreneurs. CLEANTECH benefits from the expertise and counsel of an advisory board comprised of representatives from 13 leading venture capital and service provider firms specializing in clean technology. More about the company can be found at www.cleantechventure.com or by calling 734-528-2979.
Featured Product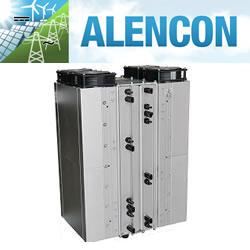 Alencon Systems is the premier manufacturer of high power, high voltage DC:DC optimizers for alternative energy applications including solar, battery energy storage, Microgrids, Fuel Cells and Electric Vehicle charging. Alencon's DC:DC converter offerings include the SPOT, BOSS and CUBE series DC:DC converters. The SPOT is a modular, uni-directional DC:DC solution ideal for solar applications. The BOSS is a modular, bi-directional unit for use with battery energy storage. The CUBE is a monolithic DC:DC converter which is available in both uni-directional and bi-directional modalities. Pictured above, is the Alencon SPOT.