New CEO Brings 30 Years of Operations Experience to Launch The Growth Phase of Evergreen Solar
MARLBORO, Mass., Dec. 12 /PRNewswire-FirstCall/ -- Evergreen Solar, Inc. (Nasdaq: ESLR), a developer, marketer, and manufacturer of photovoltaic (solar power) products for the worldwide market, today announced the appointment of Richard M. Feldt as Chief Executive Officer and President and a member of the Board of Directors, effective today. Mr. Feldt succeeds Mark A. Farber, who takes the position of Vice President of Marketing and Business Development and remains a Director.

Robert W. Shaw, Jr., Chairman of the Board, commented, "Evergreen Solar's Board is very pleased to announce Rick's appointment. Evergreen has entered a new phase of development as we look to expand our manufacturing capacity fourfold over the next 12 to 18 months. Rick's 30-year track record in successfully growing global technology and manufacturing businesses will be instrumental in the current major expansion."
Mr. Shaw continued, "Mark Farber has been an enormous asset to Evergreen Solar during the past nine years. Mark created the platform we now have and positioned us to accelerate the growth of this business. In his new role, he will be able to focus his solar market expertise to support the Company's aggressive sales objectives."
Philip J. Deutch of Perseus LLC, lead investor in the May 2003 $30 million Series A Preferred financing, and Evergreen Director, said, "Evergreen Solar has one of the strongest management teams in the energy technology space. The addition of Rick Feldt is going to make a great team even better. Rick has the management experience, track record, and skill set to augment the Evergreen team and take advantage of the significant opportunities ahead. Rick's appointment as CEO is consistent with the strategy of the Series A investors to provide Evergreen with the resources -- managerial and financial -- to create significant value for its shareholders."
Richard Feldt, age 52, joins Evergreen Solar from Perseid, a developer of optical phased array technology created by Raytheon, where he served as Chief Executive Officer. Previously, he served as Chief Operating Officer of SupplierMarket.com, which was sold to Ariba. Prior to that, Mr. Feldt was Senior Vice President and General Manager of Worldwide Operations at Symbol Technologies (NYSE: SBL), where he contributed to doubling revenues in four years. As head of operations, Mr. Feldt increased Symbol's competitive advantage by streamlining its complex supply chain and significantly reducing cycle times and material costs. In addition, Mr. Feldt has held senior positions at A.T. Cross Company, Eastman Kodak Company, and Spectra-Physics, Inc. He received a bachelor's degree in industrial engineering from Northeastern University.
Mr. Feldt stated, "As an innovator in crystalline silicon, Evergreen Solar has a great technology foundation and a strong management team in place. I look forward to leading Evergreen Solar through the expansion and transformation into a formidable industry player."
About Evergreen Solar, Inc.
Evergreen Solar, Inc. (www.evergreensolar.com) develops, manufactures, and markets solar power products utilizing the Company's patented solar power technologies. The products provide reliable and environmentally clean electric power in global markets. Solar power applications include wireless power for remote homes, water pumping, lighting, and rural electrification, as well as complete power systems for electric utility customers choosing to generate their own environmentally benign power.
Featured Product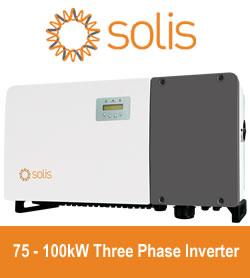 Solis75kW - 100kW series high-power string inverters are widely used in industrial and commercial rooftops. Solis's new three-phase string inverter is the first choice for industrial and commercial photovoltaics. 75-100kW three phase series string inverter have Maximum 28 strings input, support "Y" type connection in DC side. Maximum string input current 13A, support bifacial modules access.Supports anti-PID function to improve system efficiency.