ICP Solar Technologies and Seapower Manufacturing Ltd. will unveil a solar power backpack prototype at CES 2004
MONTREAL, Canada - ICP Solar Technologies Inc. (ICP), and Seapower Manufacturing Ltd., worldwide supplier of high quality backpacks, daypacks, camera bags, CD cases and accessories, will unveil a solar power backpack prototype at 2004 International CES, January 8-11, Las Vegas.

The ICP Global Solar division is integrating ICP's flexible thin-film photovoltaic technologies (CIGS) into a Seapower backpack. This unit will allow its user to connect and charge their portable electrical and digital devices in one convenient and fully integrated package. Strategically mounted CIGS panels are pre-wired, providing solar power to individual devices for power storage (charging) or immediate consumption.
Seapower is constantly looking into new products and design to brand and market. "We are very excited to be working on this project alongside ICP to come up with a product that combines quality bag design and innovative technology", said Ms Marilyn Eng Wood, Marketing Manager at Seapower.
"This prototype is one more example of the extraordinary commercial potential of ICP's exclusive flexible solar technology in the world of mobile personal gear," said Sass M. Peress, President and CEO of ICP Solar Technologies Inc.
ICP Global Solar CIGS technology is a high efficiency, ultra lightweight personal solar power solution that has proved itself in numerous applications, ranging from marine to desert environments. It is a highly durable and self-repairing solar technology, ideally suited for mobile applications. Combined with integrated charge control and optional battery/charger systems, it provides the conveniences of back-up and always on, on-demand small scale solar electrical power.
The prototypes will be presented at the ICP booth at the 2004 International CES, located at booth # 21704 SO 3&4 and at the Sea Power booth, located at booth 22128 SO3&4.
About ICP Solar Technologies Inc.
ICP Solar Technologies Inc. was founded in 1988 and is headquartered in Montreal, Canada. It also has offices in Europe, North and South America, and Asia. ICP strives to be an innovator in solar energy by continually introducing new products to meet its customers' needs.
For more information about ICP Solar Technologies, please visit www.icpsolar.com
Let our power give you freedom®.
Press contact:
Helene Frechette, Corporate Communications Manager
ICP Solar Technologies Inc.
6995 Jeanne-Mance St.
Montreal, Quebec, Canada H3N 1W5
Tel: 1-514-270-5770/ Cell.: 1-514-793-0393/ Fax: 1-514-270-3677
press@icpglobal.com
About Seapower Manufacturing Ltd.
Seapower Manufacturing has been an OEM bag manufacturer for the last fifteen years. Seapower started as a small, family owned facility and has grown into an international corporation.
We are an experienced manufacturer and our specialty is in producing any type of bags that are cut and sewn. We have backpacks, rucksacks, digital and still photography camera bags, CD cases, gift sets, travel bags and computer backpacks. Seapower is constantly adding to this list of new products.
Our core strength is in producing a quality product that we are proud to put our name on. Seapower is one of few companies in Asia that has a well-developed designing team. We have assisted major brands in designing entire lines of products. We have consistently outgrown our facilities by delivering, to our clients, on our commitment to produce the best quality products.
Contact:
Ms Marilyn Eng Wood
Marketing Manager
27 Collie Melito Way
Woodbridge, Ontario, Canada, L4H 1N9
Tel: (905)893-9501
E-mail: marilyn.eng-wood@seapowerhk.com
Featured Product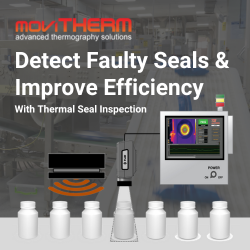 MoviTHERM's Thermal Seal Inspection (TSI) solution provides precise and reliable detection of defects in a variety of packaging types, including pouches, bags, blister packs, bottle caps, and more. By detecting defects in your packages, the TSI solution helps increase efficiency in your production line and ensures top-quality packaging is delivered to your customers every time. With state-of-the-art technology and an experienced team, MoviTHERM is dedicated to delivering accurate inspection solutions and peace of mind to its clients. Contact MoviTHERM today to learn more about their thermal seal inspection solution.