High performance house showcased at International Builder Show
Golden, Colo., Jan. 13, 2004 - The National Association of Home Builders (NAHB), Builder Magazine, the National Council for the Housing Industry, Merlin Contracting, the U.S. Department of Energy (DOE) Office of Building Technologies, the National Renewable Energy Laboratory (NREL), and IBACOS (Integrated Building and Construction Solutions) have collaborated to design and build The New American Home® as a showcase for energy efficiency at the International Builders Show.

The New American Home is an annual project co-sponsored by the NAHB National Council of the Housing Industry and Builder Magazine. Merlin Contracting of Las Vegas, Nev., built this year's home in the Sahara Lake community, just west of downtown Las Vegas.
To design and build this energy-efficient and attractive home, Merlin Contracting and the home's architect, Lex van Straten, consulted with Building America's IBACOS Consortium to develop the energy features of the home. Building America is a residential system research program sponsored by the DOE Office of Building Technologies with technical support from NREL, the IBACOS Consortium, and other Building America teams. This home will be used for several IBACOS research projects.
The 2004 New American Home has been designed to reach a Home Energy Rating System (HERS) score of 90, a score well above the minimum Energy Star® rating requirement of 86.
The home effectively integrates a number of high-performance energy systems. According to Ren Anderson, project lead for Building America residential research at NREL, "This year's design has successfully combined a number of features appropriate to a hot-dry climate to achieve a HERS score that represents a 50 percent reduction in space conditioning and hot-water energy use. This is a significant step toward DOE's long-term goal of reducing overall residential energy use by 70 percent."
Specific technologies used in this home include a foundation and above-ground exterior walls built of insulated concrete forms, windows that limit solar heat gain, a roof system built with structural insulated panels (SIPs), a heat-recovery ventilator for the ventilation system, and superior efficiency air-conditioning units.
The concrete forms provide excellent insulation for the basement. SIPs provide the roof system with good insulation and airtightness. The heat-recovery ventilator ensures good indoor-air quality in an efficient manner by tempering incoming hot outdoor air with cooler indoor air. The air conditioning units have a seasonal energy efficiency ratio (SEER) between 14.7 and 16 and provide excellent cooling capacity, while using minimal energy.
As a result of these improvements and advanced technologies, the home will use 50 percent less energy for space heating, cooling, and hot water than a standard home. The 5,000-square-foot home includes a pool that overlooks Sahara Lake. Special measures will be taken to isolate the pool from the adjacent living space. Other aesthetic features include a loft design that offers versatility for interior design and layout options.
Merlin Contracting has been building custom homes in southern Nevada for more than 10 years. Many of the homes they build have 10,000 square feet floor areas and feature unique architectural designs developed specifically for the community and natural surroundings where they are located.
Building America is a private/public partnership that provides energy solutions for production housing. The Building America Program combines the knowledge and resources of industry leaders with DOE's technical capabilities, acting as a catalyst for change in the home-building industry. For more information contact Ren Anderson, NREL (303-384-7433). Or visit these Web sites:
The New American Home at www.TNAH.com

DOE Office of Building Technology at
Building America at www.buildingamerica.gov
IBACOS at www.ibacos.com
A brochure providing an overview of home features can also be found at:
(PDF 1.1 MB)

NREL is the U.S. Department of Energy's premier laboratory for renewable energy research and development and a leading laboratory for energy efficiency R&D. NREL is operated for DOE by Midwest Research Institute and Battelle.

Visit NREL online at www.nrel.gov
Featured Product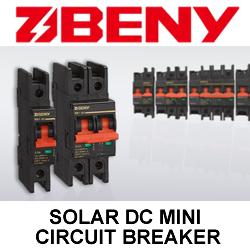 The BB1-63 modular miniature circuit-breakers can be used in solar DC circuits up to 1200 VDC (4-poles execution). Application in solar DC circuits, battery energy storage systems and UPS. Arc flash barrier design keeps solar equipment more safe and reliable. For DC circuit over-current protection.