Prominent Venture Firm to Play Key Role in Shaping Content for San Francisco Event
ANN ARBOR, MI, FEBRUARY 9, 2004 - Cleantech Venture Network, a grouping of investors managing over $1 billion in cleantech venture assets, today announced Wayne, Pennsylvania-based EnerTech Capital Partners has signed on to serve as a lead sponsor for Cleantech Venture Network and the fourth Cleantech Venture Forum, taking place April 28-30 at the Fairmont Hotel in San Francisco. Cleantech Venture Forum is the only capital forum designed exclusively to facilitate the finance of companies commercializing clean technologies by bringing together clean technology entrepreneurs and venture investors and providing them with a venue in which deals and relationships can originate and incubate.

"More than $2.5 billion has been invested in cleantech ventures over the past two years," said Nicholas Parker, co-founder and chairman of the Cleantech Venture Network. "The Cleantech Venture Forum continues to attract increasing numbers of both participating companies and attendees seeking information on this growing investment market. We welcome EnerTech Capital onboard as a lead sponsor and look forward to the firm's insights and deep knowledge of the clean technology industry in helping to shape the content for our fourth event."
"Based on our long experience with the venture community and at other venture events in the clean technology space, we believe the Cleantech Venture Forum has emerged as a premier event and we look forward to this being the start of a long, more formal relationship," said Scott Ungerer, managing director of EnerTech Capital. "No other event attracts the same caliber of both attendees and participants as this. As a pioneer in this investment space with a substantial track record of success, we're delighted to play a prominent role in the development of this fourth event and look forward to working closely with Cleantech Venture Network to ensure Forum attendees once again have access to the best content and thinkers in the industry."
Cleantech Venture Forum is held twice annually (once on both the East and West Coasts), with more than 300 attendees expected to attend Cleantech Venture Forum IV. Besides EnerTech, an additional list of "Who's Who" of investors from venture capital firms, corporations, fund management and private wealth attend the event - the largest gathering of investors interested in clean technology investment opportunities. During the Forum, attendees hear presentations from companies in the clean technology industry, participate in meetings with key investors including business angels, venture capitalists, fund managers, investment bankers and corporations and take advantage of leading-edge information and research on the investment opportunities from leading thinkers on clean technology innovations and trends.
EnerTech is joining Heller Ehrman White & McAuliff LLP as a lead sponsor for Cleantech Venture Forum IV; Technology Partners, Asia West Fund, and NGEN Partners are also sponsors for the event. Interested attendees can register for Cleantech Venture Forum IV online at www.cleantechventure.com under "Events," or by calling 517-223-9607.
About EnerTech Capital Partners
Founded in 1996, EnerTech Capital is recognized as one of the leading venture firms focused on innovative materials and technology companies with the promise to revolutionize the energy and cleantech industries. EnerTech has an established track record of success in these sectors and currently manages two funds totaling $289 million in committed capital. EnerTech's professionals combine deep operating backgrounds with extensive investment experience to provide entrepreneurs, corporate partners, co-investors, and limited partners with the best of vertical domain expertise, management skills and a network of valuable resources in a specialized venture fund. For more information on EnerTech, the firm, call 610-254-4141 or visit www.enertechcapital.com.
About the Cleantech Venture Network
The Cleantech Venture Network (CLEANTECH) is a grouping of investors managing over $1 billion in cleantech venture assets. The company believes "clean technologies" - from solar energy to water purification - are the next wave of venture investing. CLEANTECH introduces promising young companies to investors and investors to quality deal-flow. The company has developed a community of money managers, business executives, professional advisors, and other stakeholders active in the clean technology venture arena. CLEANTECH organizes venture forums, provides deal flow, publishes its quarterly venture monitors and offers related services to investors and entrepreneurs. CLEANTECH benefits from the expertise and counsel of an advisory board comprised of representatives from 13 leading venture capital and service provider firms specializing in clean technology. More about the company can be found at www.cleantechventure.com or by calling 517-223-9607.
Featured Product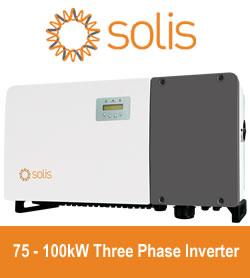 Solis75kW - 100kW series high-power string inverters are widely used in industrial and commercial rooftops. Solis's new three-phase string inverter is the first choice for industrial and commercial photovoltaics. 75-100kW three phase series string inverter have Maximum 28 strings input, support "Y" type connection in DC side. Maximum string input current 13A, support bifacial modules access.Supports anti-PID function to improve system efficiency.