Technology Shift Applauded by Lighting Supplier Carmanah Technologies, of Victoria, Canada
Vancouver, British Columbia, Canada - Monday, March 8, 2004 - Carmanah Technologies Inc. (TSX Venture: CMH) is pleased to announce that effective March 8, 2004 a new U.S. Coast Guard regulation takes effect officially endorsing the use of LED (light emitting diode) lighting technology for private aids-to-navigation (PATONs). Previous regulations specified the use of tungsten-incandescent bulbs.

"This is a significant milestone for our company," states Carmanah CEO, Art Aylesworth. "The endorsement of LED solid state lighting for the marine industry is equivalent to the shift from kerosene to electricity in the last century."
The new U.S. Coast Guard regulation means, for the first time, individuals, corporations, and all levels of government will be allowed to use approved LED-based marine lighting for their marine navigation aids. In the U.S., these aids account for more than half of all aids-to-navigation registered. "LEDs are set to replace incandescent light bulbs for marine navigation in the United States and this presents an opportunity for Carmanah to do more business south of the border", states Aylesworth.
The U.S. Coast Guard has been using Carmanah's solar-powered LED lights since 1999 - making them the only LED marine navigation lights approved for use in the U.S. federal Aids-to-Navigation System. The Canadian Coast Guard also uses Carmanah's lights extensively for navigation lighting on Canada's waterways.
Compared to tungsten-incandescent bulbs, LEDs burn 20 times longer and use up to 90 percent less electricity. LEDs are also ideal for marine navigation lighting because they are durable, compact, and require no maintenance.
About Carmanah
Carmanah is an award winning alternative energy manufacturer specializing in patented solar-powered LED lighting solutions for the marine, aviation, transit, roadway, railway and industrial worksite markets. The company currently has more than 80,000 units installed in 110 countries. The shares of Carmanah Technologies Corporation (parent company) are publicly traded on the TSX Venture Exchange under the symbol "CMH" and on the Berlin and Frankfurt Stock Exchanges under the symbol "QCX". For more information, please visit www.carmanah.com.
For more information on Carmanah Technologies and marine lights, please visit www.solarmarinelights.com. For digital photos, information on LEDs and the new U.S. Coast Guard regulation Contact: David Davies at 250.382.4332, ddavies@carmanah.com.
Featured Product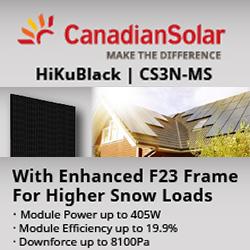 Aesthetic appearance for residential systems: With black backsheet & black frame, Power range 380 ~ 405 W, Low power loss in cell connection. Enhanced reliability: · Low temperature coefficient (Pmax): -0.34 % / °C, LID LeTID less than 2.0%, Lower hot spot temperature, Better shading tolerance.