GRC Signs Solar Data Centers to Bring the World's Largest Geothermal Research Library to the Internet
Raleigh, NC - March 25, 2004 - Solar Data Centers, Inc. (SDC), the world's only company using solar energy to power every aspect of an organization's Internet operations, today announced that the Geothermal Resources Council (GRC) has chosen SDC to redesign and expand the GRC web site. The technology initiative will make the GRC research library, the world's leading geothermal research resource, available to the public over the Internet. The entire digitization preservation effort includes over 26,000 pages of research material.

"The expansion of our Internet presence is a strategic effort by the Council to expand the knowledge of and interest in the benefits of geothermal energy, while creating a central location where this crucial research can be preserved," said Ted Clutter, GRC executive director. "We expect the online GRC research center to expand the membership of the Council and further educate the public about an renewable energy source that doesn't require waiting for the sun to shine or the wind to blow."
The GRC research center will include all GRC copyrighted technical literature written since the inception of the association in 1972. The library will consist of every paper presented at GRC Annual Meetings since 1976, all published GRC Special Reports, and every edition of the GRC Bulletin magazine published since 1979.
The project is funded by a federal grant from the Geothermal Technology Organization (GTO), a U.S. Department of Energy-industry consortium. The grant was awarded in support of GRC's efforts to catalog and preserve its geothermal research library and to make the entire collection available on the Internet.
SDC's development team will design a customized web site including a complete index of the files of digitized research. SDC will also design and build unique search engine technology that will use both key word and OCR (Optical Character Recognition) searching techniques. The research center will also include an easy-to-use e-commerce system for purchase of GRC materials. All research is free of charge for GRC members and $30 per item for non-members. GRC membership is $100 per year.
About Geothermal Resources Council
The Geothermal Resources Council (GRC) is a tax-exempt, non-profit, educational association. Formed in 1970, the Council was incorporated in the state of Washington in 1972, and in California in 1981. With members in more than 20 countries, the Council actively seeks to expand its role as the primary geothermal educational association throughout the world. The Council works to encourage the development of geothermal resources worldwide through the collection and timely distribution of data and technological information. GRC promotes research, exploration and development of geothermal energy in ways compatible with the environment, while serving as a public forum for the world geothermal community, and provide transfer of objective and unbiased information on the nature of geothermal energy and its development. The Geothermal Resources Council cooperate and communicate with academic institutions, industry and government agencies on economically and environmentally sound development and utilization of geothermal resources. For more information, call (530) 758-2360 or visit http://www.geothermal.org.
About Solar Data Centers, Inc.
Solar Data Centers, Inc. (SDC) is the only company in the world using solar energy to run every aspect of an organization's Internet operations. SDC provides a full range of Web services to more than 300 clients, most of which are corporations and non-profits interested in renewable energy and environmental issues. SDC utilizes exclusively 100% solar energy to power its servers, offering a broad range of complementary services such as Web hosting, system administration, Web site design, network security, programming and database management. Solar Data Centers derives its power from solar panels installed throughout the country. Using Green Certificates -- vouchers that organizations purchase to guarantee that renewable energy enters the general power grid -- each dollar spent with SDC is guaranteed to support renewable energy sources. For more information, call 1-800-830-3415 or visit www.solardatacenters.com.
Featured Product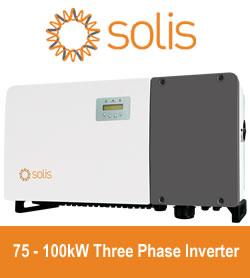 Solis75kW - 100kW series high-power string inverters are widely used in industrial and commercial rooftops. Solis's new three-phase string inverter is the first choice for industrial and commercial photovoltaics. 75-100kW three phase series string inverter have Maximum 28 strings input, support "Y" type connection in DC side. Maximum string input current 13A, support bifacial modules access.Supports anti-PID function to improve system efficiency.