Final 2003 Numbers Demonstrate Trend Shifts in Composition of Investments, Deal Stages
HOWELL, Mich., March 8, 2004 - Investments in clean technology-related ventures continued to rise in 2003, despite a decline in overall venture investing in North America and Europe, according to the most recent issue of the Cleantech Venture Monitor just released by the Cleantech Venture Network.

In the United States, overall venture activity declined by 14 percent from $21.2 billion in 2002 to $18.2 billion in 2003; by comparison, cleantech investing increased from $1.1 billion to $1.2 billion, a rise of nearly eight percent. As a result, cleantech grew in relative terms from 5.1 percent of total venture investments in 2002 to 6.4 percent in 2003, improving market share by 26 percent.
"The final 2003 numbers demonstrate some very interesting trend shifts in cleantech investing," said Nicholas Parker, co-founder and chairman of the Cleantech Venture Network. "For instance, the composition of cleantech venturing in 2003 was remarkably different from the previous year, particularly the significant interest we're seeing in companies in the 'advanced materials and nanotech area' where investments were up 64 percent from 2002. We're also seeing investors focusing their attention at different stages of cleantech deals."
Parker continued, "For the cleantech venture to continue its growth of the past several years, two things are essential: successful exits from deals and the participation of major institutional investors to complement the strategic investors who have anchored the leading cleantech funds to date. To this end, recent developments are encouraging, particularly the successful IPOs of Xantrex Technology, European asset manager Robeco's announcement in January of the formation of a €200 million cleantech private equity fund of funds and CalPERS' announcement that it would invest $200 million in cleantech. We're looking forward to discussions of how all these events affect the future of the cleantech industry at our upcoming Cleantech Venture Forum in April."
Key Data Points:
• Energy-related investments declined by 10 percent to $443 million, with investments in distributed and alternative generation dropping by 50 percent. Offsetting the drop in investment in generation-related deals was the increased investment in energy storage companies, which grew by more than 200 percent to $106 million in 2003 from just $35 million in 2002.
• Cleantech companies in the "advanced materials and nanotech" area raised 64 percent more in 2003 than in 2002; at $245 million raised last year, this segment represented one in five deals done
• Agriculture and nutrition companies focused on cleantech applications also attracted more investor interest, raising $81 million - an increase of nearly 400 percent on 2002.
• Investors concentrated more on later stage cleantech deals in 2003; follow-on investments took 66 percent of all capital deployed, an increase of 30 percent on 2002.
• Investors also concentrated their efforts in the traditional venture hotspots along the West Coast and in the Northeast. In 2002, these two regions accounted for 45 percent of cleantech capital invested, whereas in 2003 they came in at nearly 60 percent. West Coast companies raised $395 million in 2003, an increase of 60 percent over 2002. Geographic losers in 2003 were Canadian and Midwestern companies; Canadian companies raised only $78 million in 2003, down from $150 million a year ago.
• $231 million was invested in cleantech deals in the final quarter of 2003. The number of cleantech companies backed - fifty - was consistent with previous quarters. Early stage deals accounted for 43 percent of capital invested, indicating the drop-off in investment from previous quarters was mainly in follow-on rounds that dominated the first three quarters of the year. The reason for the overall drop-off may be partly due to the attention being focused by the principal cleantech VCs on getting new, early stage deals done while preparing select later stage portfolio companies for exit.
Cleantech Venture Network will be hosting the Cleantech Venture Forum IV, April 28 - 30 at the Fairmont Hotel in San Francisco. Cleantech Venture Forum is held twice annually (once on both the East and West Coasts), with more than 300 attendees expected to attend the April event. During the Forum, attendees hear presentations from companies in the clean technology industry, participate in meetings with key investors including business angels, venture capitalists, fund managers, investment bankers and corporations and take advantage of leading-edge information and research on the investment opportunities from leading thinkers on clean technology innovations and trends. Lead sponsors include Heller Ehrman White & McAuliffe LLP. and EnerTech Capital. Interested attendees can register for Cleantech Venture Forum IV online at www.cleantechventure.com under "Events," or by calling 517-223-9607.
About the Cleantech Venture Network
The Cleantech Venture Network (Cleantech) is a grouping of member investors managing over $3 billion in cleantech venture assets. The company believes "clean technologies" - from solar energy to water purification - are the next and necessary wave of venture investing. Cleantech introduces promising young companies to investors and investors to quality deal-flow. The company has developed a community of money managers, business executives, professional advisors, and other stakeholders active in the clean technology venture arena. Cleantech organizes venture forums, provides deal flow, publishes a quarterly venture monitor and offers related services to investors and entrepreneurs. Cleantech benefits from the expertise and counsel of an advisory board comprised of representatives from 14 leading venture capital and service provider firms specializing in clean technology. More about the company can be found at www.cleantechventure.com or by calling 517-223-9607.
Featured Product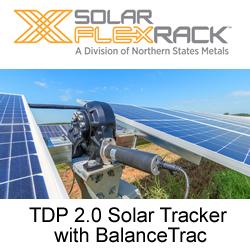 Solar FlexRack's latest solar tracker technology bundles an advanced tracker design with a full team of seasoned engineering and installation experts at your service. The next-generation solar tracker delivers a package of features that both enable increased energy yields for commercial and utility-scale solar installations, and significantly reduce project risks. That translates to smart installation cost-savings across your project budget.