Vancouver, BC, Canada. April 14, 2004 DynaMotive announced today that it has broken ground on the construction site of what will be, when completed this summer, the worlds largest pyrolysis plant and the first pyrolysis oil fuelled power co-generation facility.
Vancouver, BC, Canada. April 14, 2004 DynaMotive announced today that it has broken ground on the construction site of what will be, when completed this summer, the worlds largest pyrolysis plant and the first pyrolysis oil fuelled power co-generation facility.

The plant is a showcase for DynaMotive's pyrolysis and Magellan Aerospace, Orenda Industrial generation technologies. It will demonstrate the commercial potential in improving the efficiency of energy recovery from conversion of bio mass waste to generate electric power from less fuel than traditional methods that use solid bio mass combustion. An additional benefit is that DynaMotive's patented pyrolisis technology contributes to reduced green house gas emissions and improved air quality.
In cooperation with Ontario Power Generation, Magellan Aerospace Corp. Orenda Industrial (Orenda), UMA Engineering, Bruks Klockner, Ramsay Group and Erie Flooring and Wood Products, DynaMotive will build, install and operate a unique system to process wood residue produced by Erie Flooring and Wood Products and transform it to BioOil (a medium heating value liquid fuel) and char. The plant is expected to process 100 tons per day of bio mass and to produce 70 tons of BioOil, 20 tons of char and 10 tons of non condensable gases.
Fifty tons of BioOil per day will be utilized to fuel a gas turbine developed by Orenda to produce up to 2.5 MWE of electricity -- enough to serve 2,500 households -- to meet the power requirements of the Erie Flooring plant and also enough to export electricity to Ontario's energy grid. Surplus heat generated by the turbine will produce up to 12,000 pounds of steam per hour to provide heat for Erie Flooring's industrial operations. The remaining BioOil and char from the plant will be sold to commercial users and used for research purposes. Non-condensable gases will be used to provide heat to the process.
Plant equipment has started to arrive at the project site with plant mechanical completion expected for late June and commissioning to follow. To date, wood handling and processing equipment, fuel management and power generation modules have been completed. Pyrolysis equipment is in advanced stage of fabrication with modules expected to be ready for shipment in May. BioOil modules include pyrolysis reactor, solid fuel handling and liquid fuel handling. Procurement has reached 97% of total equipment. Equipment cost represents $C 8.8 million (US $6.8 milllion) of the $C 12.5 million (US $9.7 million) estimated total project cost. The project has received financial contribution from Sustainable Development Technology Canada - 40% of project costs. The balance of project funding has been contributed by the project partners.
"This project provides the opportunity to prove the commercial viability of this innovative technology, and will demonstrate a more efficient use of bio mass resources, produce green energy and meet the energy and heat requirements of Erie Flooring and Wood Products competitively. The partnership's goals are to provide a win-win position for all parties involved, and to demonstrate DynaMotive's commitment to excellence in business performance and service." said Andrew Kingston, President & CEO of DynaMotive. "I look forward to the plant's completion and commissioning this summer".
About Pyrolysis and BioOil
Pyrolysis is a process that efficiently converts solid bio mass (wood / agricultural by-products) into a combustible fuel referred to as BioOil and char through very rapid heating of dried bio mass -- to 500 degrees Celsius -- in the absence of oxygen. When subjected to the heat source the bio mass vaporizes. The resulting gases are cleaned of solid remaining matter (collected as char) and then cooled rapidly. The condensed gases are collected as liquid BioOil. Gases that are not condensed are re-circulated to provide heat to the process.
BioOil is a liquid fuel with medium heating value that can be used to cleanly generate electricity and heat at industrial locations such as saw mills, pulp and paper mills, wood processors, agricultural facilities and recycling facilities. Because it is derived from bio mass, BioOil is deemed to be green house gas neutral. It has virtually no sulfur, low nitrous oxide emissions and very low particulates (significantly lower than diesel) when combusted. BioOil can be used directly at the point of production, does not need refining and can be produced on a sustainable basis. BioOil can be produced competitively when compared to value of fossil fuels at point of use.
BioOil is easy to transport, opening potential for small power generation plants to service installations such as hospitals, schools, universities, hotels, and other commercial and industrial facilities.
DynaMotive has two plants under construction and is evaluating further projects in Canada and internationally, in Canada alone more than sixteen projects are currently under various stages of evaluation. DynaMotive has strategic partnerships with industry leaders in bio mass handling and processing, plant fabrication, engineering procurement and construction and power generation equipment. Through these partnerships, DynaMotive expects to capitalize upon the significant and increasing number of project opportunities.
For more information on DynaMotive, please
call:
Corporate Communications
Telephone:
(604) 267-6000
Toll Free (in North America):
1-877-863-2268
Fax:
(604) 267-6005
investor@dynamotive.com
Featured Product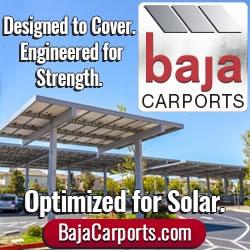 Baja Carports offers an extensive solar support system product line customized to customers' site specifications by in-house engineers, meeting their parking lot coverage, plus optimal PV production needs. Baja's Full Cantilever Tee is often paired with its Semi and Full Cantilever carports to meet live/loads up to 60psf and wind speeds to 160mph. All Baja products are pre-fabricated, bolted connections, pre-galvanized structural steel for fast on-site installation and project aesthetic requirements."