New Product Line Blends Innovative Design and Exceptional Performance
Sunnyvale, Calif., June 7, 2004 - SunPower Corporation, a Cypress subsidiary, today announced the debut of its new solar power product line, the first mass-produced photovoltaic (PV) modules utilizing SunPower's breakthrough all-back-contact solar cells. With conversion efficiencies approaching 17 percent, SunPower's new modules provide exceptional power density, along with an optional "all-black" design that enhances the appearance of roof-mounted PV arrays. This combination of performance and aesthetics is expected to strengthen SunPower's position in the $2.5 billion PV module market.

"SunPower's new PV modules set a new industry standard for efficiency and appearance," said SunPower CEO Tom Werner. "Only SunPower can combine unprecedented area efficiency; exceptional energy delivery over a wide range of real-world weather conditions; and a novel approach to product aesthetics that allows our PV modules to blend into their environment instead of standing out. This is an important milestone for SunPower, as well as the PV industry overall."
SunPower's new PV product line comprises two new module types:
SPR-210: SunPower's flagship product with total module conversion efficiency approaching 17 percent and a minimum power rating of 210 watts. Designed specifically for use in grid-connected applications such as rooftop systems and power plants, the SPR-210's high-conversion efficiency allows customers to install more kilowatts of solar power within a limited roof area, while significantly reducing per-kilowatt installation cost. An optional all-black module package, available with a 200-watt rating, makes the individual solar cells virtually disappear - perfect for residential applications.
SPR-90: A 90-watt-rated module designed to charge 12-volt batteries in remote power applications. This module is designed to deliver higher-battery charging current than conventional PV modules over a wide range of weather conditions from a significantly smaller footprint. The high-power density of SPR-90 modules can reduce the costs typically associated with remote power systems, including transportation, array support structure, and installation labor.
Both products utilize SunPower's unique A-300 all-back-contact solar cells to generate up to 50 percent more power than traditional products, and all SunPower modules carry a minimum power rating. This means that the output of every module meets or exceeds its nominal power rating, ensuring that systems will perform as expected. The A-300 solar cell's low voltage-temperature coefficient, exceptional low-light performance and high sensitivity to light across the entire solar spectrum means that both SunPower module types convert virtually every accessible photon into useable electricity, maximizing yearly energy production.
Availability
SunPower PV modules will be available for delivery in the fourth quarter of 2004.
About A-300
Unlike conventional solar cells, SunPower's A-300 cell features a unique, all-back-contact design that maximizes working cell area, hides unsightly wires and simplifies automated production. The National Renewable Energy Laboratory (NREL) recently measured an A-300 solar cell at an industry-best 21.5 percent efficiency; competing production cells typically are in the 12- to 15-percent range. The A-300 cell was developed and manufactured in SunPower's Round Rock, Texas facility, which began operation in January 2003.
Photo
A high-resolution of the SPR-210 can be downloaded at: www.sunpowercorp.com/pub/spr-210.jpg.
About SunPower
SunPower—a majority-owned subsidiary of Cypress Semiconductor Corp. (NYSE: CY)—designs and manufactures high-performance silicon solar cells based on an interdigitated rear-contact design. The company's initial products were put to use in a variety of high-performance applications, including the NASA-sponsored AeroVironment airplane, "Helios," that flew to a record altitude of 96,863 feet on August 13, 2001. For more information on SunPower or solar technology, please visit the SunPower website at http://www.sunpowercorp.com.
About Cypress
Cypress Semiconductor Corp. (NYSE: CY) is Connecting From Last Mile to First Mile' with high-performance solutions for personal, network access, enterprise, metro switch and core communications-system applications. Cypress Connects' using wireless, wireline, digital and optical transmission standards, including USB, Fibre Channel, SONET/SDH, Gigabit Ethernet and DWDM. Leveraging its process and system-level expertise, Cypress makes industry-leading physical layer devices, framers and network search engines, along with a broad portfolio of high-bandwidth memories, timing technology solutions and reconfigurable mixed-signal arrays. More information about Cypress is accessible online at www.cypress.com.
Featured Product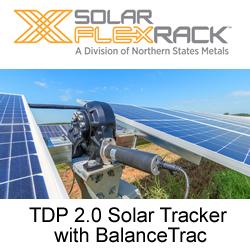 Solar FlexRack's latest solar tracker technology bundles an advanced tracker design with a full team of seasoned engineering and installation experts at your service. The next-generation solar tracker delivers a package of features that both enable increased energy yields for commercial and utility-scale solar installations, and significantly reduce project risks. That translates to smart installation cost-savings across your project budget.