Xantrex Technology Inc., a leading supplier of advanced power electronic and control products, has developed a 500 kW turnkey system for medium voltage solar applications in Europe.
Freiburg, Germany, June 24, 2004 - Xantrex Technology Inc., a leading supplier of advanced power electronic and control products, has developed a 500 kW turnkey system for medium voltage solar applications in Europe.

The GT500E is based on standard building blocks that are common in the power distribution business. It is an economical solution that is designed to reduce losses and provide higher efficiency due to direct transformation to medium voltage level. The unit also has a highly efficient medium voltage transformer and a gas-insulated medium voltage switch gear. For large power installations, multiple inverters can be paralleled.
"We are excited to be able to introduce two exceptional large scale grid-connect products for the European market in one year," said Peter Bruhns, Xantrex Product Manager. "Xantrex has installed more than 3000 mega watts of power conversion products over the last decade and we have been able to use our expertise to design a product specifically for European conditions."
The GT500E complies with EU standards and the VDEW. The product is manufactured in Germany. A customer service network, based in Germany and Spain, will provide installation and commissioning support, product training, and a hotline for maintenance service across Europe.
The GT500E offers standard protection features including over and under voltage and frequency safeguards. Its anti-islanding protection prevents the inverter from feeding power to the grid in the event of a utility outage. The GT500E comes with user interface software for real time communication via PC directly, or via modem connected to the inverter. With user-definable power tracking that matches the inverter to the array and adjustable delay periods, users are able to customize system start up and shut down sequences. Peak efficiency including medium voltage transformer is over 97%. Multiple inverters can be paralleled for large power installations.
About Xantrex
Xantrex Technology Inc. (TSX:XTX) is a world leader in the development, manufacturing and marketing of advanced power electronic products and systems for the distributed, mobile and programmable power markets. The company's products convert raw electrical power from any central, distributed, or backup power source into high-quality power required by electronic and electrical equipment.
Xantrex is a public company listed on the Toronto Stock Exchange. Headquartered in Vancouver, British Columbia, the company has facilities in Arlington, Washington; Livermore, California; Elkhart, Indiana and Barcelona, Spain. Additional information about Xantrex is available at www.xantrex.com.
Note that this news release contains forward-looking statements related to Xantrex Technology Inc. Such statements reflect the current views of Xantrex with respect to future events and are subject to risks and uncertainties that could cause actual results to differ materially from those contemplated in these forward-looking statements.
- 30 -
Media Relations
Raquel Espada
34 93 556 0972 Phone
Raquel.espada@xantrex.com
Featured Product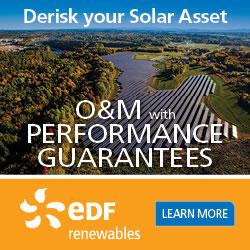 EDF Renewables offers the same innovative solutions that maximize the performance of our own 5.2 GW of installed projects. Because we're not an equipment manufacturer, our recommendations are transparent and data-driven. We cover the entire project lifecycle: from pre-commissioning support, through warranty and post warranty operation, to late stage and decommissioning.