Ballard Power Systems introduced its 30kW Ecostar' power converter specifically designed for photovoltaic ("PV") applications. The 30kW product joins Ballard's recently announced 75kW grid-tie inverter.
July 14, 2004

Vancouver, Canada - Ballard Power Systems (TSX: BLD; NASDAQ: BLDP) today introduced its 30kW Ecostar' power converter specifically designed for photovoltaic ("PV") applications. The 30kW grid-tie utility interactive power converter combines superior inverter and transformer efficiency with ease of installation. Based on proven, state-of-the-art technology, Ballard's 30kW product offers customers improved reliability and up-time while reducing the payback period for the product investment. The 30kW product joins Ballard's recently announced 75kW grid-tie inverter.
"Ballard's 30kW Ecostar' power converter addresses the significant market demand for an inverter at this power range to meet the needs of photovoltaic ("PV") panel manufacturers, distributors and installers," said Ballard's vice president of sales & marketing, Ross Witschonke. "Both our 75kW and 30kW Ecostar' products incorporate Ballard's unique expertise to meet the demands of increased efficiency and reliability for grid-tie applications. With the continuing growth of PV projects as environmentally-friendly energy solutions, we believe that the unique benefits and features of Ballard's inverters will become the de facto market standard."
With peak inverter efficiency of 97 percent, transformer efficiency of 97.5 percent and standby tare losses of 25 watts, the 30kW Ecostar' power converter is one of the most efficient commercial inverters available in North America. Key benefits of the 30kW Ecostar' power converter include:
· Highly efficient maximum power-point tracking (MPPT): The Ecostar' power converter's MPPT extends the operating voltage range, increasing the amount of energy harnessed from the PV array.
· Night-time isolation: The inverter automatically disconnects the power transformer from the grid when there is no power from the PV array, thus eliminating night-time transformer losses and increasing energy efficiency.
· Extensive diagnostics: Detailed text messages give system warnings and faults; intensive diagnostics and logic ensure that nuisance faults are overridden. A fault history log aids diagnostics.
Ease of installation was a high priority when Ballard designed the Ecostar' power converter. "We found Ballard's new inverter to be electrician-friendly and easy to install. Our team recommends it highly," stated Rick Lavezzo, president and CEO, Team Solar Inc.
The U.L. listed 30kW Ecostar' power converter is backed by a 5-year warranty and is available now in two models to support 208V and 480V grids.
For more information on the Ecostar' power converter, please visit Ballard's website at www.ballard.com.
Team Solar, Inc. provides sales, design and engineering services for residential and commercial photovoltaic applications. Installing an average of 2 megawatts per year in Northern California, Team Solar is among the largest installers in California.
This release contains forward-looking statements that are based on the beliefs of Ballard's management and reflect Ballard's current expectations as contemplated under section 27A of the Securities Act of 1933, as amended, and Section 21E of the Securities and Exchange Act of 1934, as amended. When used in this release, the words "estimate", "project", "believe", "anticipate", "intend", "expect", "plan", "predict", "may", "should", "will", the negative of these words or such other variations thereon or comparable terminology are intended to identify forward-looking statements. Such statements reflect the current views of Ballard with respect to future events based on currently available information and are subject to risks and uncertainties that could cause actual results to differ materially from those contemplated in those forward-looking statements.
Ballard Power Systems is recognized as the world leader in developing, manufacturing and marketing zero-emission proton exchange membrane fuel cells. Ballard is commercializing fuel cell engines for transportation applications and fuel cell systems for portable and stationary products. Ballard is also commercializing electric drives for fuel cell and other electric vehicles and power conversion products, and is a Tier 1 automotive supplier of friction materials for power train components. Ballard's proprietary technology is enabling automobile, bus, electrical equipment, portable power and stationary product manufacturers to develop environmentally clean products for sale. Ballard is partnering with strong, world-leading companies, including DaimlerChrysler, Ford, and EBARA to commercialize Ballard® fuel cells. Ballard has supplied fuel cells to Honda, MGE UPS SYSTEMS, Mitsubishi, Nissan and Volkswagen, among others.
Ballard, the Ballard logo and Power to Change the World are registered trademarks of Ballard Power Systems Inc. Ecostar is a trademark of Ballard Power Systems Corp.
# # #
Featured Product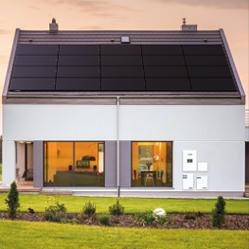 The Q.Home+ ESS HYB-G1 energy storage solution offers scalable storage capacity from 4.5 kWh up to 18.9 kWh and comes in a modular design for easy and fast installation. The system is offered in both DC-coupled and AC-coupled configurations and can connect up to 3 batteries in series using only one inverter and battery management system (BMS). The system includes an integrated backup power function for 100% of the rated inverter output to support critical loads in the event of power failure and offers remote monitoring using the QHOME+ web portal or QHOME+ ESS mobile app.