First Statistics of 2004 Demonstrate Dynamic Growth and Overall Investment Shifts Away from Energy-Related Opportunities Toward Nanotechnology and Manufacturing
HOWELL, MI, July 14, 2004 - Investment in the cleantech sector increased in Q1 2004 by 45% compared to Q4 2003, according to the most recent issue of the Cleantech Venture Monitor, released today by the Cleantech Venture Network.

"For the first time since we began tracking this type of information at the start of 2002, energy-related investments did not receive the largest share of cleantech dollars, as they were overtaken by "Materials and Nanotechnology" and "Industrial and Manufacturing" deals," said Nicholas Parker, co-founder and chairman of the Cleantech Venture Network. "These numbers show that the cleantech segment continues to mature as an investment category. There is money to be made in this sector, and the survey data reinforces that with the worldwide rush to modernization, massive global appetite for natural resources and the continuous environmental challenges."
In another sign that cleantech venturing is a sustainable investment category, cleantech captured 6.6% of the $4.6 billion invested overall in North America, up from 4.0% in the unusually-weak previous quarter. The average investment deal size was also up by more than 52% from Q4 2003, and by 15% from Q1 2003, to just under $7.1 million per deal. The average investment in venture deals across all industries was $7.5 million in Q1 2004.
Parker continued, "Although investor and stakeholder interest in the cleantech investment area is unprecedented, many if not most investors remain skeptical that there are attractive financial returns to be made. To address this issue, Cleantech Venture Network is collaborating with Vortex Energy and a group of investor sponsors to study the historical and projected returns, exits and performance of cleantech ventures. We expect this report to be published and available for purchase in September."
The survey found a counterbalance to investor interest in a broader range of cleantech deals, as investment deals had a greater geographic focus on the West Coast. These accounted for just over half of all capital invested in Q1, and a smaller number of later-stage deals, with 73% of capital deployed into follow-on rounds.
Key Data Points:
∑ Energy Losing Ground: Energy-related investments again lost ground in Q1, falling to under 19% ($56.8 million) of the total investment in cleantech. This was the lowest dollar investment ever recorded by Cleantech into energy-related companies since it began tracking in Q1 2002. Energy Generation received 66% of the total investment in the sector at $37.5 million.
∑ Future Growth Sectors: Materials and Nanotechnology took over as the largest cleantech sector at nearly $68.2 million, very consistent with the nearly $70 million invested in Q4 2003. Manufacturing/Industrial came in as the second largest Cleantech sector at $61.1 million, up another 68% from Q4 2003. This is the 3rd straight quarterly increase for the sector since the low of $6.3 million recorded in Q2 2003. The amount invested in Q1 represents 80% of the total invested into the sector in all of 2003.
∑ Deal Size Growing: Average deal size increased nearly 30% to just under $5.7 million - but still significantly below the average cleantech investment of $7.1 million.
∑ Follow-up Funding is the Focus: 73% of invested capital went into follow-on rounds - up from 44% in Q4 2003. The number of follow-on investments remained consistent (21) with that of Q4 (22). However, the average investment increased significantly to over $10 million in Q1 from $4.6 million in Q4.
∑ Despite Overall Slump, First Round Funding Size Grows: Seed investments captured only 3% ($9.3 million) of that available. Average investment into the 11 seed stage companies in Q1 was $2.3 million, up from the average of $840,000 from Q4. First Round financings received just under $73.3 million during the quarter - a 36% decrease from Q4 ($114 million).
∑ West Is Best: The West Coast attracted more investment capital than all other regions in North America combined. $153.6 million was invested in West Coast companies in Q1 2004, representing 50.4% of the total. This is a 138% increase from the Q4 total of $64.5 million. Eighteen of the 46 investments were in West Coast companies. The Northeast saw the next highest activity, with just under $56 million (18.4% of the total). Eight companies from the Northeast received investments in Q1.
Cleantech Venture Network will be hosting the Cleantech Venture Forum V, October 25 to 27, at the Intercontinental Hotel in Toronto, Canada. Cleantech Venture Forum is held twice annually once on both the East and West Coasts. Up to 400 attendees are expected at Cleantech Venture Forum V, after more then 300 attended Venture Forum IV in San Francisco. During the Forum, attendees hear presentations from companies in the clean technology industry, participate in meetings with key investors including business angels, venture capitalists, fund managers, investment bankers and corporations, and take advantage of leading-edge information and research on investment opportunities from leading thinkers on clean technology innovations and trends. Lead sponsors include Heller Ehrman White & McAuliffe LLP and EnerTech Capital. Interested attendees can register for Cleantech Venture Forum V online at www.cleantechventure.com under "Events," or by calling 517-223-9607.
About the Cleantech Venture Network
The Cleantech Venture Network (Cleantech) is a grouping of member investors managing over $3 billion in cleantech venture assets. The company believes "clean technologies" - from solar energy to water purification - are the next and necessary wave of venture investing. Cleantech introduces promising young companies to investors and investors to quality deal-flow. The company has developed a community of money managers, business executives, professional advisors, and other stakeholders active in the clean technology venture arena. Cleantech organizes venture forums, provides deal flow, publishes a quarterly venture monitor and offers related services to investors and entrepreneurs. Cleantech benefits from the expertise and counsel of an advisory board comprised of representatives from 14 leading venture capital and service provider firms specializing in clean technology. More about the company can be found at www.cleantechventure.com or by calling 517-223-9607.
Featured Product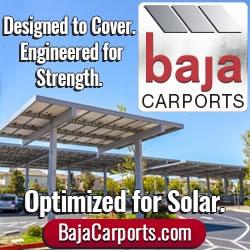 Baja Carports offers an extensive solar support system product line customized to customers' site specifications by in-house engineers, meeting their parking lot coverage, plus optimal PV production needs. Baja's Full Cantilever Tee is often paired with its Semi and Full Cantilever carports to meet live/loads up to 60psf and wind speeds to 160mph. All Baja products are pre-fabricated, bolted connections, pre-galvanized structural steel for fast on-site installation and project aesthetic requirements."