Second-Language Learners at California's Burrel Union Elementary School battle rising energy costs with new data logger technology, reduce energy costs by 22%
A group of elementary students in California's Central Valley have taken the issue of rising school energy costs into their own hands - literally.

As part of a five-month, school-wide effort to reduce energy consumption, students at the Burrel Union Elementary School in the San Joaquin Valley have used data loggers - or miniature electronic recording devices - to monitor light usage and temperature in the school's cafeteria, hallways, and classrooms.
"The kids wanted to monitor light usage in the cafeteria since the lights are on most of the day," explains Mary Funk, a teacher and Energy Club Advisor at the Burrel school. "They were also aware of air conditioners being left on after school and other sources of wasted energy in the school. They felt that the money that was being wasted could be spent more wisely on the students in the classroom."
Education buildings in the U.S. account for roughly 12 percent of all commercial energy consumption, and electricity consumption is expected to grow by 1.4% a year through 2020. This year, America's public schools will spend significantly more money on energy-related costs than total spending on classroom computers, supplies and books.
According to Burrel superintendent and principal Timothy Bybee, excessive energy consumption has been eating up school reserves for years. "Recent increases in electricity rates and fuel for transportation have caused budget shortfalls. Funds that could be used in the classroom are being used to cover energy usage. When kids are aware of energy usage, they can be a catalyst for change in the school or at home."
Funk turned the energy-savings opportunity into an educational opportunity. A strong advocate for hands-on, technological based learning in the classroom, she introduced the kids to the HOBO® Henry Science Kit, a data logger-based science learning kit from iScienceProject, and used the technology as the basis for the 20-week energy study. The kits were obtained through iScienceProject's data logger loaner program, which provides K-12 teachers with free loans of HOBO Henry Science Kits and access to more than 100 downloadable science labs.
"Because our students are mostly Second Language Learners, technology plays a big part in every subject," she explains. "When it comes to learning science, textbooks are out of the question. Our kids need to learn science by doing as opposed to just reading a book and answering questions. Technology in this case became the common thread between investigating energy usage and real-world science learning. We were also able to bring in state science education standards with this project, including standards for inquiry-based instruction and graphing."
The young "energy detectives" conducted the energy study with minimal guidance from the Burrel teaching staff. The students placed the data loggers in each room of the school, where light and temperature were recorded on a 24/7 basis. At the end of the data collection period, the students retrieved the data loggers, connected them to classroom PCs, and used simple software to convert the data into time-stamped graphs and charts. The charts were printed out and presented to the school board, the Parent Club, and to the community at a recent Energy Awareness Festival sponsored by the 5th grade class.
"The charts of data the students produced show definitively that energy is being used in the school when it is clearly not needed," says Funk. "For example, you can see that lights and air conditioners run for about two hours a day in the cafeteria when there are no people in the room. This proved what was happening, and made teachers and others at the school much more energy conscious. As a result, lights were being turned off more regularly, and teachers were opening windows more and using air conditioning less. To see how these new habits were impacting energy usage, worked with our representative from Pacific Gas & Electric to compare the December 2003 energy bill with the May 2004 bill. We found that we have reduced energy consumption over all by about 22% since the start of the project."
In addition to helping to lower monthly PG&E bills, the students have proposed the installation of motion-sensitive lights to the Burrell School Board, and have formed a Watt
Watchers initiative with the objective of getting people into the habit of turning off and turning down.
The kids have also taken their new knowledge and skills home with them to share with parents. "From what they did and learned in the classroom, the kids were able to go home and teach their parents how to conserve energy and bring down the usage in their own homes," Funk explains. "One student even put a data logger inside the refrigerator at home to monitor its light, so he could show his parents how often the door was being open."
Bybee concludes, "As kids learn about energy usage, they become aware of the world around them. Once they see the vision of how they can help save energy, they have no problem telling their parents, teachers, or even the principal to turn out the light when they leave the room."
Featured Product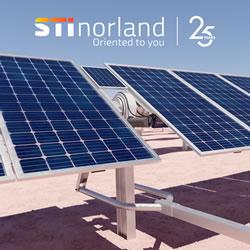 Developed in 2017, the STI-H250™ is consists of two linked torsion beams that rotate simultaneously following the sun's path. They are moved by just one motor, cutting supply and maintenance costs. STI-H250™ dual-row tracker includes backtracking mode to avoid shadowing between adjacent rows and stow function to protect the tracker in extreme wind conditions. For cleaning, vehicles can pass between trackers and each row can be placed in a different position.