Fast-track permit program allows for speedy installation by Solar Electrical Systems
Carpinteria, Calif. (August 16, 2004) - Kyocera Solar, Inc. announced today that Solar Electrical Systems, one of its authorized dealer-installers, has completed a 36kW solar electric installation on the roof of Santa Barbara Harley-Davidson, a high-end motorcycle dealership located just north of exit 153 on US-101 Freeway. This photovoltaic (PV) installation is the first on any Harley-Davidson dealership in North America. The installation includes 300 KC 125-watt PV modules in a single array at a five degree angle.

After California state rebates and tax incentives, which pay more than 80% of the total system cost, the net expense to Santa Barbara Harley-Davidson will total $50,000. The system generates approximately 80% of the dealership's total electrical load, with potential for future expansion.
Santa Barbara Harley-Davidson took advantage of the City of Santa Barbara's fast-track permit program for solar PV systems, which resulted in the approval of this installation plan and the issuance of a permit in only one week. This accelerated process was exciting news for Solar Electrical Systems, which is accustomed to waiting approximately 90 days to receive a permit.
"With renewable energy as a new city priority, Santa Barbara Harley-Davidson's installation was running smoothly just three weeks later," said Greg Johanson, president of Solar Electrical Systems.
The threat of power shortages was not the only factor that encouraged Santa Barbara Harley-Davidson to pursue a rooftop solar PV system. Their desire to contribute to the city's environmental efforts helped the company decide on making their investment in solar energy. Store owner Martie Cherrie said, "It is something that is good for the company image and the local community. This is not only a good economic investment, but it also gave us the opportunity to participate in the City of Santa Barbara's renewable energy program as a way to express gratitude to our neighbors."
Kyocera Solar, Inc. is a world-leading supplier of environmentally sound, solar electric energy solutions. With operating headquarters in Scottsdale, AZ and regional sales centers in Brazil and Australia, Kyocera Solar, Inc. serves thousands of customers in both developed and developing regions. The company is a wholly-owned subsidiary of Kyocera International, Inc. of San Diego, the North American headquarters and holding company for Kyoto, Japan-based Kyocera Corporation.
Solar Electrical Systems has designed and installed over 500 residential and 100 commercial solar electrical systems in Southern California since 1978. The company has earned the highest customer and industry recognition by providing complete turn-key project support from rebate application to final permit for architects, general contractors, and home-owners. They are considered a pioneer in the field of photovoltaics with over 5 Megawatts installed to date.
www.solarelectricalsystems.com
Featured Product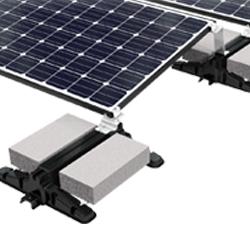 The Power Rail™ Commercial Mounting System is designed with the professional PV solar installer in mind. Both the XD/UD and LD/MD rails feature single tool assembly with the revolutionary patented RAD™ Lock-in-Place bolt for fast and secure module clamping. The high strength marine-grade aluminum rails include an integral wiring channel for securing cables and providing a professional finish.