Public Ride-and-Drives Featured in Long Beach, Costa Mesa and San Diego
Thousands of Southern Californians will be able to see and test drive zero-emission, hydrogen-powered fuel cell vehicles when the California Fuel Cell Partnership (CaFCP) www.cafcp.org conducts its third annual road rally, starting from the newest hydrogen station on the state's emerging Hydrogen Highway Network.

After the starter's flag launches the rally at the South Coast Air Management District's (AQMD) new hydrogen fuel station in Diamond Bar on September 16, the CaFCP's "Cruisin' Southern Cal" road rally will cover several hundred miles through three counties from September 17-19. Public ride and drives will be held at the Long Beach Convention Center, the Orange County Fairgrounds in Costa Mesa, and in downtown San Diego.
All eight of CaFCP's automakers will provide fuel cell vehicles, while energy members will oversee hydrogen refueling and other members will support the events with educational and technical displays.
In addition to the public ride and drives, "whistle-stop" events will be held in several communities along the Pacific Coast Highway, offering local residents an opportunity to get a close look at the fuel cell vehicles.
"Hydrogen-powered fuel cell technology offers the potential for zero tailpipe emissions, zero greenhouse gas emissions, and greater energy diversity, including increased use of domestically produced renewable fuels," says Catherine Dunwoody, executive director of CaFCP. "The California Fuel Cell Partnership is dedicated to placing fuel cell vehicles on the road in very visible demonstrations, including these road rallies, to help develop the kind of public acceptance needed to realize a hydrogen economy and make fuel cell vehicles commercially viable."
Fuel cell vehicles run on hydrogen - the most abundant element found in the universe - which, when combined with oxygen from air, generates the electricity needed to drive the vehicle. The only tailpipe emissions are water and heat. Hydrogen can be obtained from a variety of sources, including fossil fuels and renewable sources of energy, providing fuel diversity for our transportation system and a viable option for a sustainable energy supply in the future.
A brief overview of the "Cruisin' Southern Cal" rally includes:
Sept. 16 - South Coast AQMD, Diamond Bar: Official send-off, 12:30 pm. (Note to journalists: media ride-and-drive beginning at 11:00 am; ride-and-drive will be available for CaFCP/National Hydrogen Association community workshop participants from 11:30 am - 12:30 pm)
Sept. 17 - Long Beach Convention Center: Public ride-and-drive in conjunction with the League of California Cities annual convention, 12:30 pm - 4:00 pm
Sept. 18 - Orange County Marketplace, at Orange County Fair Grounds, Costa Mesa: Public ride-and-drive, 8:00 am - 2:00 pm
Sept. 19 - County Administration Building, 1600 Pacific Ave., San Diego: Public ride-and-drive and live entertainment, 12:00 noon - 4:00 pm
About the CaFCP
The California Fuel Cell Partnership is a voluntary, industry-government collaboration to advance a new vehicle and fueling technology that could move the world toward practical and affordable environmental solutions. CaFCP members are demonstrating fuel cell-powered electric vehicles under real day-to-day driving conditions; testing alternative fuels and demonstrating the viability of an alternative fuel infrastructure technology; facilitating the path to commercialization; and increasing public awareness of fuel cell electric vehicles. The CaFCP is working to facilitate placement of up to 300 fuel cell passenger cars and buses on the road by the end of 2007.
The CaFCP -- which started in April 1999 -- includes auto manufacturers (DaimlerChrysler, Ford, General Motors, Honda, Hyundai, Nissan, Toyota and Volkswagen); energy providers (Air Products, BP, ChevronTexaco, ExxonMobil, Methanex, Pacific Gas and Electric Company, Praxair, Proton Energy Systems, Shell Hydrogen, Stuart Energy, and Ztek); technology companies (Ballard Power Systems and UTC Fuel Cells); government agencies (California Air Resources Board, California Energy Commission, South Coast AQMD, US Department of Energy, US Department of Transportation and US Environmental Protection Agency and the Institute of Transportation Studies at UC Davis); and bus transit agencies (AC Transit, Santa Clara Valley Transportation Authority, and SunLine Transit Agency).
For more information, please contact the California Fuel Cell Partnership at: 916-371-2870 or by email: info@cafcp.org
, or visit www.fuelcellpartnership.org

Featured Product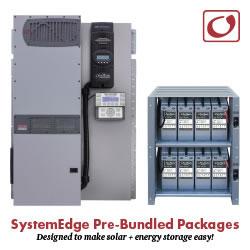 Each pre-bundled package is designed to make solar plus energy storage easy. By combining OutBack's most popular FLEXpower pre-wired systems with matched OutBack energy storage, SystemEdge takes the guesswork out of installing solar plus storage. Every SystemEdge package includes a FLEXpower factory pre-wired system, application-specific EnergyCell batteries and racking, FLEXware ICS Plus combiner and all the necessary connection hardware.