Hybrids, Fuel Cells and Plug-in Hybrid Electric Vehicles
August 18, 2004—Washington, DC—The 2004 EDTA Conference & Exposition will feature pre-conference workshops organized by Ford, EPRI, Southern California Edison, the Advanced Transportation Technology Institute, and the Hybrid Electric Vehicle Working Group. The EDTA Conference & Exposition will be held from September 21-23, 2004 in Orlando, Florida, and is expected to be the largest gathering of the electric drive industry in North America this year, with an auto-caliber exhibit floor and a Ride 'n' Drive of battery, hybrid and fuel cell electric vehicles.

The pre-conference workshops complement a diverse agenda that features over 100 industry leaders in 35 sessions and three plenary sessions. Confirmed speakers include Greg Dana, Vice President and Technical Director for the Alliance of Automobile Manufacturers, Joe Cargnelli, Vice President of Technology, Hydrogenics, and Edmund Fitzgerald, Automobile Sales Administrator for Costco Wholesale. Joseph Romm, Executive Director and Founder of the Center for Energy and Climate Solutions and Dr. Daniel Sperling, Director of the Institute of Transportation Studies at the University of California, Davis, will seek to answer the question, "A Hydrogen Economy: Today's Hype or Tomorrow's Reality?" during a lunchtime debate on September 23rd. These speakers, along with other top automotive executives, leading environmentalists, engineers and government officials will share their perspectives on the industry that is changing the way the world moves.
Visit www.edtaconference.com to see a complete program agenda, and to register for the conference and workshops.
About the 2004 EDTA Conference Pre-Conference workshops:
Plug-in Hybrid Electric Vehicle Workshop
Organized by the Electric Power Research Institute (EPRI), Southern California Edison, and the Hybrid Electric Vehicle Working Group
Monday, September 20 10:00am-4:00pm $150 in advance and onsite
***** This workshop will provide the latest technical, economic and environmental information on plug-in hybrid electric vehicles, the technology's application to passenger cars and commercial vehicles, and its role in sustainable transportation. Presenters will cover topics including plug-in HEV technology and design, linkages to sustainable transportation and the hydrogen economy, costs, market potential and consumer preferences.
Fuel Cells 101
Organized by the Advanced Transportation Technology Institute
Tuesday, September 21 8:00am-11:00am $100 advance; $125 onsite
***** A panel of industry experts will teach the basics of hydrogen fuel cell technology, including a review of current research and infrastructure challenges, as well as heavy-duty vehicle, car and stationary applications.
Hybrids 102
Organized by Ford Motor Company
Tuesday, September 21 8:00am-11:00am $100 advance; $125 onsite
***** This workshop is designed as a primer for those who want/need to know more about emerging hybrid electric vehicle technology, including the key components of a hybrid system, the different types of hybrids, and advantages and disadvantages of hybrid, diesel and hydrogen technology. Delegates the opportunity to go 'one-on-one' with one of Ford's top hybrid experts, Arun Jaura, Technical Leader for Hybrid Vehicle Development.
EXHIBITORS
Advanced Transportation Technology Institute (ATTI)
AeroVironment
American Honda Motor Co.
Ansoft Corp.
Cobasys
Dana Corp.
ELDRE Corp.
Electrovaya
Electro Energy Inc.
Enova Systems
Ford Motor Co.
Fuel Cell Store.com
General Motors
Georgetown University
Global Electric Motorcars
Hydrogenics Corp.
LE Incorporated
Lexus
Maxwell Technologies
Michelin
National Alternative Fuels Training Consortium
National Hydrogen Association
Nichicon (USA) Corp.
Opal-RT Technologies
Pi Technology
Raser Technologies
TOP Electrical (USA) Co.
Toyota
U.S. DOE Advanced Vehicle Testing Activity (INEEL)
U.S. DOE FreedomCAR & Vehicle Technologies Program
Visteon
WaveCrest Laboratories
Ride 'n' drive vehicles
Allison Diesel Hybrid Bus
Ford Escape Hybrid SUV
Ford Focus FCEV
Ford H2RV Hydrogen ICE HEV
GEM neighborhood electric vehicle
General Motors Silverado Hybrid Truck
Georgetown University Fuel Cell Bus
Honda Civic Hybrid
Hybrid Electric Truck
Toyota 2004 Prius
Various Bikes and Scooters
STATIC DISPLAY VEHICLES
Honda Accord Hybrid
Lexus RX 400h
Toyota Highlander Hybrid SUV
The Electric Drive Transportation Association (EDTA) is the industry association working to advance electric vehicles and supporting infrastructure through policy, information and communication initiatives in the United States. EDTA is the premier organizer of electric transportation industry events and conferences, and EDTA is pleased to sponsor all international Electric Vehicle Symposia (EVS) held in the Americas, as well as the EDTA Conference series. For more information on EDTA, visit www.electricdrive.org.
Featured Product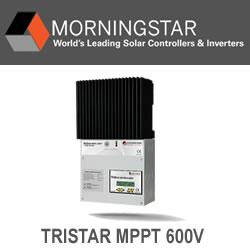 Morningstar's TriStar MPPT 600V charge controller leverages Morningstar's innovative TrakStar™ MPPT technology and our 20+ years of power electronics engineering excellence, to enable the widest input operating voltage range available from a solar array, wind turbine or hydro input. This controller's standard and DB versions are for off-grid applications, and the TR versions were developed to enable retrofitting grid-tied systems with battery backup.