Astris Energi Inc. (OTC BB: ASRNF), the world's leading alkaline fuel cell (AFC) technology company, announced today that President and CEO Jiri K. Nor's presentation from the Fuel Cell 2004 Conference in Denver, Colorado is now available on the company website at http://www.astris.ca
For Immediate Release

August 24, 2004
Astris Energi Posts CEO'S 'Fuel Cell 2004' Paper
MISSISSAUGA, Ontario, Aug. 24, 2004 - Astris Energi Inc. (OTC BB: ASRNF), the world's leading alkaline fuel cell (AFC) technology company, announced today that President and CEO Jiri K. Nor's presentation from the Fuel Cell 2004 Conference in Denver, Colorado is now available on the company website at http://www.astris.ca.
Mr. Nor's presentation, entitled "Alkaline Fuel Cell - Technology for the 21st Century'' covered the specific advantages of AFC technology and its future potential. In addition, Mr. Nor focused on the state-of-the-art progress Astris has made in developing a relatively low cost, highly efficient AFC that starts up rapidly, even in sub-zero temperatures. Mr. Nor highlighted Astris' MC250 POWERSTACK(tm) fuel cell which has performed up to 60% above its original design specifications. The MC250's base material costs are less than US$230 per kW, in part due to the elimination of platinum as a catalyst.
In his paper, Mr. Nor noted, "The alkaline fuel cell is an excellent choice now. The convenience of the instant start cannot be matched by the high-temperature fuel cells. At low temperatures and pressures, the AFC outperforms all the competing technologies, including PEM fuel cell technology.''
About Astris Energi Inc.
Astris is a late-stage development company committed to becoming the leading provider of affordable fuel cells and fuel cell generators internationally. Over the past 21 years, more than $17 million has been spent to develop Astris' alkaline fuel cell for commercial applications. Astris is commencing pilot production of its POWERSTACK(tm) MC 250 technology in 2004. Astris is the only publicly traded company in North America focused exclusively on the alkaline fuel cell. Additional information is also available at the company's website at http://www.astris.ca.
Forward-Looking Statements
Any statements in this release that are not statements of fact may be considered ``forward looking statements'' as that term is defined under securities laws in the United States and Canada. Forward-looking statements are only predictions and may differ materially from actual events or results.
Astris Energi Inc. is a featured Company on www.RenewableEnergyStocks.com and Environmental Stocks
Contact:
Astris Energi Inc.
Anthony Durkacz
Vice President of Finance
Phone: (905) 608-2000
Fax: (905) 608-8222
E-mail: adurkacz@astris.ca
Source: Astris Energi Inc.
Featured Product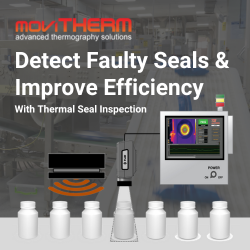 MoviTHERM's Thermal Seal Inspection (TSI) solution provides precise and reliable detection of defects in a variety of packaging types, including pouches, bags, blister packs, bottle caps, and more. By detecting defects in your packages, the TSI solution helps increase efficiency in your production line and ensures top-quality packaging is delivered to your customers every time. With state-of-the-art technology and an experienced team, MoviTHERM is dedicated to delivering accurate inspection solutions and peace of mind to its clients. Contact MoviTHERM today to learn more about their thermal seal inspection solution.