SDC Signs Green Certificate Agreement with 3 Phases Energy, Provider of Green-e Certified Renewable Energy Resources
Raleigh, NC - August 25, 2004 - Solar Data Centers, Inc. (SDC), the only company in the world using solar energy to every aspect of an organization's Internet operations, today signed an agreement with 3 Phases Energy to power all of Solar Data Centers operations. 3 Phases will provide renewable energy to SDC using Green Certificates, an electricity credit system that provides companies with electricity delivered to the national power grid derived from renewable energy sources, instead of sourcing fossil fuels, like coal and natural gas, which produce damaging environmental pollutants. As a result of using 3 Phases' Green Certificates, all SDC powered web sites are now supported by Green-e certified renewable energy that meets stringent environmental quality and consumer protection standards.

"This agreement is another confirmation of Solar Data Centers total commitment to green energy, a cause which inspired me to establish the company," said Steve May, president and founder Solar Data Centers. "By purchasing Green Certificates, that are Green-e certified, our customers support new clean energy development, offsetting the emissions from the production of electricity. The benefits of Green Certificates are many and the premium service provided by 3 Phases will enable SDC to continue to expand our operations as we look towards opening our first independent data center in 2005."
"Our agreement with SDC is another example of the power of Green Certificates, an effective tool for facilitating cost-effective, cross-border renewable energy purchases," said Elaine Horn, 3 Phases Manager, Business and Alliance Development. "The service that SDC offers, running companies' technology infrastructure using 100% green energy, fulfills a critical leadership role in companies, showing how a company can run an efficient business while simultaneously protecting the environment."
Green-e Renewable Energy Certification Program
The Green-e Renewable Energy Certification Program is the leading voluntary certification and verification program that sets standards for renewable electricity-based products in three markets for renewable energy: restructured, regulated, and tradable renewable certificates (TRCs), The Green-e Program sets consumer protection and environmental standards for energy products and verifies that Green-e certified products meet these standards. Energy products that meet the Green-e Standard for environmental excellence are denoted by the Green-e logo. The Green-e Program is administered by the Center for Resource Solutions, a non-profit organization based in San Francisco, California. To learn more about certified renewable energy visit www.green-e.org, or call 888.63.GREEN
Green Certificates:
A Green Certificate represents the environmental benefits of one megawatt-hour of renewable power delivered to the national electricity grid. By purchasing Green Certificates, companies support clean energy development and offsett the emissions from the production of electricity. As purchases of Green Certificates increase, so will the demand for additional new, clean renewable energy facilities across America.
Green Certificates are an effective way to "improve" electricity consumed, helping firms reduce greenhouse gas emissions, meet renewable energy targets and improve community relations for companies and organizations.
Key Green Certificates Benefits:
• Provide an easy way to offset pollution due to electricity usage
• Provide organizations a true "green energy" marketing claim
• Does not rely on access to a green power product from an existing utility
• Requires no change in relationship with local utilities and does not impact reliability
• Requires little time investment compared to other sustainability efforts
• Requires no change to existing processes
• Can be used to cover all facilities in one contract
About 3 Phases Energy Services
3 Phases Energy Services offers retail and wholesale marketing of tradable renewable certificates (Green Certificates), green pricing program design and implementation services, 100 percent renewable electricity direct access services in California, and solar photovoltaic efficiency installation. Visit www.3phases.com for more information.
About Solar Data Centers, Inc.
Solar Data Centers, Inc. (SDC) is the only company in the world using solar energy to run every aspect of an organization's Internet operations. SDC provides a full range of Web services to more than 300 clients, most of which are corporations and non-profits interested in renewable energy and environmental issues. SDC utilizes exclusively 100% solar energy to power its servers, offering a broad range of complementary services such as Web hosting, system administration, Web site design, network security, programming and database management. Solar Data Centers derives its power from solar panels installed throughout the country. Using Green Certificates -- vouchers that organizations purchase to guarantee that renewable energy enters the general power grid -- each dollar spent with SDC is guaranteed to support renewable energy sources. For more information, call 1-800-830-3415 or visit www.solardatacenters.com.
Featured Product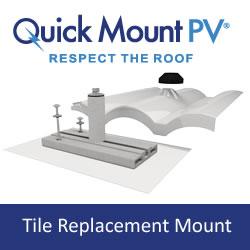 The Tile Replacement Mount provides a fast and easy way to install solar on tile roofs while protecting against water intrusion. Simply remove the tile and replace it with the Tile Replacement Mount. Works with all standard curved and flat tile roofs, and all standard rail-based racking systems. Flashed at both the deck and top levels, the mount is fully engineered to meet code requirements and industry best practices. The Tile Replacement Mount features Quick Mount PV's patented Elevated Water Seal technology for optimal waterproofing. Get a free sample and see for yourself!