Xantrex Technology Inc. (TSX:XTX), a leading developer, manufacturer and supplier of advanced power electronics products, and Toronto Hydro Energy Services have flipped on the switch for Toronto's largest industrial solar power system.
Xantrex Technology Inc. (TSX:XTX), a leading developer, manufacturer and supplier of advanced power electronics products, and Toronto Hydro Energy Services have flipped on the switch for Toronto's largest industrial solar power system.

A Xantrex 30-kilowatt industrial solar inverter is at the heart of the solar system installed at the Toronto Hydro Repair Facility, located in the City of Toronto's Port Industrial Area. The inverter converts the direct current (DC) energy produced by the building's solar panels into high quality alternating current (AC) electricity that is used to help run the facility.
"Canada has relied solely on traditional centralized power generation for electricity and this limits the country's ability to compete to its fullest in the global green energy market," said Mossadiq S. Umedaly, Chairman of Xantrex. "As a Canadian company that sells almost all of our renewable energy products outside Canada, we are encouraged to see energy producers such as Toronto Hydro looking to alternative energy sources. Ultimately, this will lead to greater availability of sustainable energy choices for all Canadians."
The Toronto Hydro Energy Services pilot project will generate 36 kW of renewable, pollution free electricity, enough to power 12 residential homes. Any excess power produced by the solar system flows into the grid, using Xantrex's grid-tie technology.
Leonard Allen, President of Phantom Electron and a Xantrex Certified Dealer whose company specified and installed the inverter, said that in addition to being environmentally responsible, installing solar panels and the PV Inverter is a smart move by Toronto Hydro.
"The Xantrex PV Series Inverter is cost-effective and is designed for high performance and efficiency, easy installation and reliability," he said.
Xantrex is actively involved in promoting the use of renewable energy technology in Canada. The company is a member of the Net Zero Coalition, which is made up of corporate and not for profit organizations that have come together to help accelerate the economic and environmental benefits of green energy technologies. In April, Xantrex received a C$7.2 million multi-year commitment from Industry Canada's Technology Partnerships Canada (TPC) program to contribute part of the cost of development of advanced power electronics technology for sustainable energy systems.
Xantrex utility-interactive, three-phase PV Series inverters are available in models ranging from 10 kW to 225 kW. The inverters meet all applicable UL, IEEE, and NEC industry codes.
Some of the equipment installed at the Toronto Hydro Repair Facility includes:
• Xantrex PV 30 Inverter
• Sanyo HIT 190 modules
• Xantrex Combiner Box and Fuse Block
About Xantrex
Xantrex Technology Inc. (www.xantrex.com) is a world leader in the development, manufacturing and marketing of advanced power electronic products and systems for the distributed, mobile and programmable power markets. The company's products convert raw electrical power from any central, distributed, or backup power source into high-quality power required by electronic and electrical equipment. Headquartered in Vancouver, British Columbia, the company has facilities in Arlington, Washington; Livermore, California; Elkhart, Indiana and Barcelona, Spain.
About Toronto Hydro Energy Services
Toronto Hydro Energy Services Inc. is a leading Ontario retailer of energy efficient, alternative clean and green energy products and services, focusing its energy efficiency solutions and retrofit service offerings to mid-sized commercial organizations. Toronto Hydro Energy Services is a subsidiary of Toronto Hydro Corporation (www.torontohydro.com), which in turn is owned by the City of Toronto.
About Phantom Electron Corporation
Phantom Electron specializes in the development and utilization of solar electric technologies in mainstream applications. The company is based in Whitby, Ontario, Canada. Additional information about Phantom Electron is available at www.phantomelectron.com.
Note that this news release may contain forward-looking statements related to Xantrex Technology Inc. Such statements reflect the current views of Xantrex with respect to future events and are subject to risks and uncertainties that could cause actual results to differ materially from those contemplated in these forward-looking statements.
-30-
Featured Product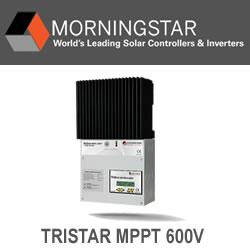 Morningstar's TriStar MPPT 600V charge controller leverages Morningstar's innovative TrakStarâ"¢ MPPT technology and our 20+ years of power electronics engineering excellence, to enable the widest input operating voltage range available from a solar array, wind turbine or hydro input. This controller's standard and DB versions are for off-grid applications, and the TR versions were developed to enable retrofitting grid-tied systems with battery backup.