Unique device extends battery life for 80 percent of handheld market
SANTA ROSA, California (September 8, 2004) - In an effort to advance electric vehicle battery technology, industry pioneer ZAP (OTC BB:ZAPZ) unveiled today ZAP® Portable Energy', a new rechargeable lithium-ion battery and power storage technology for low-voltage electronics like cell phones, handheld computers and more.

ZAP says its new Portable Energy is the culmination of years working to develop larger format battery technologies for transportation applications. Mobile electronics are pushing the technology envelope for innovations in advanced batteries and ZAP CEO Steve Schneider says that this technology in larger formats can power electric cars on a level comparable to today's internal combustion automobiles.
"The battery technology to power electric cars is here and ZAP Portable Energy is proof that the technology is maturing at a rapid rate," said ZAP CEO Steve Schneider. "This mobile power source is a breakthrough product that can serve the needs of more than 80 percent of the handheld electronics market. This and other battery advances in mobile electronics are creating the economies of scale necessary to commercialize advanced electric car batteries."
A new battery market study reports that lithium-ion and lithium polymer battery technologies are expected to play an increasing role in the market for advanced battery technologies. Much of the predicted market growth is anticipated to be attributable to hybrid electric vehicle and electric vehicle sales and development, which are expected to grow more than 50 percent over the next five years to reach nearly $250 million in 2008, provided that costs can be reduced through volume production. The U.S. large and advanced battery market is expected to grow at an average annual growth rate of 9.1 percent from $2.9 billion in 2003 to $4.5 billion in 2008, according to the report "Large and Advanced Battery Technology and Markets" from the Business Communications Company.
ZAP says that its new Portable Energy will revolutionize mobile electronics. Portable Energy is an instant backup for your battery-powered electronics, useful to extend the battery life or as an emergency power source for people on the go. The lithium-ion battery can be recharged up to 1000 times and has up to four times the power as other batteries available. ZAP PE uses a smart microprocessor control system that can power a variety of mobile electronic devices, including handheld PCs, digital cameras, cellular phones, MP3, DVD, compact disk players or equivalent, low-voltage energy devices. It has the versatility to charge DC electronics from 7.0 to 11.0 volts through its DC port and 4.0 to 6.0 volt electronics through its USB port. ZAP Portable Energy is now available for immediate delivery. Order online at http://www.zapworld.com.
About ZAP
ZAP is celebrating it tenth anniversary this month as a leader in cleaner transportation technologies, delivering more than 85,000 vehicles to customers in more than 60 countries. A public company, ZAP is traded on the Over-the-Counter stock exchange under the symbol ZAPZ. The company offers a variety of advanced technology vehicles, including cars, bicycles, scooters, motorbikes, underwater scooters and more. For more information, visit http://www.zapworld.com or call +1-707-525-8658.
Featured Product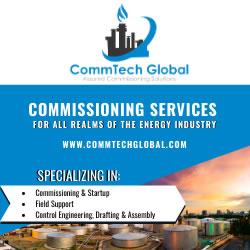 CommTech Global Solutions, LLC, provides professional and reliable commissioning services to customers in all realms of the energy industry. We blend our skills in engineering and technology with innovative business models, offering a complete range of services to assist you for a successful and in compliance operational startup. Consolidation of all our service domains gives our clients a comprehensive set of expertise and far-reaching experience on each project.