Ultracapacitors are an emerging form of energy storage that gives today's engineers more flexibility in design.
What?

Eric Bersano, Strategic Account Manager at Maxwell Technologies, will join Thomas L. Erekson, director of the School of Technology and associate dean of the College of Engineering & Technology at Brigham Young University, in a joint presentation on the design benefits of ultracapacitor technology at the Electrical Manufacturing Expo 2004 in Indianapolis next week. Ultracapacitors are an emerging form of energy storage that gives today's engineers more flexibility in design. Attendees will learn how ultracapacitors are allowing engineers to design lighter, cheaper, more efficient systems that will last the life of the product that they are being designed into. The Electrical Manufacturing Expo is an annual event for the design and manufacture of wound electrical components and finished electrical products.
When and Where?
Electrical Manufacturing Expo 2004
Indiana Convention Center, Indianapolis, IN
"Ultracapacitors and their Applications"
September 21, 2004 at 10:15 a.m.
Why?
Double layer capacitors or ultracapacitors, are a relatively new form of energy storage that give today's engineers more flexibility in design. They are made with common, inexpensive materials and have a simple construction. Ultracapacitors have a much higher capacitance than normal electrolytic capacitors and are significantly higher in power density when compared to batteries. This combination makes them well suited for several applications including hybrid vehicles, fuel cells, telemetry devices and back up power. The technology offers a highly reliable solution for applications that require no maintenance and a wide temperature range.
About Maxwell Technologies
Maxwell is a leading developer and manufacturer of innovative, cost-effective energy storage and power delivery solutions. Our BOOSTCAP® ultracapacitor cells and multi-cell modules and POWERCACHE® backup power systems provide safe and reliable power solutions for applications in consumer and industrial electronics, transportation and telecommunications. Our CONDIS® high-voltage grading and coupling capacitors help to ensure the safety and reliability of electric utility infrastructure and other applications involving transport, distribution and measurement of high-voltage electrical energy. Our radiation-mitigated microelectronic products include power modules, memory modules and single board computers that incorporate powerful commercial silicon for superior performance and high reliability in aerospace applications. For more information, please visit our website: www.maxwell.com.
Featured Product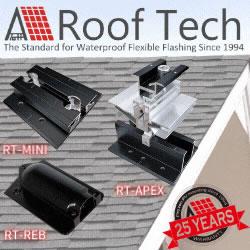 Now Roof Tech brings you the most innovative, watertight mounting systems ever developed for solar photovoltaic systems. Designed and manufactured exclusively for us by Japan's longtime leader in roofing technologies, Roof Tech products are 100% code-compliant and offer fast, simple installation and huge savings on shipping costs due to their compact, rail-less design. Learn more about our full line of versatile PV mounting solutions now available for residential installations. The next generation in rooftop solar mounting solutions."