HomelandDefenseStocks.com (HDS), a global investor news portal is pleased to feature an exclusive article on emerging developments in the use of fuel cells by the US military, "Fuel Cells and Renewable Energy to help power tomorrow's battlefield".
For Immediate Release:

Sept 23, 2004
HomelandDefenseStocks.com Reports "Fuel Cells and Renewable Energy to Help Power Tomorrow's Battlefield"
POINT ROBERTS, Wash.; Alexandria, Virginia; September 23, 2004 - HomelandDefenseStocks.com (HDS), a global investor news portal is pleased to feature an exclusive article on emerging developments in the use of fuel cells by the US military, "Fuel Cells and Renewable Energy to help power tomorrow's battlefield". A flurry of research and development activity is taking place to meet the technical and logistical challenges of providing fuel cell power to our armed forces in the field.
HDS does not make recommendations, but offers a unique, free information portal to investors to research news, articles, interviews and a growing list of participating public companies. HDS also includes sponsoring featured homeland security companies in the sector.
Article Excerpt: Fuel Cells and Renewable Energy to help power tomorrow's battlefield.
By Allen R. Gibson, HDS
The commercial fuel cell market is poised to explode within the next 10 years, as sales are predicted to soar to $3.3 billion by 2006 and $10 billion by 2009, according to Technology Training Corporation. And the military is increasingly looking to commercial applications that can be repurposed for the military with a much lower cost factor. Potentially, this is very good news for commercial fuel-cell specialists like Astris Energi (OTCBB: ASRNF), who have spent seventeen years weaning alkaline fuel cells out of the space program by discovering how to build them without the need for costly platinum components Astris' latest power generator has a total system efficiency of more than 50% - several multiples higher than gasoline generators.
It's those kind of energy efficiency figures that have the Army, for example, working with DARPA (Defense Advanced Research Projects Agency) to create the "Mobile Integrated Sustainable Energy Recovery" (MISER) program. The idea is simple, but brilliant. Use the plastic garbage from field operations to fuel field operations, by converting the plastics into generator fuel of the type the army calls 'logistics fuel,' i.e.: diesel, which can then be used in a fuel cell.
(more.)
The race is on to replace batteries on the battlefield.
Another area of intense R&D activity is in micro fuel-cells, which can be used to run everything from mobile phones to computers. Some experts think fuel cells will find their first widespread use in portable electronics, since "micro cells" offer far higher energy densities than batteries. And considering that the airborne infantry had to carry 22 different types of batteries into Iraq, the appeal of fuel cells becomes obvious. They could allow a typical laptop to operate unplugged for ten hours or more, as well as eliminating the need for battery chargers and AC adapters.
For the complete story, click here: http://www.investorideas.com/Companies/HomelandDefense/HDS/BattleField.asp
HomelandDefenseRadio.com is a 24-hour, national Internet station providing time-sensitive information to the homeland defense community. As the only broadcast outlet dedicated exclusively to homeland security at the federal, state and local levels, HomelandDefenseRadio.com provides information and news that is targeted to homeland security decision makers. http://www.HomelandDefenseRadio.com/
HDS featured profiled companies:
Aethlon Medical, Inc. (OTCBB: AEMD) Biodefense www.AethlonMedical.com - Pioneering the development of viral filtration devices to treat HIV/AIDS, Hepatitis-C (HCV), and pathogens that are mass casualty biological warfare candidates.
Markland Technologies, Inc., www.marklandtech.com - Has three distinct business segments, which address the needs of the Homeland Security marketplace: Chemical Detectors, Border Security and Advanced Technologies.
MDM Group, Inc. (OTCPK: MDDM) www.mdmgroupinc.com - Non-Lethal Weapons for Law Enforcement, Military and Anti-Terrorism.
Roaming Messenger, Inc. (OTCBB: RMSG) www.roamingmessenger.com - Wireless solution for delivering real-time actionable information with applications in homeland security.
OnScreen Technology, Inc. www.onscreentech.com - Developing next-generation portable LED video displays utilizing a revolutionary patent pending architecture.
Gabriel Technologies Corp, offering state-of-the-art cargo security devices and unprecedented designer security protocols for the cargo transportation industry.
HomelandDefenseStocks.com includes a growing list of public companies in the sector. Click here for a partial list of companies involved in homeland defense and security technology and solutions in Airport Security, Biodefense, Biometrics, Defense, Internet Security, Integrated Security, Military, Border and Port Security.
http://www.HomelandDefenseStocks.com/Companies/HomelandDefense/Stock_List.asp
Disclaimer: ECON Corporate Services is the owner of the domains www.HomelandDefenseStocks.com and www.Renewableenergystocks.com
The site is currently compensated for by its "featured companies." Markland Technologies, Inc. currently pays ECON Ten Thousand Dollars per month. Markland has issued shares to ECON in the past and these payments are for the purpose of including Markland in articles and other promotions. Aethlon: Three Thousand Dollars per month plus restricted shares equivalent to Five Thousand Dollars per month. MDM Group: Three Thousand Dollars per month, plus Twenty Thousand shares per month. OnScreen Technology Inc: Three Thousand Dollars, Roaming Messenger: Two Thousand Dollars per month and One Thousand Dollars per month equivalent in shares. Gabriel Technologies: One Thousand Dollars per month featured Company on HDS current list of stocks.
Disclaimer: www.InvestorIdeas.com/About/Disclaimer.asp
Astris Energi Inc. is a featured Company on www.RenewableEnergyStocks.com, and compensates ECON as follows: Three Thousand Dollars per month plus Three Thousand Dollars in restricted shares.
HomelandDefenseStocks.com is a Registered WA Trade Name, Federal Trade Mark Filed and Pending
For more information contact:
Dawn Van Zant / Trevor Ruehs
Toll free: 800-665-0411
Email: dvanzant@HomelandDefenseStocks.com, truehs@HomelandDefenseStocks.com
Featured Product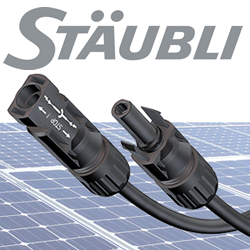 ​Stäubli Electrical Connectors are used on more than 300 GW, over 50% of the PV capacity worldwide. The MC4 family of UL and TUV listed products include connectors, in-line fuses, branch connectors, cable assembly and more.