Government of Canada to Provide Funding for Fuel Cell Demonstration Projects
VANCOUVER, British Columbia, Sep 27, 2004 (BUSINESS WIRE) --

Ballard Power Systems (Nasdaq:BLDP) (TSX:BLD) announced it will demonstrate three distinct applications utilizing Ballard(R) fuel cells for backup power in cooperation w
ith the Government of Canada under the h2 Early Adopters (h2EA) Program. The h2EA Program will fund Cdn. $2 million of the $4 million program with the balance of funding to be provided by the program participants. Field demonstrations such as this support the Canadian Government's aim to accelerate the development of a hydrogen economy by encouraging innovation, expanding industrial capacity, and meeting climate change objectives.
The demonstration will involve projects to demonstrate Ballard(R) fuel cell technology for uninterruptible power supply and backup power applications for the power generation market. Ballard will lead the program with support and participation by MGE UPS Systems, Bell Canada Holdings, Emerson Network Power Canada, Praxair Distribution and the University of Toronto at Mississauga. These innovative, real-world applications of hydrogen fuel cell technology are key to identifying and facilitating the development of the necessary codes and standards to commercialize fuel cell and hydrogen technology, such as siting and permit requirements.
"The Government of Canada's continued support is helping to accelerate fuel cell technology in Canada through demonstrations like this, providing momentum for the development and market introduction of fuel cells and hydrogen technology," said Dave Smith, Chief Financial Officer of Ballard Power Systems. "The benefits to be gained from this project are wide-ranging: establishing channels to market, refining the Nexa(R) RM product, advancing siting and permit requirements, increasing public awareness across all stakeholder groups and generating valuable field data with regard to fuel cell operation in diverse power generation applications."
Ballard(R) fuel cell-powered generators will be featured in three distinct applications:
1. As a backup power source for uninterruptible power supply ("UPS") applications at the National Research Council's Institute for Fuel Cell Innovation in Vancouver, British Columbia. Ballard's Nexa(R) RM Series fuel cell modules will be utilized in conjunction with UPS technology from MGE UPS Systems for providing backup power for critical loads in an industrial/commercial building.
2. As a backup power source for a telecommunication site operated by Bell Canada. Ballard's Nexa(R) RM Series fuel cell modules will be utilized in a four-seasons outdoor enclosure supported by Emerson. Praxair Distribution will provide hydrogen fuel supply hardware and hydrogen gas for the duration of the trial.
3. As a backup power source for UPS applications at the University of Toronto at Mississauga. Ballard's Nexa(R) RM Series fuel cell modules will be utilized in conjunction with UPS technology from MGE UPS Systems for providing critical backup power for server room applications at the University. Praxair Distribution will provide the hydrogen fuel supply systems and hydrogen gas delivery to the server room application.
For more information on the Nexa(R) RM Series fuel cell module and other Ballard(R) fuel cell products, please visit Ballard's website at www.ballard.com.
MGE UPS SYSTEMS, INC. is an authorized worldwide (excluding Japan) distributor and service provider for Ballard(R) fuel cell power generation products. MGE offers service and support for Ballard's Nexa(R) fuel cell modules and AirGen(TM) fuel cell generators. MGE has more than 170 factory service centers throughout the world. For more information, contact MGE UPS SYSTEMS at 800-523-0142 or via their web site at: www.mgeups.com/us.
This release contains forward-looking statements that are based on the beliefs of Ballard's management and reflect Ballard's current expectations as contemplated under section 27A of the Securities Act of 1933, as amended, and Section 21E of the Securities and Exchange Act of 1934, as amended. When used in this release, the words "estimate", "project", "believe", "anticipate", "intend", "expect", "plan", "predict", "may", "should", "will", the negative of these words or such other variations thereon or comparable terminology are intended to identify forward-looking statements. Such statements reflect the current views of Ballard with respect to future events based on currently available information and are subject to risks and uncertainties that could cause actual results to differ materially from those contemplated in those forward-looking statements.
Ballard Power Systems is recognized as the world leader in developing, manufacturing and marketing zero-emission proton exchange membrane fuel cells. Ballard is commercializing fuel cells for transportation applications and fuel cell systems for portable and stationary products. Ballard is also commercializing electric drives for fuel cell and other electric vehicles and power conversion products, and is a Tier 1 automotive supplier of friction materials for power train components. Ballard's proprietary technology is enabling automobile, bus, electrical equipment, portable power and stationary product manufacturers to develop environmentally clean products for sale. Ballard is partnering with strong, world-leading companies, including DaimlerChrysler, Ford and EBARA to commercialize Ballard(R) fuel cells. Ballard has supplied fuel cells to Honda, MGE UPS SYSTEMS, Mitsubishi and Nissan, among others.
Featured Product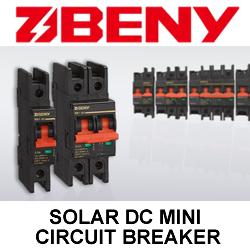 The BB1-63 modular miniature circuit-breakers can be used in solar DC circuits up to 1200 VDC (4-poles execution). Application in solar DC circuits, battery energy storage systems and UPS. Arc flash barrier design keeps solar equipment more safe and reliable. For DC circuit over-current protection.