Used fryer oil powered electrical co-generation system.
Our Detroit Diesel Generator, which is fueled with V100 (100% waste vegetable oil), a clean buring renewable recycled fuel, is online and purring like a kitten. The wildlife up here in the woods really want to know what that delicious smell is. The Green Trust Renewable Energy Research Center depends on this system to power their off grid facilities. Find out the full scoop at

http://www.green-trust.org/wiki/index.php?title=Green-Trust_Heat_%26_Power_System
Featured Product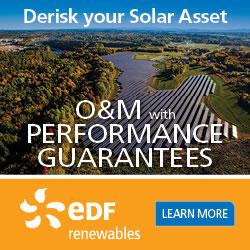 EDF Renewables offers the same innovative solutions that maximize the performance of our own 5.2 GW of installed projects. Because we're not an equipment manufacturer, our recommendations are transparent and data-driven. We cover the entire project lifecycle: from pre-commissioning support, through warranty and post warranty operation, to late stage and decommissioning.