Ballard® Fuel Cells to Power More Than 50 percent of Announced Demonstration Fleets Under U.S. Hydrogen Economy Initiative Ballard Powering the Largest Number of Fuel Cell Cars and Buses in the World
September 28, 2004 Detroit, Michigan - The first production vehicles powered with Ballard® fuel cells and built by Ford Motor Company for customer use under the U.S. Department of Energy demonstration program were unveiled in Detroit today. Ballard Power Systems (TSX: BLD; NASDAQ: BLDP) together with its Alliance partners, DaimlerChrysler and Ford, continue to lead the industry in fuel cell development, as they place the largest fleet of fuel cell vehicles in the hands of customers, further advancing the path to commercialization. Nearly half of the Department of Energy's announced fleets under the Hydrogen Economy Initiative will be Ford and DaimlerChrysler vehicles, all powered with Ballard® fuel cells.

"The launch of this Ford fuel cell demonstration fleet, together with the previously announced DaimlerChrysler deployments of cars, vans, and buses powered with Ballard® fuel cells, clearly demonstrates the strength and leadership of our fuel cell Alliance", said Dennis Campbell, Ballard's President and Chief Executive Officer. "This unique collaboration between Ford, DaimlerChrysler and Ballard Power Systems is fielding the most extensive fuel cell vehicle demonstration ever undertaken. Over the next two years more than 120 Alliance-built fuel cell vehicles will be on the road in the hands of end-use customers in thirteen different countries. The experience we are gaining under actual driving conditions will add immeasurably to our fundamental technology understanding and keep the Alliance at the forefront of the most sweeping transformation in the history of motor transport."
Today, Ballard powers the largest number of fuel cell vehicles demonstrated to date and is currently integrating real world data gained from these demonstrations to support the development of next generation fuel cells and fuel cell engines. In nine major European cities and in Iceland and Australia, 33 Mercedes-Benz Citaro buses powered with Ballard® heavy-duty fuel cell engines are operating on city streets. These buses are carrying passengers in daily service in each city as part of a two-year field trial program. Since 1993, ten of the top 15 automakers have demonstrated over 125 vehicles (including 49 fuel cell buses) powered with Ballard® fuel cells. During 2003, Ballard supplied fuel cells to six of the top 10 automakers, including DaimlerChrysler, Ford, Honda and Mitsubishi, to support their existing automotive fleet introductions in the U.S., Japan, Singapore and Europe.
Ballard Power Systems is recognized as the world leader in developing, manufacturing and marketing zero-emission proton exchange membrane fuel cells. Ballard is commercializing fuel cells for transportation applications and fuel cell systems for portable and stationary products. Ballard is also commercializing electric drives for fuel cell and other electric vehicles and power conversion products, and is a Tier 1 automotive supplier of friction materials for power train components. Ballard's proprietary technology is enabling automobile, bus, electrical equipment, portable power and stationary product manufacturers to develop environmentally clean products for sale. Ballard is partnering with strong, world-leading companies, including DaimlerChrysler, Ford and EBARA to commercialize Ballard® fuel cells. Ballard has supplied fuel cells to Honda, MGE UPS SYSTEMS, Mitsubishi and Nissan, among others.
Featured Product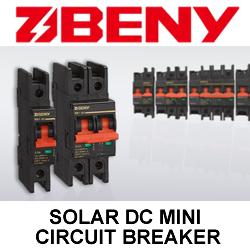 The BB1-63 modular miniature circuit-breakers can be used in solar DC circuits up to 1200 VDC (4-poles execution). Application in solar DC circuits, battery energy storage systems and UPS. Arc flash barrier design keeps solar equipment more safe and reliable. For DC circuit over-current protection.