Xantrex Technology Inc. (TSX:XTX) introduced a new residential inverter in San Francisco today at Solar Power 2004, the largest conference and expo for solar applications in the United States.
Xantrex Technology Inc. (TSX:XTX) introduced a new residential inverter in San Francisco today at Solar Power 2004, the largest conference and expo for solar applications in the United States.

Available now, the Xantrex GT 3.0 Grid Tie Solar Inverter is based on a new technology platform that costs less per watt and is easier to install than other inverters on the market.
"Xantrex's GT 3.0 Grid Tie Solar Inverter is a strategic addition to Xantrex's distributed power product portfolio that addresses a critical need in the growing residential solar market--a no-compromise inverter that combines performance, reliability, and value," said Mossadiq Umedaly, Chairman of Xantrex. "The market intelligence, product innovation and stringent testing incorporated in the GT 3.0 underscore Xantrex's determination to supply products that enhance the efficiency and quality of solar power systems and delight power consumers."
"Xantrex conducted exhaustive product research and development to create the GT 3.0 from the ground up," said Lloyd Gomm, Xantrex product manager. "Our GT 3.0 Grid Tie Inverter is an all-new design with features that differentiate it from other inverters in this category. Renewable energy dealers and distributors who have previewed and tested the GT 3.0 have told us we have designed a winning product."
Enthusiasm from distributors has resulted in large orders during the pre-launch from leading companies including Alternative Solar, Dankoff Solar, DC Power, SunWize Technologies, Energy Outfitters, Kyocera, and Solar Depot.
"Xantrex has competitively priced the GT 3.0 to help lower the cost of installed grid-tie solar systems. Initial sales orders for the GT 3.0 have far exceeded our expectations and indicate a strong demand for an exciting new entrant in the market," said Gomm.
The Xantrex GT 3.0 design team focused extensively on product quality, reliability and performance and they listened to the experts-renewable energy dealers, installers and distributors. The GT 3.0 was also thoroughly field-tested. Prior to market introduction, the GT 3.0 logged more than 15,000 test hours in home installations. The result is a high performance inverter that offers superior energy harvest, lower cost per watt, improved aesthetics, and high reliability.
Engineered to make the most of a photovoltaic grid-tie system investment, the GT 3.0 maximizes the energy output of PV panels through optimized maximum power point tracking (MPPT). The GT 3.0 ensures the highest energy harvest through a wide range of conditions, including high-temperature environments where other solar inverters lose their efficiency. The GT 3.0 outperforms other inverter on the market. It provides 3,000 watts of power up to 86 degrees F (30 degrees C) and 2,500 watts of power between 30 degrees C (86 degrees F) and 45 degrees C (113 degrees F) and continues to produce up to 65 degrees C (149 degrees F). Other inverters start to de-rate below 2,500 watts in air temperatures as cool as 25 degrees C (77 degrees F).
The GT 3.0 has a sleek, modular design and comes in an attractive beige color designed to complement any home. The unit has an integrated, lockable utility/PV disconnect and its easily accessible wiring box provides protection for all AC and DC connections by eliminating exposed wiring during inverter installation and removal. It weighs 45 pounds, light enough to be lifted by one person without assistance, and has a hook-style back plate that makes mounting easy.
To ensure the GT 3.0 Inverter is the most dependable, high-quality inverter on the market, Xantrex engineers tested it extensively using Highly Accelerated Life Test testing methods to detect and address potential product design issues. The GT 3.0 was tested under extreme thermal and mechanical conditions that went above and beyond conventional testing methods typically used by other inverter manufacturers. The result is a rugged product that is built to withstand the rigors of all types of environments.
Backed by a five-year warranty, the Xantrex GT 3.0 Grid Tie Solar Inverter is available now for a breakthrough suggested retail price of US$2,500 through leading renewable energy distributors in North America. In the near future, Xantrex will launch the GT 3.0 in Europe where consumer demand for clean renewable energy has spurred growth in the solar grid-tie inverter market.
Note to editors
To view and download images of the Xantrex GT 3.0 Grid Tie Solar Inverter, please visit www.xantrex.com/photos.
About Xantrex
Xantrex Technology Inc. (www.xantrex.com) is a world leader in the development, manufacturing and marketing of advanced power electronic products and systems for the distributed, mobile and programmable power markets. The company's products convert raw electrical power from any central, distributed, or backup power source into high-quality power required by electronic and electrical equipment. Headquartered in Vancouver, British Columbia, the company has facilities in Arlington, Washington; Livermore, California; Elkhart, Indiana and Barcelona, Spain.
Note that this news release contains forward-looking statements related to Xantrex Technology Inc. Such statements reflect the current views of Xantrex with respect to future events and are subject to risks and uncertainties that could cause actual results to differ materially from those contemplated in these forward-looking statements.
For further information:
Media contact: Maria LoScerbo, (604) 422-2589,Maria.loscerbo@xantrex.com;
Sales contact: Lloyd Gomm, (604) 415-4685, Lloyd.gomm@xantrex.com
Featured Product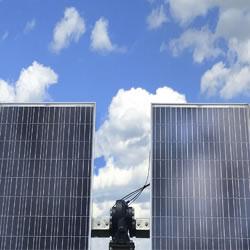 Solar FlexRack's latest solar tracker technology bundles an advanced tracker design with a full team of seasoned engineering and installation experts at your service. The next-generation solar tracker delivers a package of features that both enable increased energy yields for commercial and utility-scale solar installations, and significantly reduce project risks. That translates to smart installation cost-savings across your project budget.