Calling for "Phase II" of Renewable Energy in America
Washington, DC, October 28, 2004 The American Council On Renewable Energy (ACORE), in conjunction with the Environmental and Energy Studies Institute (EESI) and the Renewable Energy and Energy Efficiency Caucuses of the US Senate and US House of Representatives, announce the schedule of events and slate of speakers for the national conference to take place December 6-7, 2004 in Washington, DC, calling for "Phase II" of renewable energy in America.

The forum, designed to maximize time for discussion among participants, includes five interactive events and one day of conference-style speakers. The events include a pre-conference reception on December 6, a networking breakfast, the main forum (speakers) a post-forum Q&A with the press and audience, and a post-conference reception. Confirmed speakers for the forum include:
- Roger Ballentine, President, Green Strategies, Inc.
- Robert Dineen, President, Renewable Fuels Association
- Ed Feo, Partner, Milbank Tweed Hadley & McCoy
- Chris Flavin President, Worldwatch Institute
- Frank Gaffney, President, Center for Security Policy
- John Geesman, Commissioner, California Energy Commission
- Hank Habicht, President, Global Energy & Technology Foundation and Principal, Capital E
- Bill Holmberg, Chairman, New Uses Council and the Biomass Coordinating Council
- Jonathan Lash, President, World Resources Institute
- Amory Lovins, CEO Research, Rocky Mountain Institute
- Robert (Bud) McFarlane, President, Energy and Communications Solutions
- Lew Milford, Executive Director, Clean Energy States Alliance
- Dan Reicher, Managing Director, New Energy Capital
- Rob Pratt, Director, Massachusetts Renewable Energy Trust
- Hermann Scheer, MP, Germany
- Phil Sharp, former Congressman and presently at Harvard University
- Steve Zwolinski President GE Wind Energy
- R. James Woolsey, former Director, Central Intelligence.
In addition, there will be several headline keynote speakers and the co-chairs of the Senate and House Renewable Energy and Energy Efficiency Caucuses Senator Wayne Allard (R-CO), Senator Byron Dorgan (D-ND), Representative Mark Udall (D-CO), and Representative Zach Wamp (R-TN) have been invited to speak.
Conference registration is limited to 400 people, and can be accomplished online at www.acore.org. Early bird registration is available until Friday November 5th. Conference sponsorships also are encouraged for those seeking to voice support for Phase II.
* * * * * *
ACORE, a Washington, DC-based 501(c)(3) nonprofit organization, is dedicated to advancing the state of renewable energy development, and "bringing renewable energy into the mainstream." ACORE, with over 175 organizational members from among industry, utilities, transportation, finance, professional services, trade associations, nonprofit groups, government agencies, universities, and associations, also is the sponsor of the Power-Gen Renewable Energy trade show in Las Vegas (March 1-3, 2005), and the Renewable Energy Finance Forum-Wall Street in New York City (June 22-24, 2005). For additional information, please see http://www.acore.org.
Featured Product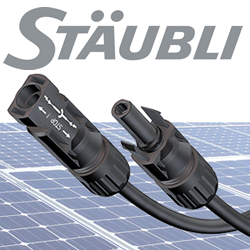 ​Stäubli Electrical Connectors are used on more than 300 GW, over 50% of the PV capacity worldwide. The MC4 family of UL and TUV listed products include connectors, in-line fuses, branch connectors, cable assembly and more.