One of the new products is Carmanah's solar-powered LED flasher, which was perfected in the U.K. and European markets before being introduced to North America in February 2004.
Victoria, British Columbia, Canada - October 28, 2004 - Carmanah Technologies Inc.(TSX V:CMH) is pleased to announce that popularity of its new roadway lighting products drove sales in the Roadway Lighting Division to a single-day record of $100,000 in September.

"We are delighted by the rapid response to our new solar-powered roadway beacons from North American customers," said Carmanah's CEO, Art Aylesworth.
"Many orders are coming from first-time customers, who in our experience often return with subsequent larger orders after the initial units are installed and evaluated."
One of the new products is Carmanah's solar-powered LED flasher, which was perfected in the U.K. and European markets before being introduced to North America in February 2004. The 2002 UK Lighting Industry Design Awards recognized the product for its contribution to environmental sustainability.
North American models include the R820 crosswalk beacon, R829 school zone crossing beacon, and R247 - a 24-hour flashing beacon.
Recent orders are improving traffic safety in the following locations:
- San Diego, California, where a moratorium on road trenching has eliminated most hardwired systems.
- Madras, Oregon, for school zone safety.
- Honolulu, Hawaii, for a crosswalk at the largest independent school in
the U.S., the Kamehameha Schools of Hawaii.
- Golden, British Columbia, to upgrade one of the most dangerous sections of the Trans Canada Highway at Yoho Bridge in the Rocky Mountains.
Fully self-contained and independent of the electrical grid, Carmanah's solar-powered roadway flashers install in as little as 30 minutes and for one-tenth the cost of conventionally powered lights. They are immune to blackouts and operate cost-free and maintenance-free. Carmanah's proprietary solar engine and MicroSource electronic controls ensure that the high-efficiency LEDs (light-emitting diodes) will flash for up to eight years of autonomous operation in virtually any solar environment on earth.
Roadway safety is a growing concern in North America. Over 5,000 pedestrian fatalities occur annually in the United States and 71,000 pedestrian injuries occurred in 2002 alone. Carmanah flashing beacons are an immediate and affordable solution that integrates seamlessly with existing infrastructure.
"All of our products benefit the triple bottom line on every level-cutting costs, improving safety and lowering energy consumption," said Aylesworth.
For more information visit www.roadlights.com .
About Carmanah
Carmanah is an alternative energy manufacturer specializing in patented solar-powered LED lighting solutions for commercial applications in the aviation, transit, marine, roadway, railway and industrial worksite markets.
The Company currently has more than 100,000 units installed in 110 countries. The shares of Carmanah Technologies Corporation (parent company) are publicly traded on the TSX Venture Exchange under the symbol "CMH" and on the Berlin and Frankfurt Stock Exchanges under the symbol "QCX". For more corporate information, please visit www.carmanah.com.
Featured Product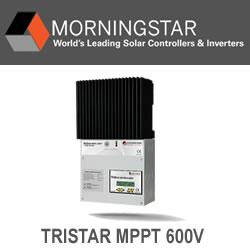 Morningstar's TriStar MPPT 600V charge controller leverages Morningstar's innovative TrakStar™ MPPT technology and our 20+ years of power electronics engineering excellence, to enable the widest input operating voltage range available from a solar array, wind turbine or hydro input. This controller's standard and DB versions are for off-grid applications, and the TR versions were developed to enable retrofitting grid-tied systems with battery backup.