New firm markets wide range of transport and the expertise to produce renewable power
MT. VERNON, New York, October 15, 2004 - A virtual department store of electric vehicles will launch today from a new company dedicated to marketing EVs and ultimately supplying them with power from the wind and sun.

Electric Transportation Solutions, LLC today begins selling 17 different models of high-quality electric scooters, bikes and golf cars on its new site, www.electrictransport.net. The vehicles range from a $90 electric skateboard called the Chariot, to the luxurious Crucero' Z-6 cart that can transport 6 people around the golf course or gated community in high style. ETS also sells a full line of electric-powered bicycles and city scooters that borrow styling cues from today's popular European models but produce no tailpipe emissions.
"Electric vehicles are the cleanest form of transportation on the planet today," ETS President and Managing Member Seth Leitman said. "ETS is committed to providing electric vehicles - and only electric vehicles. We built our company on the belief that all vehicles should be emission and pollution free."
As an example, Leitman pointed to the popularity of motorized vehicles. "Even young children today are attuned to environmental issues while being fascinated by the technology and fun of powered bikes and scooters. ETS products offer them the best of both worlds: battery power and uncompromised fun."
Most of the new company's products are sold exclusively through ETS on the web. The exception is the highly regarded EVT America line of city scooters.
"We shopped the world for the very best electric vehicles to sell at competitive prices," Leitman said. "Our e-commerce marketing strategy allows us to keep prices low and selection high. It fits well with the EV customer, who embraces technology."
The company also offers consulting services on renewable power toward its goal of eventually making all power renewable. With 60 years' of combined experience in the field, its experts provide technological solutions for powering vehicles from wind and solar sources, as well as methods to return vehicle power to the electric grid.
Leitman was a leader of New York State's aggressive alternative-fuel vehicle programs. He created the nation's largest private-public partnership effort, which brought 3,500 electric and low-emission vehicles to the state.
ETS has also brought on Ruben Estrada to develop the government outreach, a public relations division and manage Latin America distribution. Ruben brings to ETS two decades of experience in corporations, media and government positions.
Randy Hickson, from Trinidad, is the local ETS agent for the Caribbean and Latin America. He has over 20 years of international business working with CARICOM, the Caribbean Export Development Agency the Caribbean Agricultural Research & Development Institute in Trinidad and the CARICOM Export Development Project in Barbados.
#
Featured Product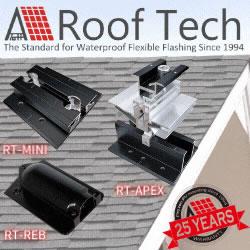 Now Roof Tech brings you the most innovative, watertight mounting systems ever developed for solar photovoltaic systems. Designed and manufactured exclusively for us by Japan's longtime leader in roofing technologies, Roof Tech products are 100% code-compliant and offer fast, simple installation and huge savings on shipping costs due to their compact, rail-less design. Learn more about our full line of versatile PV mounting solutions now available for residential installations. The next generation in rooftop solar mounting solutions."