Move Will Add to Company's Infrastructure as it Continues its Transition from Development Stage to Commercialization of its String Ribbon Technology
MARLBORO, Mass., Nov. 12 /PRNewswire-FirstCall/ -- Evergreen Solar, Inc. (Nasdaq: ESLR), a manufacturer of solar power products with proprietary, low- cost manufacturing technology, today announced that Dr. Brown F. Williams, Chairman of the Board of Evergreen Solar, has resigned from the Board in order to become Vice President, Research and Development of the Company.

"I am pleased to have Brown assume the role of Vice President, Research and Development, where we can take full advantage of his impressive credentials -- a doctorate in physics, avocation as a scientist and immense talents as an inventor," said Richard M. Feldt, President and Chief Executive Officer. "As I have stated during the past few quarters, our strategy is to add bandwidth to support our growth plans, and naming Brown to head R&D is another step in that process."
"Evergreen Solar is at an inflection point. With our core String Ribbon(TM) wafer technology, we believe that we have the opportunity to become one of the low-cost providers of solar power products as we move our technology into commercial expansion. In addition, technology improvements beyond our current Gemini II platform have the potential to achieve greater cost reductions and distance us from many of our competitors. With a full-time commitment to overseeing our research and development activities, Brown will play an important role in helping us realize that potential," Feldt added.
Dr. Brown F. Williams said, "My history with solar power technology dates back to my tenure at RCA Laboratories, where I was actively engaged in their research program, and I have enjoyed my service on Evergreen Solar's Board. Recognizing the need for our Company to stay ahead of the development curve enticed me to accept the responsibility for overseeing our research and development. I am particularly looking forward to working alongside Jack Hanoka, our Chief Technology Officer."
Dr. Williams became Chairman of Evergreen Solar's Board in January 2004, having been an independent director since 1999. In 1990 he founded Princeton Video Image, Inc. (PVI), where he created a new business and a new market category by applying high-speed computer vision techniques to television advertising. From 1990 to 2003, as Chairman of the Board of Directors and Chief Executive Officer of PVI, Dr. Williams raised $25 million of private equity financing and participated in taking the company public in 1997. For two years before joining PVI, he was an independent consultant to venture capital firms. Until 1998, Dr. Williams held several research and managerial positions at RCA Laboratories, where he perfected several inventions and helped to broaden the commercial application of several products. He holds A.B., M.A., and Ph.D. degrees in Physics from the University of California Riverside and was both a University of California Regents Fellow and a National Science Foundation Fellow. Dr. Williams is a Fellow of the IEEE.
Consistent with the Company's strong corporate governance practices, the Board has named Timothy Woodward as acting Chairman while it undertakes a search for a replacement. Mr. Woodward has served on the Board since May 2003 and is a Managing Director of Nth Power, LLC., a private equity investor that is one of Evergreen Solar's largest shareholders.
Commenting on Dr. Williams' appointment, Tim Woodward said, "On behalf of the Board, I would like to commend Brown on the job he has done as Chairman and as a fellow director. His energy, vision, and leadership will be important assets for our research and development program. In the meantime, the Nominating and Corporate Governance Committee of the Board is moving forward with a search for a new Chairman."
About Evergreen Solar, Inc.
Evergreen Solar, Inc. (Nasdaq: ESLR) develops, manufactures, and markets solar power products utilizing the Company's proprietary low-cost manufacturing technologies. The products provide reliable and environmentally clean electric power in global markets. Solar power applications include complete power systems for electric utility customers choosing to generate their own environmentally benign power, as well as wireless power for remote homes, water pumping, lighting, and rural electrification. For more information visit http://www.evergreensolar.com.
Evergreen Solar(R) is a registered trademark and String Ribbon(TM) is a trademark of Evergreen Solar, Inc.
Featured Product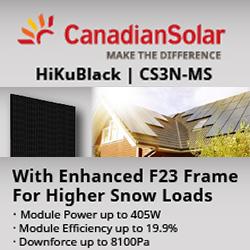 Aesthetic appearance for residential systems: With black backsheet & black frame, Power range 380 ~ 405 W, Low power loss in cell connection. Enhanced reliability: · Low temperature coefficient (Pmax): -0.34 % / °C, LID LeTID less than 2.0%, Lower hot spot temperature, Better shading tolerance.