Astris Energi Inc. today announced they had received a purchase order from Alternate Energy Corporation (''AEC'') (OTC BB: ARGY) for the first Model E8 Portable Power Generator covered by the value-added reseller (VAR) agreement they signed in May 2004.
For Immediate Release

Nov17, 2004
Astris Energi Receives First E8 Generator Orders From Alternate Energy Corp.
MISSISSAUGA, Ontario, Nov. 17, 2004 - Astris Energi Inc. (OTCBB: ASRNF), the world's leading alkaline fuel cell (AFC) technology company, today announced they had received a purchase order from Alternate Energy Corporation (''AEC'') (OTC BB: ARGY) for the first Model E8 Portable Power Generator covered by the value-added reseller (VAR) agreement they signed in May 2004. As well as the initial unit to be delivered in a few weeks, the purchase order included five additional Model E8s to be delivered in stages later in 2005.
The E8 Generator is the latest in a series of Astris power generators driven by Astris' AFC technology. Nominally rated at 2.4kW and providing 48 VDC power at 50 amperes of current, the E8 is targeted at stationary applications such as uninterrupted power supplies, backup applications for commercial users, and emergency site and worksite power. Its electrical efficiency is greater than 50%, a figure unequalled by any other device in its class, and several times higher than the efficiency of conventional gas generators. The E8 Generator contains two 1200W fuel cell stacks and is the first generator powered by Astris' POWERSTACK(tm) MC250 fuel cell modules.
Plans are underway to couple Astris' E8 Generator with AEC's low-cost, small-scale, proprietary technology that produces fuel cell pure hydrogen gas on demand. AEC's process is ``green'' and utilizes readily-available, bio-compatible elements that produce hydrogen with a purity rating of 99.9% -- with only water and oxygen as by-products. The resulting fuel cell power pack will be reliable, economical, accessible, and 100% environmentally friendly.
``The combination of AEC's hydrogen production technology and Astris' E8 Power Generator will produce a highly marketable AFC power pack for sale to major corporate customers, utility customers, as well as demonstration units,'' said Jiri K. Nor, Astris President and CEO. ``The success of this project would drive product demand and advance our pilot-scale production of the POWERSTACK(tm) MC250, which is now underway at our affiliate in the Czech Republic, to full-scale production.''
Blaine Froats, Chairman and CEO of Alternate Energy Corp. said: ``AEC will be able to demonstrate this joint power pack for electricity generation to a wide variety of potential customers interested in stationary industrial and residential primary and back-up power applications. Through our substantial distribution channels, AEC will market the combined AEC-Astris power pack to a large and ready market.''
About Astris Energi Inc.
Astris is a late-stage development company committed to becoming the leading provider of affordable fuel cells and fuel cell generators internationally. Over the past 21 years, more than $17 million has been spent to develop Astris' alkaline fuel cell for commercial applications. Astris is commencing pilot production of its POWERSTACK(tm) MC250 technology in 2004. Astris is the only publicly traded company in North America focused exclusively on the alkaline fuel cell. Additional information is also available at the company's website at http://www.astris.ca.
About Alternate Energy Corporation (AEC; http://www.cleanwatts.com)
Alternate Energy Corporation (AEC) intends to provide a hydrogen fuel system that has mass-deployment economics and provides small-scale, on-demand distributed generation of electricity. The Company anticipates scheduling product demonstrations with key strategic partners in the first quarter of 2005, then shipping initial hydrogen production and electricity generation systems later in 2005. AEC's proprietary discovery in metallurgy permits a small-scale unit to generate hydrogen from an aqueous solution through a ''green'' system at a price competitive with the current fossil fuel kWh cost of energy.
Forward-Looking Statements
Any statements in this release that are not statements of fact may be considered ``forward looking statements'' as that term is defined under securities laws in the United States and Canada. Forward-looking statements are only predictions and may differ materially from actual events or results.
Source: Astris Energi Inc.
For full details, click here: http://www.investorideas.com/CO/ASRNF/NewsReleases.asp
Astris Energi Inc. is a featured Company on www.RenewableEnergyStocks.com and www.FuelCellCarNews.com
Contact:
For Astris Energi Inc.:
Loyola Financial Services
Shareholder Services
Ph: 1- 800-963-6470
Fax: 702-317-2301
Email: ASRNF@4lfs.com
Web: http://www.4lfs.com/
Astris Energi Inc.
For Alternate Energy Corporation:
Suzanne Brydon, Investor Relations
Alternate Energy Corporation
(519) 620-2623
www.cleanwatts.com
Featured Product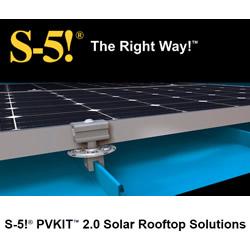 The concept of combining PV arrays with standing seam metal roofing is growing-for good reasons. Metal roofs have a life expectancy of more than 40 years. Shouldn't the mounting system last as long? With S-5! zero-penetration attachment technology and PVKIT 2.0, the solarized metal roof is the most sustainable system available -and without compromising roof warranties! PVKIT 2.0 is the also the best solution for attaching PV modules directly to any exposed fastener metal roof.