The sun has been shining brighter for a family in Tucson, Ariz. that recently had two GT 3.0 Grid-Tie Solar Inverters from Xantrex Technology Inc. installed in their Zero Energy Home.
Solar power, other features mean $150 annual utility bill

TUCSON, ARIZONA, December 8, 2004 - The sun has been shining brighter for a family in Tucson, Ariz. that recently had two GT 3.0 Grid-Tie Solar Inverters from Xantrex Technology Inc. installed in their Zero Energy Home. A Zero Energy Home combines green construction and energy-saving technologies to produce as much electricity as it consumes over the course of a year. With the addition of a 4.2 kW renewable energy system, this Arizona family is equipped to harness energy from the sun to fulfill nearly all of their household's electrical requirements.
A key component of their grid-tie solar system is the Xantrex GT 3.0 Grid-Tie Solar Inverters, which were installed by The Solar Store of Tucson, Ariz. and supplied by distributor Dankoff Solar of Sante Fe, N.M. Thirty BP Solar 140 watt solar modules also form part of the system.
"This is the first GT 3.0 we have installed and it definitely won't be our last," said Louis Woofenden, The Solar Store's systems installer. "As soon as we deplete our inventory of other inverters, we will replenish it with GT 3.0s. The GT 3.0 was very clean and easy to install. It is highly efficient, outperforming a competing inverter this home previously had installed that would shut down when the electric tankless water heater turned on. The GT 3.0 also looks attractive in the home and provided the homeowners with a rebate they couldn't obtain with their old inverter."
The GT 3.0 ensures the highest energy harvest, even in high-temperature regions such as Arizona where other solar inverters can lose their efficiency. It provides 3,000 watts of power up to 30°C (86°F) and 2,500 watts of power between 30°C (86°F) and 45°C (113°F) and continues to produce up to 65°C (149°F). Other inverters start to de-rate below 2,500 watts in temperatures as cool as 25°C (77°F).
With more than 350 days of annual sunshine, Tucson is considered an ideal region for the application of PV systems. The home's solar electric system will return as much energy as it takes from the utility grid and when it generates more electricity than is being used, the homeowners will feed the excess power to their local utility company and receive credits for it.
This grid-tied system is expected to produce 6,000 kilowatt hours a year, virtually 100 percent of the electricity needed to power the home, and will further reduce the family's annual electricity bills from a mere $870 to around $150 - a savings of about $720 a year.
To help offset the cost of their grid-tie solar system, the homeowners are also eligible for the state incentive program and will receive a $1,000. They will also receive a $12,600 rebate from the Tucson Electric Power Sun Share Program.
This Zero Energy Home is part of a 100-home residential community called Armory Park del Sol in Tucson. The home was engineered by the National Association of Homebuilders Research Center and funded by the U.S. Department of Energy through its National Renewable Energy Laboratory. The primary goal of this real estate project is to introduce the Zero Energy Home concept to the home building industry.
About Solar Store
The Solar Store (www.solarstore.com) has providing sustainable energy solutions to the Southwest region of Tucson, Ariz. for six years. The company has over 60 years of combined experience in the solar industry and prides itself on knowledgeable technicians that provide professional, NABCEP certified, electrical installations and a carefree solar experience for their customers.
About Dankoff Solar
Dankoff Solar (www.dankoffsolar.com) is a solar pump manufacturer and wholesale distributor of components for solar electric power, solar heating and wind electric systems. The New Mexico-based company sells its products through qualified dealers who serve off-grid power and grid-connected power.
About Xantrex
Xantrex Technology Inc. (www.xantrex.com) is a world leader in the development, manufacturing and marketing of advanced power electronic products and systems for the distributed, mobile and programmable power markets. The company's products convert raw electrical power from any central, distributed, or backup power source into high-quality power required by electronic and electrical equipment. Headquartered in Vancouver, British Columbia, the company has facilities in Arlington, Washington; Livermore, California; Elkhart, Indiana and Barcelona, Spain. Xantrex is publicly listed on the Toronto Stock Exchange under the ticker symbol "XTX".
Note that this news release contains forward-looking statements related to Xantrex Technology Inc. Such statements reflect the current views of Xantrex with respect to future events and are subject to risks and uncertainties that could cause actual results to differ materially from those contemplated in these forward-looking statements.
- 30 -
Media Contact:
Maria LoScerbo
Xantrex Technology Inc.
604.422.2589
maria.loscerbo@xantrex.com
Featured Product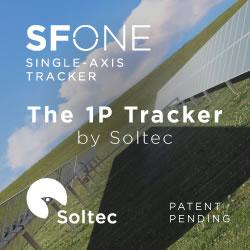 Under the slogan "engineered for greatness", the SF8 tracker aims to revolutionize the photovoltaic market with its new minimum 2x60 configuration and 4 to 6-strings. This tracker is elegantly designed while it reinforces its structure to perform in any terrain. In addition, the SF8 tracker increases the rigidity of its structure by 22% more than the previous generation of Soltec trackers, the SF7. The SF8 is specially designed for larger 72 and 78 cell modules, an increasing market trend.