Carmanah is in the final stages of completing a comprehensive "tier one" North American distribution network for its LED-based traffic lighting products. Signed agreements are in place with 11 of the top distributors, covering 35 U.S. states and Canada.
FOR IMMEDIATE RELEASE

Monday, January 17, 2005
(No.2005-01-01)
CARMANAH ESTABLISHES TIER ONE NORTH AMERICAN DISTRIBUTION
NETWORK FOR ITS LED-BASED TRAFFIC LIGHTING AND ILLUMINATION PRODUCTS
Victoria, British Columbia, Canada - Monday, January 17, 2005 - Carmanah Technologies Corporation (TSX Venture: CMH) is pleased to announce that the Company is in the final stages of completing a comprehensive tier one North American distribution network for its LED-based traffic lighting products. The Company currently has signed distribution agreements for its solar-powered LED and LED edge-lit traffic products with 11 of the top roadway product distributors as follows:
- Brown Traffic Products Inc.
- Carrier and Gable, Inc.
- Electromega Ltd.
- Gades Sales Company Inc.
- Ocean State Signal Company
- Stansell Electric Company Inc.
- Synchronex Inc.
- Texas Highway Products Ltd.
- Traffic Control Products, Inc.
- Traffic Products, LLC.
- Western Systems Inc.
Combined, these Authorized Carmanah Distributors are expected to effectively penetrate 35 U.S. States and all of Canada. Carmanah is also in negotiations with additional distributors to cover the remaining U.S. States.
"Our strategy is to establish distribution agreements for our LED-based roadway lighting products with only the most reputable companies in the traffic control equipment industry," states Carmanah's CEO, Mr. Art Aylesworth. "It has taken nearly a year to assemble what we believe is a world-class team of distribution partners. We are now confident we have the representation necessary to capitalize on the growing North American demand for our products."
North American has the largest road network in the world with over 260,000 signalized intersections in the U.S. alone - a multi-billion dollar market. Traffic accident statistics and demographic trends show a growing need for illuminated signs and traffic control devices on North American roads. For example:
- Although only 25 percent of driving occurs at night, this is when more than half of traffic fatalities happen, with "inadequate and poorly maintained signs" often cited as a contributing factor.
- Lack of illuminated crosswalks is a significant contributor to the 5,000 pedestrian fatalities and 70,000 pedestrian injuries that occur in the U.S. each year. Most pedestrian deaths occur at night, at non-intersection locations where proper crosswalks and lighting are unavailable. Only one-tenth of pedestrian deaths in 2002-2003 occurred inside a crosswalk.
- Roadway lighting will become critical over the next 15 years as the U.S. population over 65 rises from 13 to 20 percent. The night illumination requirements of a 65-year-old driver are over eight times that of a 20-year-old.
The following traffic lighting products that will be represented by Carmanah's N.A. Authorized Distributors:
- Edge-lit LED internally illuminated traffic signs
- Edge-lit LED internally illuminated street name signs
- Solar-powered LED pedestrian crosswalk beacons
- Solar-powered LED programmable school zone flashers
- Solar-powered LED warning flashers
For more information about these products, please visit www.roadlights.com.
About Carmanah
Carmanah is an award-winning manufacturer of proprietary LED lighting and illumination products for the roadway, marine, aviation, public transit, industrial worksite, and illuminated signage markets. The Company has more than 100,000 installations in 110 countries. The shares of Carmanah Technologies Corporation are publicly traded on the TSX Venture Exchange under the symbol "CMH" and on the Berlin and Frankfurt Stock Exchanges under the symbol "QCX". For more information, please visit www.carmanah.com.
On Behalf of the Board of Directors
Carmanah Technologies Corporation
"Praveen Varshney"
Praveen Varshney, Director
For further information, please contact:
Investor Relations:
Mr. Mark Komonoski, Director
Telephone: (403) 252-6047
Toll-Free: 1-800-665-3749
Fax: (403) 252-5580
E-mail: investors@carmanah.com
Media:
Mr. David Davies
Tel: (250) 382-4332
ddavies@carmanah.com
This release contains forward-looking statements within the meaning of the "safe harbor" provisions of the U.S. Private Securities Litigation Reform Act of 1995. These statements are based on management's current expectations and beliefs and are subject to a number of risks and uncertainties that could cause actual results to differ materially from those described in the forward-looking statements. These risks and uncertainties are described under the caption "Note Regarding Forward-looking Statements" and "Key Information - Risk Factors" and elsewhere in Carmanah's Annual Report for the fiscal year ended December 31, 2003, as filed with the U.S. Securities and Exchange Commission and which are incorporated herein by reference. Carmanah does not assume any obligation to update the forward-looking information contained in this press release.
Featured Product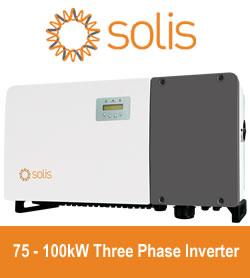 Solis75kW - 100kW series high-power string inverters are widely used in industrial and commercial rooftops. Solis's new three-phase string inverter is the first choice for industrial and commercial photovoltaics. 75-100kW three phase series string inverter have Maximum 28 strings input, support "Y" type connection in DC side. Maximum string input current 13A, support bifacial modules access.Supports anti-PID function to improve system efficiency.