SOLAR ENERGY IS PERPETUAL BUT IT HAS BEEN TOO DIFFUSE TO SATISFY OUR INCREASING DEPENDENCE ON LIMITED FOSSIL FUEL THE COSTS OF WHICH WILL CONTINUE TO SKYROCKET.
FOR IMMEDIATE RELEASE

US DEPARTMENT OF ENERGY
1000 INDEPENDENCE AVENUE SW
WASHINGTON DC 20585
OFFICE OF ALTERNATIVE ENERGY
GENTLEMEN:
SOLAR ENERGY IS PERPETUAL BUT IT HAS BEEN TOO DIFFUSE TO SATISFY OUR INCREASING DEPENDENCE ON LIMITED FOSSIL FUEL THE COSTS OF WHICH WILL CONTINUE TO SKYROCKET.
HOWEVER
ALTERNATE ENERGY SOURCES ARE LIMITLESS --
THE SUN - THE WIND - THE TIDES - HYDRO POWER - OCEAN TEMPERATURE ALIENATION - BIOCONVERSION - AND FINALLY SOLAR PANELS. THIS MONUMENTAL FREE ENERGY SHOWERS THE EARTH WITH OVER FIVE HUNDRED TIMES MORE ENERGY THAN THE PLANET CONSUMES.
INNOVATIVE CONSTRUCTION ADVANCES CAN NOW UTILIZE THESE DIFFUSE ENERGY SOURCES BY PROPRIETARY PROCEDURES HARNESSING THE IMMENSE UBIQUITOUS POWERS OF THE SUN, WIND, TIDES, TEMPERATURE TRANSFER AND BIOCONVERSION.
BIOCONVERSION
VIRTUALLY ALL ORGANIC MATTER CAN BE CONVERTED INTO NATURAL GAS, LIQUID NATURAL GAS AND CARBON DIOXIDE COST EFFECTIVELY IN HUGE SUBSURFACE BIO - REACTORS IN A TWO WEEK CYCLE.( SIXTY DRY TONS OF BIOMASS / DAY CAN PRODUCE OVER ONE MEGA WATT OF ELECTRICITY ). A BATTERY OF MOBILE CONDUCTION GENERATORS CAN PRODUCE THOUSANDS OF MEGA WATTS AT VIRTUALLY ANY LOCATION IN THE COUNTRY.
LIQUID NATURAL GAS IS THE SAFE CLEAN BURNING FUEL OF CHOICE TO POWER VEHICULAR TRANSPORT.
PRESSURIZED CO2 (DRY ICE) WILL BE USED AS A PERMANENT AIR CONDITIONING SOURCE.
THERE ARE OVER TWO BILLION ACRES AVAILABLE IN THE UNITED STATES TO CAPTURE SOLAR ENERGY ENABLING THIS COUNTRY TO GROW NATURAL GAS.
WIND ENERGY
ELECTRICITY GENERATING WIND TURBINES CAN NOW BE ANCHORED TO THE OCEAN FLOOR AT STRATEGIC OFFSHORE LOCATIONS GENERATING THOUSANDS OF TERRA WATTS OF POWER WHICH CAN BE READILY REDIRECTED TO THE COASTAL POWER GRID ALLOWING DANGEROUS NUCLEAR PLANTS TO BE DECOMMISSIONED.
THE OCEAN TIDES.
TENS OF BILLIONS OF TONS OF OCEAN WATER IS RAISED / LOWERED TWICE A DAY EVERY DAY BY THE LUNAR PHENOMENON. THIS INCREDIBLE POWER CAN NOW BE HARNESSED. ( O,O226 FT. LB. / MIN EQUALS WATTS / MIN)
WAVE POWER
UP TO TWO TERRA WATTS OF ELECTRIC ENERGY CAN BE TRANSFERRED FROM THE WAVES PER MILE OF COASTLINE.
OCEAN TEMPERATURE TRANSFER.
ONE CUBIC MILE OF OCEAN (1.25 BILLION CUBIC FEET) HAS A TEMPERATURE TRANSFER CAPACITY FOR HEATING / COOLING STRUCTURES IN EXCESS OF 600,000 THERMS. (ONE BTU IS THE ENERGY REQUIRED TO RAISE / LOWER ONE LB. OF WATER ONE DEGREE F.)
FRINGE BENEFITS.
LAND FILLS, TOXIC INCINERATORS, NUCLEAR POWER PLANTS, FOREIGN OIL IMPORTS WILL BE ELIMINATED AND ENERGY COSTS WILL BE STABILIZED AT A PERMANENT REASONABLE PRICE.
THE UNITED STATES WILL SOON BE ENERGY INDEPENDENT.
ACCORDING TO EDWARD J. HOLL, A GRADUATE WITH A DEGREE IN CIVIL ENGINEERING FROM THE CATHOLIC UNIVERSITY OF AMERICA IN WASHINGTON DC
HIGH SEAS CONSTRUCTION CORPORATION
313 15 TH., AVENUE
BELMAR,NJ 07719
FAX 732-681-3160
Featured Product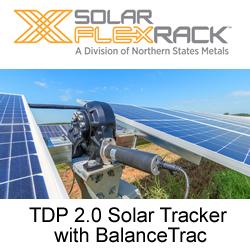 Solar FlexRack's latest solar tracker technology bundles an advanced tracker design with a full team of seasoned engineering and installation experts at your service. The next-generation solar tracker delivers a package of features that both enable increased energy yields for commercial and utility-scale solar installations, and significantly reduce project risks. That translates to smart installation cost-savings across your project budget.