Total Capital Committed to Cleantech in Q3 2004 Exceeds $310 Million
HOWELL, MI, January 26, 2005 - According to the Q3 2004 Cleantech Venture Monitor, released today by the Cleantech Venture Network LLC, an organization that connects venture, corporate and institutional investors with "clean technology" entrepreneurs, in the third quarter of 2004 the overall cleantech investment category garnered more than $311 million. Cleantech venture investment accounted for 7.2% of all North American venture funds, up from 4.2% in the previous quarter, as compared to total overall investments.

At $311.6 million, the aggregate capital committed to cleantech was the largest increase since Q2 2003. For the second consecutive quarter the West Coast's share of overall cleantech deals declined, as the Northeast led regionally. Other regions, such as Eastern Canada, captured a higher share of cleantech capital than ever before. The total volume of deals decreased to 50 from 62 the previous quarter with follow-on round deals dominating the quarter, constituting 86% of all funding.
"The large amount of capital committed this quarter is yet another indication that cleantech investment is here to stay," said Nicholas Parker, co-founder and chairman of the Cleantech Venture Network. "One point of concern during this quarter is that only 15 companies received seed or first round funding. The cleantech venture community will soon need to address this lack of start-up deals if the pipeline of emerging companies is to remain healthy as we move into 2005 and beyond."
Cleantech investor pioneers RockPort Capital and EnerTech Capital were the most active investors in Q3 with four deals each, as 107 investors completed one or more cleantech deals in the period. Among the Q3 cleantech investors were leading mainstream VCs such as Intel Capital, New Enterprise Associates, Vanguard, Mayfield and Partech who played significant roles in large deals such as those benefiting Konarka Technologies (photovoltaics) and PolyFuel (direct methanol fuel cells).
"After the unprecedented success of Cleantech Venture Forum V in Toronto last October, we are looking forward to the Cleantech Venture Forum VI at the San Francisco Marriott on March 22-24 and our expansion to Europe with Cleantech Venture Forum VII in Paris from May 17-19," said Keith Raab, President & CEO, Cleantech Venture Network. "In an effort to promote and expand the understanding and profile of the cleantech investment category, we are excited to announce that the first comprehensive research report titled, 'Cleantech ? Venture Investment Patterns and Performance,' will be available to the public in February."
Additional Key Data Points:
- More Investors Get Involved: Overall, 20 firms participated in multiple cleantech financings in Q3, up significantly from Q2 when only eight firms participated in multiple deals. Overall, 121 unique investors participated in a cleantech investment in Q3 and the average deal size was $6.4 million.
- First Round Financing Falls: First round financings declined appreciably in Q3, capturing only $40.2 million, a drop of 35.4% from Q2.
- Energytech Continues to Dominate: More than half of the 49 total investments into cleantech in Q3 went into energy-related companies, for a total of $167.5 million, accounting for 53.8% of the cleantech total.
- Recycling Rally Continues: For the second straight quarter Materials Recovery & Recycling doubled its previous investment level, surging to the second overall spot in total capital, increasing to $43.2 million in Q3.
- A Funding Flurry for Fresh Air: After zero investment in Q1, the Air Quality sector continued to gain momentum, doubling Q2 totals, increasing to $25.3 million, representing 8.1% of the cleantech total.
Geographical Trends:
- European Expansion on the Horizon: More than $33 million was invested in four European companies this quarter, a positive development leading into Cleantech Venture Forum VII in Paris, May 17-19.
- North of the Border Interest Expands: In the wake of Cleantech Venture Forum V in Toronto, Canada captured nearly 26% (up 166%) of the capital invested, totalling $80.6 million, over 10 deals with Eastern Canada leading the West two to one. Since Q2 2003, Canada has seen more than a five-fold increase in its market share ? growing from $15.6 million to $80.6 million of total cleantech investments.
- From Contender to Title Holder ? The Northeast: The Northeast region took the leadership position with an 8% increase, to $71.9 million. Deal activity decreased slightly with eight companies receiving funding in Q3, compared to 13 in Q2.
- West Coast Decline Deepens: After receiving $153.6 million in Q1 2004 and $95.4 million in Q2 2004, the West Coast continued its downward trend, finishing with a total of $60.6 million in Q3.
- The Midwest and Northwest Return: The Midwest reported nearly an 80% increase to $29.8 million, while the Northwest received $18.7 million with three investments in Q3 ? a 5% increase over Q2.
About the Cleantech Venture Network, LLC
The Cleantech Venture Network LLC is an organization that connects venture, corporate and institutional investors with "clean technology" entrepreneurs, through related information products, online services and the Cleantech Venture Forum series of events. We serve over 500 affiliate investor member firms worldwide. We have tracked more than $3 billion invested in cleantech ventures since 2002, of which nearly $275 million has been raised by Forum-presenting companies. Further information can be found at www.cleantechventure.com or by calling (+1) 517-223-9607.
Cleantech Venture Network invites companies and investors engaged in commercializing or investing in clean technologies to apply for membership as a Company or Investor. For details, contact Lauren Bigelow at lauren@cleantechventure.com.
Featured Product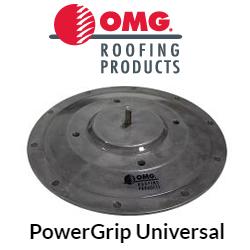 Eliminate Solar Rack Ballast and Reduce Rooftop Material Handling. PowerGrip™ Universal (PGU) is a commercial roof mount system designed to secure solar racks and other equipment to any type of commercial roofing system. PGU provides a secure connection directly to the roof deck or structural members and is designed to reduce or eliminate ballast in solar racking systems, so there's less weight on the roof and less material handling. Made of heavy-duty cast aluminum, PGU units include a base ring which is secured through the roofing cover and into the structural roof deck, and a waterproof top plate.