EcoEnergies completes solar power system for Tierra Encantada affordable housing project in San Jose, CA… but developer wants more!
January 20, 2005

Even as its first solar project with Community Housing Developers (CHD) is coming to fruition, a second solar system for another CHD project is under development. "Once you've seen the benefits of one solar power system, you realize that you'll need one for all your projects", said Bonnie Bamburg, CHD's Director of New Development.
CA State Treasurer Phil Angelides joined San Jose Mayor Ron Gonzales, CHD President Ron Morgan and other dignitaries today, cutting the ribbon at dedication ceremonies for San Jose's new Tierra Encatada affordable housing project. The 93-unit project, developed by Community Housing Developers (CHD), uses a fraction of the electrical requirements of a typical project. CHD worked with EcoEnergies-- one of the largest solar systems companies in the US-- to design and develop an innovative solar power system that provides almost 30 kW of power for the project, and cuts atmospheric emissions of CO2 by almost 300 tons over the first 25 years of operation.
Ms. Bamburg has spearheaded many of the project's highly efficient energy features. "We're using the sun's power and a mixture of leading-edge efficiency measures to slash our operating costs", she said. In 2003, only 2 other development projects in Santa Clara County achieved similar low levels of energy usage.
"Solar electric systems are ideally suited for affordable housing projects", said Peter Carrie, EcoEnergies' President. Solar power reduces or eliminates the need for electricity from the local utility. This in turn helps the facility qualify for 'Title 24' allowances, which include project financing benefits and increased state subsidies for the solar system.
CHD's Project Manager Bill Zavarlis worked closely with EcoEnergies to bring the solar system to fruition. To help blend with the development's architectural styling, the low-profile solar system was mounted on three different roof areas, making it practically invisible from the ground.
"We've discovered that the synergy between solar power's electricity savings and various financial benefits makes solar power a 'must' for our projects," Bamburg added. "We've combined solar power with extra insulation, 'Low-E' coated windows, energy star appliances, and efficient heating and cooling systems to achieve the lowest possible operating cost. The results are so good that we're well along the way to constructing our second solar power system on another project, working again with EcoEnergies."
"Because of these benefits and our experience in working with CHD and other affordable housing developers, every single one of these developers has come back to EcoEnergies for additional solar power systems for new projects," Carrie added. "Some of these developers are on their 4th or 5th system-- once they've tried solar, they never go back!"
Background
About Tierra Encatada
The Tierra Encantada affordable housing project consists of 93 family housing units and 7200 square feet of neighborhood commercial space, all located on a 2.2 acre site.
The 28.4 kilowatt solar electric system consists of 204 solar panels provided by RWE Schott Solar, and a Xantrex 30 kilowatt inverter.
About EcoEnergies
EcoEnergies, Inc. is one of the largest solar power systems companies in the United States. The company focuses on small to medium-sized solar power and wind power systems (2 - 250 kilowatts), in applications ranging from residential construction to remote power systems. EcoEnergies has completed several solar power systems for affordable housing clients and developers, and has completed over 300 other projects totaling 2 megawatts in solar capacity. Eco has varied clients including developers, businesses, US military agencies, and foreign governments. The company recently completed what is believed to be the world's largest residential solar system, of ~85 kilowatts capacity.
Featured Product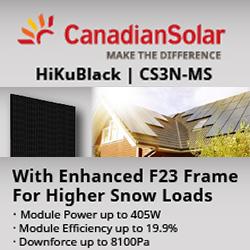 Aesthetic appearance for residential systems: With black backsheet & black frame, Power range 380 ~ 405 W, Low power loss in cell connection. Enhanced reliability: · Low temperature coefficient (Pmax): -0.34 % / °C, LID LeTID less than 2.0%, Lower hot spot temperature, Better shading tolerance.