The new device, called the Hydrogen Quality Sampling Adapter (HQSA) is unique because it provides, for the first time, a means of collecting hydrogen samples at a fuel dispenser nozzle.
West Sacramento, CA. The California Fuel Cell Partnership (CaFCP) today announced the development of a new tool to help facilitate the demonstration and development of hydrogen fuel systems to support fuel cell vehicles. Just as conventional fuels used in cars and buses today must meet certain quality specifications, the quality of hydrogen is important for obtaining optimal performance of a fuel cell vehicle.

The new device, called the Hydrogen Quality Sampling Adapter (HQSA) is unique because it provides, for the first time, a means of collecting hydrogen samples at a fuel dispenser nozzle. Typically, hydrogen gas is sampled for quality testing at a fuel station's storage vessels. CaFCP's InterOperability Team, which developed the HQSA, recognized the importance of sampling the fuel at the point where it is dispensed into a vehicle's tank. With the new device, sampling can be conducted at the nozzle to identify possible contamination of the fuel that might occur after it has left the storage vessel.
The InterOperability Team, a collaborative team of engineers and technical specialists from the multiple industry sectors that comprise the CaFCP membership, is developing a number of tools to address various aspects of hydrogen quality to help fuel cell vehicles and hydrogen infrastructure advance towards full commercial status.
Last October, CaFCP announced that the InterOperability Team had developed a trailer-mounted hydrogen Station Testing Apparatus. The new HQSA has been incorporated into this mobile unit allowing it to be transported easily to the growing network of hydrogen fuel stations in California.
CaFCP also announced in December that the German manufacturer WEH GmbH Gas Technology received CaFCP's incentive award for demonstrating that the company's hydrogen fuel nozzle meets industry performance standards developed by the Society of Automotive Engineers (SAE).
The new Hydrogen Quality Sampling Adapter allows for the connection of a currently available gaseous fuel sampling bottle to be connected to an SAE-standardized hydrogen fueling station dispenser nozzle.
Technical factsheets about the HQSA and the Station Testing Appliance can be found at CaFCP's on-line resource center, www.cafcp.org/resource-ctr.html
About CaFCP
The California Fuel Cell Partnership is a voluntary, industry-government collaboration to advance a new vehicle and fueling technology that could move the world toward practical and affordable environmental solutions. CaFCP members are demonstrating fuel cell-powered electric vehicles under real day-to-day driving conditions; testing alternative fuels and demonstrating the viability of an alternative fuel infrastructure technology; facilitating the path to commercialization; and increasing public awareness of fuel cell electric vehicles. The CaFCP is working to facilitate placement of up to 300 fuel cell passenger cars and buses on the road by the end of 2007.
The CaFCP which started in April 1999 includes auto manufacturers (DaimlerChrysler, Ford, General Motors, Honda, Hyundai, Nissan, Toyota and Volkswagen); energy providers (Air Products, BP, ChevronTexaco, ExxonMobil, Pacific Gas and Electric Company, Praxair, Proton Energy Systems, Shell Hydrogen, Stuart Energy and Ztek); technology companies (Ballard Power Systems and UTC Fuel Cells); government agencies (California Air Resources Board, California Energy Commission, South Coast AQMD, US Department of Energy, US Department of Transportation, US Environmental Protection Agency, National Automotive Center and the Institute of Transportation Studies at UC Davis); and bus transit agencies (AC Transit, Santa Clara Valley Transportation Authority and SunLine Transit Agency).
For more information, please contact the California Fuel Cell Partnership at: 916-371-2870 or by email: info@cafcp.org
Featured Product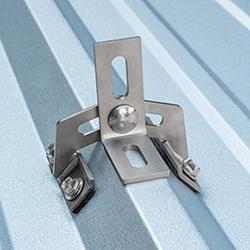 QuickBOLT Low Profile QuickBOLT with Microflashing™ is the industry's affordable, UL Certified Asphalt Shingle mounting system. The Microflashing™ is compressed by the collar on the bolt to create a water-tight seal. With an installation time of less than one minute, the Low Profile QuickBOLT allows installers to complete more jobs.