ISE designs, develops and assembles fully integrated hybrid-electric drive systems and components for large buses, trucks and military vehicles.
West Sacramento, Calif., March 14, 2005 -- The California Fuel Cell Partnership today announced that ISE Corporation has joined CaFCP as its 32nd member. CaFCP is a unique public-private collaborative to demonstrate and promote fuel cell vehicles and hydrogen fuel systems.

ISE designs, develops and assembles fully integrated hybrid-electric drive systems and components for large buses, trucks and military vehicles. Hybrid-electric drive systems usually power a vehicle by using a conventional fossil-fueled engine in series or parallel to an energy storage device and electric motor. ISE designs and develops control systems and software which govern and optimize the use of energy in hybrid-electric drive systems.
ISE, in a joint venture with Thor Industries, produced its first fuel cell bus in 2001. ISE is now providing the design and integration of four zero emission buses for two CaFCP members, AC Transit in Oakland and SunLine Transit in Palm Desert, California. The hydrogen-fueled buses are being constructed through a unique collaboration between Van Hool, UTC and ISE. (Please visit www.cafcp.org for more information about the fuel cell bus demonstration programs at these transit agencies.)
In addition to its role in developing and integrating fuel cell bus technology, as an associate member ISE will support CaFCP's goals by working on the development of hydrogen fuel systems, codes and standards and providing technical training assistance.
"ISE has been a strong researcher and developer of hydrogen fuel systems for more than five years," said David Mazaika, president and co-CEO of ISE Corp. "In addition to our research, our focus on practical near-term applications, such as fuel cell buses, supports the mission of CaFCP. We are truly honored to begin working as a member of this collaborative organization."
"ISE's knowledge and experience in developing fuel cell hybrid bus technology and other aspects of hydrogen fuel systems will benefit all our members," said CaFCP's executive director, Catherine Dunwoody. "We're pleased to welcome ISE as a member."
About CaFCP
The California Fuel Cell Partnership is a voluntary, industry-government collaboration to advance a new vehicle and fueling technology that could move the world toward practical and affordable environmental solutions. CaFCP members are demonstrating fuel cell-powered electric vehicles under real day-to-day driving conditions; testing alternative fuels and demonstrating the viability of an alternative fuel infrastructure technology; facilitating the path to commercialization; and increasing public awareness of fuel cell electric vehicles. CaFCP is working to help our members place of up to 300 fuel cell passenger cars and buses on the road by the end of 2007.
CaFCP includes auto manufacturers (DaimlerChrysler, Ford, General Motors, Honda, Hyundai, Nissan, Toyota and Volkswagen); energy providers (Air Products, BP, ChevronTexaco, ExxonMobil, Pacific Gas & Electric Company, Praxair, Proton Energy Systems, Shell Hydrogen, Stuart Energy and Ztek); technology companies (Ballard Power Systems, ISE Corp. and UTC Fuel Cells); government agencies (California Air Resources Board, California Energy Commission, South Coast AQMD, US Department of Energy, US Department of Transportation and US Environmental Protection Agency and the Institute of Transportation Studies at UC Davis); and bus transit agencies (AC Transit, Santa Clara Valley Transportation Authority and SunLine Transit Agency).
For more information, please contact the California Fuel Cell Partnership at: 916-371-2870 or by email: info@cafcp.org, or visit www.cafcp.org
Featured Product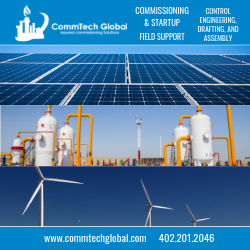 CommTech Global Solutions, LLC, provides professional and reliable commissioning services to customers in all realms of the energy industry. We blend our skills in engineering and technology with innovative business models, offering a complete range of services to assist you for a successful and in compliance operational startup. Consolidation of all our service domains gives our clients a comprehensive set of expertise and far-reaching experience on each project.