Photovoltaic Systems to be Furnished by PowerLight Corporation -- Leading Wine Storage and Distribution Center Joins Roster of Wine Country Leaders Incorporating Solar Electricity in Their Energy Mix
Photovoltaic Systems to be Furnished by PowerLight Corporation

Leading Wine Storage and Distribution Center Joins Roster of Wine Country
Leaders Incorporating Solar Electricity in Their Energy Mix
March 21, 2005, NAPA, CA - The Wine Service Co-operative, a leading wine
storage and distribution center for top-quality boutique wines, has
commissioned a 424 kW solar electric system for their Napa Valley facilities, to be
furnished by PowerLight Corporation. Comprised of two solar electric
systems (195 kW and 229 kW), the projects will be installed atop the Wine
Co-op's St. Helena and South Napa facilities. These solar arrays will
generate enough electricity during the day to power over 400 homes, and,
combined with energy efficiency measures, provide up to 100% of the
facilities annual energy needs, substantially reducing operating costs. The
project is scheduled for completion by Summer 2005.
"The installation of solar power at our wine storage and distribution
facility marks a step forward in our continuing efforts to reduce costs for
our members while helping to achieve sustainability," said Bob Holmes,
General Manager, Wine Service Co-operative.
"Generating clean, renewable energy makes sense for both, environmental and
economic reasons," added Christopher Dearden, President of the Board of
Directors.
"As a solar energy supporter who's recently installed a solar array at my
winery, it was the logical next step to recommend to my Wine Co-op
colleagues that they purchase a solar electric system," said John Williams,
President of Frog's Leap Vineyards. "By deploying solar power, the Wine
Co-op will realize the environmental and economic benefits of this
technology."
"The Co-op's objective was to use solar power to offset its annual
electricity bill without adversely affecting its cash flow", said Gopal
Shanker, President of Wine Business Strategies, the company which developed
the solar RFP for the Wine Service Co-operative. "After an extensive review
of top-notch vendor proposals, the Wine Service Co-operative chose
PowerLight's solar electric system."
"We salute Wine Service Co-op's stewardship in embracing solar generation,"
said PowerLight President Dan Shugar. "Solar will power their operation and
help improve the health and quality of life in the region. This contributes
to California's overall efforts to achieve sustainability and energy
independence. The wine industry is to be commended for integrating
cost-effective solar into their energy mix. These businesses are
effectively lowering operating costs, reducing purchases of expensive peak
electricity, and taking pressure off the electrical grid."
The PowerLightR tilted solar roof system at the Wine Service Co-op features
modules with a 10-degree tilt to maximize exposure to Napa's abundant
sunshine.
The lightweight, photovoltaic roofing assembly generates clean solar
electricity, protects the roof from the damaging effects of weather and UV
radiation, and is installed without penetrating the roof surface. The solar
arrays, which consist of 2,125 high efficiency solar modules manufactured by
Sharp, will cover a total of 38,000 square feet. These solar arrays leverage
an unused asset-the facilities' roofs-to generate clean power and reduce
operating costs.
When combined with lighting upgrades, the solar generation system will
substantially eliminate the facilities annual electricity requirements. Over
the next 30 years, this solar electric system will spare the environment
from tons of polluting emissions, such as CO2, NOx, and SO2, that contribute
to smog, acid rain and global climate change.
In addition to solar generation, PowerLight deployed energy-saving lighting
upgrades at the Napa warehouse using high efficiency, high output linear
fluorescent technology. Additional energy efficiency measures performed by
the Wine Co-op included additional insulation in the roofing system, and the
replacement of air conditioning package units.
About PowerLight
PowerLight (www.powerlight.com) is the leading manufacturer and supplier of
large-scale solar electric systems and energy efficiency services. Founded
in 1991, PowerLight delivers reliable, affordable, clean power solutions for
business and government customers worldwide. Inc. Magazine has ranked
PowerLight Corporation among the top 500 fastest growing privately held
companies for five consecutive years. PowerLight has built and continues to
operate many of the largest solar electric systems in North America and
Europe.
About Wine Service Co-operative
The Wine Service Co-op was formed in 1972 by wineries located primarily in
Napa Valley to provide a centralized consolidation point for cased storage
and shipping services. Currently, the Co-op operates two warehouses; a
182,000 square foot facility in St. Helena, and a 160,000 square foot
facility in South Napa. The combined storage of the two warehouses is 2.7
million cases, with annual shipments of 5.2 million cases of wine. Nearly 50
member wineries store and ship cased wine at WSC. WSC charges all services
to its members and non-members at breakeven, providing them with a financial
break from public warehousing fees and a higher level of service.
Members include:
Altamura Winery
Arns Winery
Benessere Vineyards
Buehler Vineyards
Burgess Cellars
Cakebread Cellars
Carneros Creek Winery
Casa Carneros Vineyards
Caymus Vineyards
Belle Glos
Conumdrum Winery
Mer Soleil
Chameleon Cellars
Chappellet Winery, Inc.
S.E. Chase Family Cellars
Clos du Val Wine Company
Corison Winery
Dalla Valle Vineyards
David Arthur Vineyards
Dolce
Duckhorn Vineyards
Dunn Vineyards
Ehlers Estate
Far Niente Winery
Freemark Abby Winery
Highlands Wine Company
Lineage Vineyards
Frog's Leap Winery
Gundlach-Bundschu Winery
Harlan Estate
Heitz Wine Cellars
Joseph Phelps Vineyards
Long Vineyards
Markham Winery
La Jota Vineyards
Mayacamas Vineyards
Neyers Vineyard
Nickel & Nickel Vineyards
Robert Keenan Winery
Schramsberg Vineyards
Schuetz Oles Winery
Shafer Vineyards
Silver Oak Cellars
Spottswoode Winery
Spring Mountain Vineyards
Stag's Leap Wine Cellars
Stimson Lane Ltd.
Stonegate Winery
Stony Hill Vineyard
Storybrook Mountain Vineyards
Swanson Winery
Trefethen Vineyards
Turley Wine Cellars
Twomey Cellars
Featured Product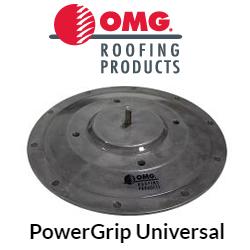 Eliminate Solar Rack Ballast and Reduce Rooftop Material Handling. PowerGrip™ Universal (PGU) is a commercial roof mount system designed to secure solar racks and other equipment to any type of commercial roofing system. PGU provides a secure connection directly to the roof deck or structural members and is designed to reduce or eliminate ballast in solar racking systems, so there's less weight on the roof and less material handling. Made of heavy-duty cast aluminum, PGU units include a base ring which is secured through the roofing cover and into the structural roof deck, and a waterproof top plate.