Canada's Sustainable Energy Technologies SUNERGY 5 Grid-Tied Solar Inverter conforms with UL standards, allowing commercial sales to begin in North America
Calgary, Alberta - April 11, 2005 - Sustainable Energy Technologies Ltd (TSXV: STG), a leading developer of advanced power electronics for global alternative and renewable energy industries, is pleased to announce that Underwriters Laboratories ("UL") has confirmed that the Company's SUNERGY 5 solar inverter complies with UL 1741 standards for grid-tied applications. UL 1741 is a requirement that power conversion products must meet in order to be sold commercially in North America.

"UL listing is an important milestone for Sustainable Energy," said Michael Carten, President & CEO. "Not only does it clear the way for commercial sales in the North American market, it is also a key confidence factor for potential partners in Europe. With this behind us, we are able to begin effectively marketing our products, and we are targeting a number of potential partnerships that will enable us to penetrate high growth markets in Europe.
"In Europe, production-driven incentives are attracting investment funds towards larger installations, making continuous power output in all weather conditions, low maintenance and reliability the critical selling features. The SUNERGY's inherently more reliable and safer low-voltage design, and its ability to deliver full power in the sunniest part of the day, will differentiate it from competitive products," added Carten.
The SUNERGY inverter uses the same proven technology developed for stationary fuel cell applications to maximize total power output of the solar modules through a wide range of operating conditions.
High Efficiencies: With a weighted average of 93%, SUNERGY 5's electrical conversion efficiencies are among the highest in the industry.
No Thermal Rollback: Unlike competitive grid interactive inverters, which reduce power output in hot weather - called "thermal rollback" - the SUNERGY operates at full power to 50 degrees Celsius (122 F) maintaining maximum continuous power in the hottest and sunniest parts of the day.
Reliability: Sustainable Energy's inverter platform was designed from the outset to meet the very high reliability standards for stationary fuel cells, and has been tested extensively in that very difficult environment. Whereas most inverters offer two to five year warranties, the SUNERGY's simple design supports a 10-year product warranty - the highest in the industry.
Underwriters Laboratories Inc. (www.UL.com) is an independent, not-for-profit product safety certification organization that has been testing products for more than a century.
Sustainable Energy Technologies Ltd (www.sustainableenergy.com) develops, manufactures and markets advanced power electronics products for emerging alternative and renewable energy markets. Certain statements contained in this press release may be considered as forward-looking. Such forward-looking statements are subject to risks and uncertainties that could cause actual results to differ materially from estimated or implied results.
The TSX Venture Exchange does not accept responsibility for the adequacy or accuracy of this release.
For Further Information please contact:
Phil Winters, Marketing and Investor Relations
Ph. 416-830-6668
Email: phil.winters@sustainableenergy.com
Featured Product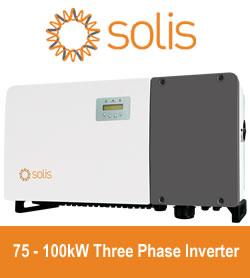 Solis75kW - 100kW series high-power string inverters are widely used in industrial and commercial rooftops. Solis's new three-phase string inverter is the first choice for industrial and commercial photovoltaics. 75-100kW three phase series string inverter have Maximum 28 strings input, support "Y" type connection in DC side. Maximum string input current 13A, support bifacial modules access.Supports anti-PID function to improve system efficiency.