D1 Oils plc ("D1 Oils"), the low cost global producer of biodiesel, today announced a significant boost to its renewable fuel programme in India.
D1 Oils plc the low cost global producer of biodiesel, today announced a significant boost to its renewable fuel programme in India as D1 Mohan Bio Oils Limited, ("D1 Mohan"), its 50:50 joint venture, signed a Memorandum of Understanding ("MOU)") with the State Bank of India ("SBI") to provide Rupees 1.3 billion (approximately £15 million) to local farmers in Tamil Nadu to plant up to 40,000 hectares of jatropha. The harvested seeds will have an anticipated yield of between 100,000 and 120,000 tonnes of crude jatropha oil per annum (assuming the full 40,000 hectares are planted). The costs of servicing the loans will be deducted from the price paid by D1 Mohan for the seeds.

D1 Mohan is a joint venture between D1 Oils and Mohan Breweries & Distilleries Limited in India. In January this year, D1 Mohan announced it would aim to plant up to 100,000 hectares of jatropha across India in 2005. The financing arrangements are a key component of this plan. D1 Oils has the option to export 25% of the crude oil to its international customers, with the bulk of the crude oil being retained for domestic biodiesel production. The use of bank finance to provide farmers with the ability to purchase seedlings and planting materials enables the business in India to expand more rapidly and conserve working capital.
P Chaudhuri, Chief General Manager of SBI, said, "Small farmers and landless labourers will benefit as we shall finance the cultivation. They shall find a ready market for their produce from D1 Mohan. The loans will be realised from the sale of the crop."
M. Nandagopal, Managing Director of D1 Mohan, remarked, "We believe the creation of a sustainable, renewable energy programme in India with all of the associated economic and environmental advantages is important and this agreement is a very good step in the right direction."
Philip Wood, CEO of D1 Oils, commented, "This is a further endorsement of our jatropha programme. Obtaining external finance for the farmers is an important step for D1 Mohan towards achieving its objective of a rapid, large scale implementation of this programme in India."
Enquiries
Philip Wood
D1 Oils plc
020 7321 3885
Graham Prince
Carbon International
020 7586 6641
Featured Product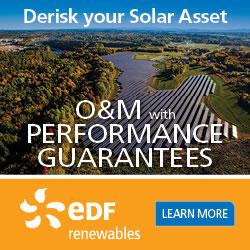 EDF Renewables offers the same innovative solutions that maximize the performance of our own 5.2 GW of installed projects. Because we're not an equipment manufacturer, our recommendations are transparent and data-driven. We cover the entire project lifecycle: from pre-commissioning support, through warranty and post warranty operation, to late stage and decommissioning.