Wind Power Growth in Spain Helped Boost Iberdrola, While Regulatory Uncertainty in the US Hindered FPL Energy in 2004
Cambridge, MA, 5 May 2005 - Spanish utility Iberdrola has surpassed US powerhouse FPL Energy as the largest wind farm owner in the world, after record expansion of wind plant ownership to nearly 2,950 MW in 2004, according to the latest rankings from Emerging Energy Research (EER), a Cambridge-MA based research and advisory company.

After adding 905 MW of new wind farms in 2004, Iberdrola led FPL Energy by 209 MW at year end 2004, according to EER's annual Wind Plant Ownership Rankings. EER ranks the global top 20 wind farm owners, on a net-ownership basis, which together account for approximately one-third of wind power capacity worldwide. Enersis of Portugal made the list for the first time, while Edison Italia dropped out of the top 20 in 2004.
With Iberdrola leading the way, Spanish companies account for three out of the top five wind plant owners worldwide, five out of the top 10, and seven out of the top 20, according to EER's rankings. "The impressive record of Spain's wind companies reflects not only the strong demand for wind power but also a Spanish market model supporting utility and IPP ownership," says Keith Hays, EER's European Research Director. Two other Spanish companies join Iberdrola in the top five, including EHN, owned by Spanish construction giant Acciona, and Endesa, Spain's largest utility.
By contrast, FPL Energy, a leading US independent power producer with substantial wind power holdings, halted wind farm construction due to regulatory uncertainty in the US market, according to EER's US Research Director Godfrey Chua. "Without the Production Tax Credit (PTC), an important wind energy incentive that was allowed to expire at year end 2003, the US market was not a conducive environment in which to build wind farms," says Chua.
Market leadership still in contention for 2005
Iberdrola and FPL Energy will continue to vie for the top ranking in 2005 as both are expected to add significantly to their wind farm portfolios. After a quiet 2004, FPL Energy is expected to put into service a near-record 750 MW of wind power, according to Chua. With the Spanish wind market expected to remain strong, Iberdrola is seeking to replicate its strong 2004 performance in 2005 by defending its domestic market share and expanding its wind portfolio in Greece and other Southern European countries. Both companies are expected to extend their lead over third place, according to EER estimates.
Spanish companies will continue to be the most widely represented in the top 20 through 2005, says Hays, as many consolidate their positions. A number of US utilities and IPPs are expected to move up in the global rankings in 2005 as over 2,000 MW are expected to be added this year, according to EER. Some such as MidAmerican Energy are expected to appear in the top 20 for the first time once major projects are completed.
ABOUT THE RANKINGS
EER tracks wind plant ownership globally as part of its Global Wind Energy Advisory service. Rankings are based on aggregated ownership of wind farms in service on a net equity ownership basis; wind farms in service are measured by rated capacity. More information about EER's Wind Plant Ownership Rankings can be found at www.emerging-energy.com
ABOUT EMERGING ENERGY RESEARCH
Emerging Energy Research (EER) is an independent research and advisory company that provides pragmatic forward-thinking advice about new energy technologies, markets and strategies. For more information, please visit www.emerging-energy.com.
Featured Product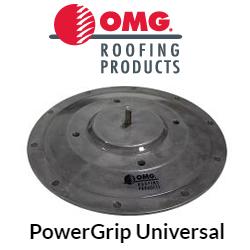 Eliminate Solar Rack Ballast and Reduce Rooftop Material Handling. PowerGrip™ Universal (PGU) is a commercial roof mount system designed to secure solar racks and other equipment to any type of commercial roofing system. PGU provides a secure connection directly to the roof deck or structural members and is designed to reduce or eliminate ballast in solar racking systems, so there's less weight on the roof and less material handling. Made of heavy-duty cast aluminum, PGU units include a base ring which is secured through the roofing cover and into the structural roof deck, and a waterproof top plate.