RenewableEnergyStocks.com Presents an Online Audio Interview with Tom Djokovich, President and CEO of XsunX, Inc., a Building Integrated Photovoltaics Developer.
RenewableEnergyStocks.com Presents an Online Audio Interview with Tom Djokovich, President and CEO of XsunX, Inc., a Building Integrated Photovoltaics Developer.
POINT ROBERTS, Wash., May 19th, 2005 - www.RenewableEnergyStocks.com (RES), an investor and industry news portal for the renewable energy sector, is pleased to present an online interview with Tom Djokovich, CEO of XsunX, Inc (OTCBB: XSNX), a developer of solar glass technology. The Company's Power Glass' product, which allows glass windows to produce electricity from the power of the sun, is part of a new area of commercial opportunity called Building Integrated Photovoltaics (BIPV), a technology that allows photovoltaic material in the form of photoelectric panels, to be incorporated into the design of buildings providing additional sources for power production. According to Mr. Djokovich, "XsunX plans on licensing their solar glass technology to glass manufacturers around the world, who in turn can offer their clients the ability to turn the glass skin of modern high rise and commercial buildings into massive power generating systems and the resulting power produced can be used to power lights, elevators and other building power needs."
Power Glass' utilizes a unique patent protected manufacturing process that is highly scalable, and employs the use of inexpensive thin film plastics reducing the overall cost of producing the solar cells. Based upon their analysis, XsunX anticipates that their solar cell design and manufacturing process may offer as much as a 100% gain on an efficiency to cost basis over current technologies, creating a significant marketplace advantage.
For Access to the Online Audio Interview in Full Click Here:
http://www.investorideas.com/CO/XSNX/Audio/interview_051705.asp
Featured Company: (RES is compensated by companies as disclosed in disclaimer.)
XsunX, Inc (OTCBB: XSNX) is the developer of Power Glass' - an innovative solar technology that allows glass windows to produce electricity from the power of the sun. This proprietary process is intended to allow manufacturers to apply a transparent and photovoltaic glazing to glass and other transparent substrates. When XsunX glazing is exposed to light, the light energy is converted into electrical energy for use as a power source. XsunX believes that its solar electric glazing technology has a number of major market opportunities in the worldwide architectural glass, optical film and plastics markets.
Corporate Profile, News and Info: http://www.renewableenergystocks.com/CO/XSNX/Default.asp
RenewableEnergyStocks.com offers investors research, news and company links within the renewable energy sector. To complement this site, we also feature www.FuelCellCarNews.com to meet the interest in fuel cell technology and the participating public and private companies. InvestorIdeas sites do not give specific recommendations, and encourage investors to complete due diligence.
Our current list of Renewable/Alternative Energy Stocks is available here: www.RenewableEnergyStocks.com/Companies/RenewableEnergy/Stock_List.asp
Our current list of Fuel Cell Stocks is available here:
www.FuelCellCarNews.com/Companies/FuelCellCarnews/Stock_List.asp
Disclaimer: ECON Investor Relations Inc is the owner of the domain www.RenewableEnergyStocks.com and www.FuelCellCarNews.com . Our site does not make recommendations, but offers a unique information portal to investors to research news, articles, and recent research. Nothing on our sites should be construed as an offer or solicitation to buy or sell any specific products or securities. All investments involve risk. Although we attempt to research thoroughly, we offer no guarantees as to the accuracy of any information presented. We encourage all investors to use our sites only as a resource to further their own research. The site is currently compensated for by its "featured companies." XSUNX Inc. (OTCBB: XSNX) Two thousand dollars per month and two thousand equivalent in one forty-four shares
For more information contact:
Dawn Van Zant / Trevor Ruehs/ Ann-Marie Fleming
Toll free: 800-665-0411
Email: dvanzant@investorideas.com, truehs@investorideas.com or afleming@investorideas.com
Web Site: www.InvestorIdeas.com
Featured Product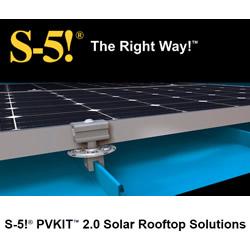 The concept of combining PV arrays with standing seam metal roofing is growing-for good reasons. Metal roofs have a life expectancy of more than 40 years. Shouldn't the mounting system last as long? With S-5! zero-penetration attachment technology and PVKIT 2.0, the solarized metal roof is the most sustainable system available -and without compromising roof warranties! PVKIT 2.0 is the also the best solution for attaching PV modules directly to any exposed fastener metal roof.