Success on Plastics Extends Business Development Opportunities for XsunX
For Immediate Release

May 31, 2005
XsunX Produces Transparent Solar Cell on Thin-Film Plastic
Success on Plastics Extends Business Development Opportunities for XsunX
ALISO VIEJO, Calif., May 31, 2005 - XsunX, Inc. (OTCBB: XSNX), developer of Power Glass(TM), an innovative solar technology that allows glass windows to produce electricity from the power of the sun, announced today that its recent success in the development of low temperature manufacturing techniques has allowed the Company to produce its first transparent solar cell on inexpensive true thin-film plastic.
Adding to the importance of this development, the Company anticipates that in addition to samples on glass, it will soon begin providing certain qualified manufacturers with samples of its Power Glass(TM) on plastic films.
XsunX's recent expansion of its R&D capabilities and the addition of technical expertise in key research areas of thin-films have produced new prototypes of Power Glass(TM) on transparent polyesters such as Polyethylene Terephthalate, or PET, and Polyethylene Naphthalate, or PEN. This represents a major milestone for the Company as these plastics require low processing temperatures and represent some of the thinnest, lightest, and least expensive substrates for solar cell manufacturing.
``The modern glass industry has grown very familiar with the wide use of PET and PEN films with special coatings to reduce heat gain or provide UV filtering properties,'' said Tom Djokovich, XsunX's CEO. ``Our goal has been to deliver to the industry the ability to use these same films coated with the XsunX Power Glass(TM) transparent solar cell. We believe that leveraging the glass industries familiarity with the manufacture and use of products that employ these types of high performance coatings on PEN and PET plastics will open up new markets for the glass industry that extend far past simple solar heat and UV control,'' concluded Mr. Djokovich.
XsunX believes that the use of PET and PEN plastics to produce large rolls of true thin-film transparent solar cells may represent a high degree of commercial viability to the multi-billion dollar glass and high performance coatings industry. Power Glass(TM) technology is intended to allow photovoltaic material, in the form of photoelectric panels on thin-film plastics, to be incorporated into the glass skin of a building, thus providing a new and innovative way to integrate additional sources of power production into the operation of buildings.
About XsunX
XsunX, Inc. is developing Power Glass(TM) -- an innovative solar technology that allows glass windows to produce electricity from the power of the sun. This means that inhabitants of buildings that have Power Glass(TM) films integrated into the skin of the building will be able to continue to view the great outdoors -- as if they were looking through conventional glass windows. The difference is that these windows will now produce electricity to use to offset dependency on local utility supplied power and increase overall building operational efficiencies. This use of photovoltaics in building materials is a growing market opportunity referred to as Building Integrated Photovoltaics or ``BIPV''. XsunX intends to become a recognized leader in the Building Integrated Photovoltaics industry. The Company plans to market the XsunX Power Glass(TM) solar cell structure and manufacturing process as a competitive alternative to non-energy producing coatings and glazing for applications in the worldwide architectural glass, optical film, and plastics markets. Please visit the Company's website for more information: http://www.XsunX.com
Safe Harbor Statement: Matters discussed in this press release contain forward-looking statements within the meaning of the Private Securities Litigation Reform Act of 1995. When used in this press release, the words ``anticipate,'' ``believe,'' ``estimate,'' ``may,'' ``intend,'' ``expect'' and similar expressions identify such forward-looking statements. Actual results, performance or achievements could differ materially from those contemplated, expressed or implied by the forward-looking statements contained herein. These forward-looking statements are based largely on the expectations of the Company and are subject to a number of risks and uncertainties. These include, but are not limited to, risks and uncertainties associated with: the impact of economic, competitive and other factors affecting the Company and its operations, markets, product, and distributor performance, the impact on the national and local economies resulting from terrorist actions, and U.S. actions subsequently; and other factors detailed in reports filed by the Company.
Source: XsunX, Inc.
XsunX, Inc. is a featured Company on RenewableEnergyStocks.com
For full details, click here: http://www.renewableenergystocks.com/CO/XSNX/Default.asp
Contact:
XsunX, Inc.
Tom M. Djokovich
(949) 330-8060
Featured Product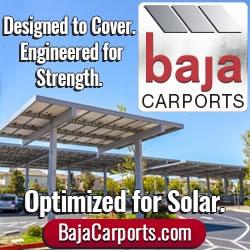 Baja Carports offers an extensive solar support system product line customized to customers' site specifications by in-house engineers, meeting their parking lot coverage, plus optimal PV production needs. Baja's Full Cantilever Tee is often paired with its Semi and Full Cantilever carports to meet live/loads up to 60psf and wind speeds to 160mph. All Baja products are pre-fabricated, bolted connections, pre-galvanized structural steel for fast on-site installation and project aesthetic requirements."