RENEWABLE ENERGY THAILAND 2005 : 7-10 JULY 2005 "Thailand International Renewable Energy Conference and Exhibition" Power Generation from Renewable Energy:Practical Approaches July 8, 2005 / 08.30 -17.30 hrs, BITEC, Bangkok, Thailand
The conference will kick off with a keynote address by the Minister of Energy, followed by an overview on international trends in renewable energy policies and their promotion. Present and the future support schemes in Thailand, which are essential for the future development of renewable energies, will be outlined by the relevant authority, and an overview on the technologies for renewable energy utilization in Thailand will be given by an expert in the field.

In the afternoon there will be four parallel sessions. Each session will start with two presentations by international and national experts in that field, who will deliver an overview about the status of that technology and its potential for Thailand. Following this, industrial case studies will be presented.
Session I will look into options of biomass in its various forms, as biomass is one of the most important renewable energy resources at the moment in Thailand.
Session II will deal with the future prospects using hydrogen and fuel cells as energy carrier and conversion. This technology has a tremendous potential to become an important energy conversion system in the future.
Session III will look into the photovoltaic (PV) and solar thermal possibilities for power generation. Currently PV is still one of the most expensive options to generate power for national grids, but there are expectations, that this will gradually change in the future.
Session IV will concentrate on micro-hydro and wind power, two options which are ready for deployment in Thailand. The technologies are commercialized. In particular, wind technology has taken a major step in recent years in North America and European countries. In Germany, alone more than 14,000 MW of wind power have been installed up to date.
The panel discussion at the end of the day shall explore ways and means to enhance the chances of the renewable energy industry in contributing to achieving the renewable energy targets set by the Goverment.
Conference proceedings containing abstracts and power point presentations of the speakers will be made available.
Featured Product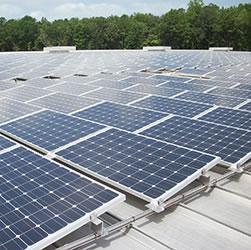 The Power Rail™ Commercial Mounting System is designed with the professional PV solar installer in mind. Both the XD/UD and LD/MD rails feature single tool assembly with the revolutionary patented RAD™ Lock-in-Place bolt for fast and secure module clamping. The high strength marine-grade aluminum rails include an integral wiring channel for securing cables and providing a professional finish.