Passengers will be able to easily and quickly identify their bus stop at night and the ambient light from the address illumination provides additional security and convenience.
Victoria, British Columbia, Canada - June 7, 2005 - Carmanah Technologies Corporation (TSX Venture: CMH) is pleased to announce that it has entered a contract with Viacom Outdoor JCDecaux Street Furniture Canada Limited Partnership to supply 225 units of its i-SHELTER(TM) solar/LED lighting systems for the City of Vancouver, British Columbia, Canada.

Viacom Outdoor JCDecaux Street Furniture Canada Limited Partnership is a joint venture between Viacom Outdoor Canada and JCDecaux, two of the world's largest outdoor advertising companies. They are global providers of street furniture and outdoor advertising in the fast growing public transportation sector.
"We are very pleased that industry leaders such as Viacom Outdoor Canada and JCDecaux have selected Carmanah as their lighting partner for this shelter project," states Art Aylesworth, Carmanah's CEO. "It is a strong statement in support of our transit lighting division and its unique i-SHELTER(TM) technology. We look forward to the completion of these installations, as well as the strengthening of our relationship for future projects."
In response to the successful field trial of one i-SHELTER(TM) lighting system in front of Vancouver City Hall at 12th Avenue and Cambie Street, the city has supported this large-scale rollout of Carmanah's solar-powered bus shelter lighting to be shipped by the end of this month.
"We are pleased to be able to undertake this project with the encouragement of the City and City staff who saw this as a way to bring lighting to transit passengers in an environmentally friendly, cost efficient way and without digging up City streets," states David Struthers, Operations Manager, Viacom Outdoor JCDecaux Canada. "Our previous work with Carmanah made them an easy choice for us in Vancouver.
Carmanah is a valued partner in our effort to present the best possible solution to our customers."
Carmanah's i-SHELTER(TM) solar-powered LED lighting system will internally illuminate signs that display the street location of Vancouver bus shelters.
Passengers will be able to easily and quickly identify their bus stop at night and the ambient light from the address illumination provides additional security and convenience. Benefits include:
- Greater passenger comfort and safety to encourage transit ridership.
- Improved passenger visibility for bus drivers to reduce rider "pass bys".
- Renewable energy technology to reinforce transit as a good environmental choice.
"We are very pleased to have a large order to illuminate bus shelters in our home province of B.C.," states Aylesworth. "This is a great opportunity to showcase our alternative energy technology in one of the world's greenest, most livable cities and in time for major international events such as the 2006 World Urban Forum and the 2010 Olympics."
Viacom and JC Decaux's investment in alternative energy and public transit helps meet many environmental objectives, including:
- The commitment to host a "Sustainable Olympics" in 2010.
- The 1995 CityPlan to increase transit use through improved service.
- The City Principles of Sustainability adopted in 2002.
- The provincial government's new Alternative Energy and Power Technology Strategy to promote B.C.'s $700 million power technology sector.
- The Corporate Climate Change Action Plan for the City of Vancouver, a target to reduce greenhouse gas emissions from city operations to 20 per cent below 1990 levels by 2010.
- The Vancouver Community Climate Change Action Plan, approved by City Council on March 29, 2005, to realize a citywide 6 per cent greenhouse gas reduction by 2012.
Introducing technologies that reduce electricity consumption is highly important in Vancouver. In its 2004 Integrated Electricity Plan, BC Hydro projected an energy shortfall by 2010. New electricity demand in Vancouver is largely met by greenhouse gas emitting, fossil fuel fired generation. Plus, energy analysts have warned that increased demand makes an outdated West Coast power grid vulnerable to large-scale blackouts similar to the one that hit the East in 2003. BC Hydro has recognized Carmanah Technologies as an official part of its demand-side management strategy, listing Carmanah lights in its e.Catalog of approved Power Smart products.
ABOUT THE i-SHELTER(TM)
Carmanah's solar-powered i-SHELTER(TM) and i-STOP(TM) transit stop lighting systems are popular alternatives to hard-wired, grid-connected lighting systems. London, England, was the first city to install the technology in 2002, and since then it has been installed by more than 90 transit agencies in North America and abroad including Toronto, Los Angeles and Edinburgh, Scotland.
Carmanah's i-SHELTER(TM) and i-STOP(TM) LED-based lighting systems require 90% less energy than conventional incandescent bulbs and can operate for up to 100,000 hours before replacement of the LED luminaires. Installation of these systems can be performed for a fraction of the cost of hardwired systems, as there is no digging or trenching required, no electrical permits, no disruption of the street environment or traffic flow, etc. Once installed, they draw all their energy needs from the sun and require minimal operational or maintenance inputs for up to five years.
i-SHELTER(TM) and i-STOP(TM) also utilize Carmanah's patented
MICROSOURCE(TM) intelligence that automatically tailors solar charging and power output performance to any environment up to 60 degrees latitude. For more information, visit www.transitlights.com.
ABOUT CARMANAH
Carmanah is an award-winning manufacturer of proprietary LED-based lighting and illumination products for the public transit, marine, aviation, roadway, and industrial worksite and illuminated signage markets. The Company has more than 100,000 solar-powered LED lighting installations and 50,000 LED illuminated sign installations in 110 countries. The shares of Carmanah Technologies Corporation are publicly traded on the TSX Venture Exchange under the symbol "CMH" and on the Berlin and Frankfurt Stock Exchanges under the symbol "QCX". For more information, please visit www.carmanah.com.
Featured Product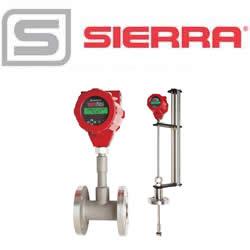 Sierra was the first to introduce a combination volumetric vortex and multivariable mass flow meter in 1997. Today, Sierra's completely redesigned InnovaMass® iSeries™ 240i/241i builds on two decades of success measuring five process variables for gas, liquid and steam with one connection. Now, with the latest hyper-fast microprocessors, robust software applications, field diagnostic and adjustment capability, and a new state-of-the-art flow calibration facility, Sierra's vortex iSeries delivers precision, performance, and application flexibility never before possible.