German Chancellor Gerhardt Schroeder met yesterday with Evergreen Solar (Nasdaq: ESLR) and Q-Cells AG in Thalheim, Germany, the city where a new $75 million solar panel manufacturing plant will be constructed by EverQ, a recently announced strategic partnership formed by the two firms.
German Chancellor Gerhardt Schroeder met yesterday with Evergreen Solar (Nasdaq: ESLR) and Q-Cells AG in Thalheim, Germany, the city where a new $75 million solar panel manufacturing plant will be constructed by EverQ, a recently announced strategic partnership formed by the two firms. The Chancellor also met with CSG Solar AG, a Thalheim-based developer of solar panels.

Evergreen Solar, based in Marlboro, Massachusetts, is a manufacturer of solar power products that leverage its proprietary, low-cost String RibbonTM wafer technology. Based in Germany, Q-Cells is the world's largest independent manufacturer of crystalline silicon solar cells.
"This is a great example of how environmental sensitivity and economic efficiency go together," Schroeder said. "Solar power has the potential to secure the future energy supply in Germany and worldwide."
The German government plans to provide the new EverQ manufacturing facility with grants totaling approximately $34 million at current exchange rates. Construction is set to begin in August and the plant is expected to create between 350 and 400 new jobs in the area. In total, the solar industry employs approximately 30,000 in Germany and created 5,000 new jobs for the country in 2004 alone. "Public funding of solar energy makes sense not only economically but also in terms of energy policy," Schroeder stated.
The solar power, or photovoltaic, market was over $7 billion in 2004 and is growing at more than 40 percent per year. Germany is the world's largest solar power market today, accounting for 40 percent of worldwide spending in 2004. Markets in Japan and the United States rank second and third, respectively.
"Evergreen Solar is establishing itself as a technology leader," stated Evergreen Solar President and Chief Executive Officer Richard M. Feldt. "Our ability to innovate and significantly reduce solar power manufacturing costs is the foundation upon which this strategic partnership was established. We believe the combination of our String RibbonTM technology with Q-Cells' high efficiency cell processing and proven ability to scale manufacturing plants will enable us to become a world leader in the solar power industry."
"Germany has created a model for economic development by supporting the solar power industry that is now being emulated by nations throughout Europe and the world," Feldt concluded. "The continued strength of the German market and the increase in solar power adoption globally is helping to fuel Evergreen's continued expansion. We are eager to commence construction with Q-Cells on the EverQ plant, which we anticipate will be fully operational in the summer of 2006."
About Evergreen Solar, Inc.
Evergreen Solar, Inc. (Nasdaq: ESLR) develops, manufactures and markets solar power products using the Company's proprietary low-cost manufacturing technologies. The products provide reliable and environmentally clean electric power in global markets. Solar power applications include complete power systems for electric utility customers choosing to generate their own environmentally benign power, as well as wireless power for remote homes, water pumping, lighting and rural electrification. For more information, visit www.evergreensolar.com.
Evergreen Solar® is a registered trademark and String RibbonTM is a trademark of Evergreen Solar, Inc.
A Cautionary Note Regarding Forward-Looking Statements
This press release contains forward-looking statements within the meaning of federal securities laws. The Company cautions you that any statements contained in this press release which are not strictly historical statements constitute forward-looking statements. Such statements include, but are not limited to, the following: the Company's expectations regarding the receipt of German government grants; and the expected growth of the photovoltaic market. These statements are neither promises nor guarantees, and involve risks and uncertainties that could cause actual results to differ materially from such forward-looking statements. Such risks and uncertainties include, among other things, the following factors: the market for solar power products is emerging and rapidly developing, and market demand for solar power products such as the Company's products is uncertain; the market for products such as the Company's solar power products is heavily influenced by federal, state, local and foreign government regulations and policies, as well as the availability and size of government subsidies and economic incentives, over which the Company has little control; and the success of its partnership with Q-Cells is subject to numerous risks associated with the development of manufacturing facilities in international markets and depends on many factors that are outside of the Company's control, including the availability of government grants and contributions by Q-Cells. In addition to the foregoing factors, the risk factors identified in the Company's filings with the Securities and Exchange Commission - including the Company's Annual Report on Form 10-K filed with the SEC on March 10, 2005 and Quarterly Report on Form 10-Q for the quarter ended March 31, 2005, filed on May 2, 2005 (copies of which may be obtained at the SEC's website at: www.sec.gov) - could impact the forward-looking statements contained in this press release. Readers should not place undue reliance on any such forward-looking statements, which speak only as of the date they are made. The Company disclaims any obligation to publicly update or revise any such statements to reflect any change in Company expectations, or in events, conditions or circumstances on which any such statements may be based, or that may affect the likelihood that actual results will differ from those set forth in the forward-looking statements.
Featured Product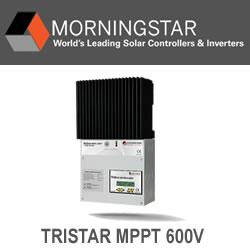 Morningstar's TriStar MPPT 600V charge controller leverages Morningstar's innovative TrakStar™ MPPT technology and our 20+ years of power electronics engineering excellence, to enable the widest input operating voltage range available from a solar array, wind turbine or hydro input. This controller's standard and DB versions are for off-grid applications, and the TR versions were developed to enable retrofitting grid-tied systems with battery backup.