International Renewable Energy and Energy Efficiency Partnership (REEEP) to promote fund targeting renewable energy investments in Asia
London: July 12, 2005 - A new €50m sustainable energy investment fund is to be established in Bangkok. The Private Energy Market Fund 2 (PEMF2) aims to provide services and investment capital to enterprises and projects that generate renewable energy, enhance energy efficiency, and offer energy services in the Asian region. Development financing for the fund has been provided by the Renewable Energy and Energy Efficiency Partnership (REEEP), together with its Finnish partner, Emerging Power Partners (EPP). The countries targeted for project funding will be ASEAN nations, India and China.

When fully invested, PEMF 2 will mobilise equity financing for 10-15 renewable energy projects with a total cost of €200-400 million, and an estimated capacity of 150-500 MW. When implemented, the projects could deliver reductions in CO2 of between 20-30 million tonnes. The fund will build on the experiences of the earlier PEMF1 fund, and will inherit that fund's existing contact network, and its pipeline of deals in the biogas, biomass, small hydro, wind and waste sectors. The activities of the fund will be handled through a Fund Management Company (FMC) operating out of Bangkok. Herkko Lehdonvirta, a Managing Partner of EPP, will head the fund.
"Funding problems facing clean energy sectors in many Asian countries can be eased with targeted investment," said Lehdonvirta. "One focus of the fund will be the promotion, financing and implementation of clean energy projects which enable switching to cleaner fuels and power generation from indigenous sources of energy. With the success of the first fund, I'm confident that we will raise the funds for the second."
The fund will also seek out new opportunities for innovative approaches to funding through the nascent carbon market. It will also aim to identify potential investors in these new fields, and bring investors and projects together with support from the established contact networks of REEEP and EPP. It is hoped that a third fund, PEMF3 will be set up once PEMF2 has been successfully concluded.
"Establishing innovative funding and finance mechanism is essential to mobilising the massive amounts of capital needed to promote energy efficiency and renewable energy across the ASEAN region," said Dr. Marianne Osterkorn, International Director of REEEP. "However, we are confident that with the right funds in place, the opportunity is there to make an impact. Many Asian countries have recognized the importance and benefits that clean energy provides, and they are introducing incentive and policy programmes for renewable energy that will support the efforts of funds like PEMF."
Notes to Editors:
REEEP is an active global coalition of governments, business and organisations that accelerates the development of renewable energy and energy efficiency systems. The REEEP structures policy initiatives for clean energy markets, and facilitates financing for energy projects. Launched by the UK government at the World Summit on Sustainable Development in Johannesburg in 2002, REEEP's International Secretariat was established in Vienna in 2004. www.reeep.org
Contact: peter.richards@reeep.org
Featured Product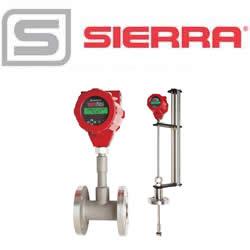 Sierra was the first to introduce a combination volumetric vortex and multivariable mass flow meter in 1997. Today, Sierra's completely redesigned InnovaMass® iSeriesâ"¢ 240i/241i builds on two decades of success measuring five process variables for gas, liquid and steam with one connection. Now, with the latest hyper-fast microprocessors, robust software applications, field diagnostic and adjustment capability, and a new state-of-the-art flow calibration facility, Sierra's vortex iSeries delivers precision, performance, and application flexibility never before possible.