Xantrex Technology Inc. (TSX:XTX) announced that 90 of its GT 3.0 residential solar inverters will be used to help power a large apartment complex in San Marcos, California. Carlson Solar Electric Inc. will install the photovoltaic system in August.
FOR IMMEDIATE RELEASE

News Release
California apartment complex to use 90 Xantrex solar inverters
VANCOUVER, BC and SAN MARCOS, CA - July 22, 2005 - Xantrex Technology Inc. (TSX:XTX) announced that 90 of its GT 3.0 residential solar inverters will be used to help power a large apartment complex in San Marcos, California. The inverters are being shipped from June to August for installation in late summer.
Carlson Solar Electric Inc. of Hemet, California is installing the photovoltaic system, which incorporates over 1000 solar modules in a system more than 200 kilowatts in size. The Xantrex GT 3.0 inverters are a key component of the system, converting the sun's energy harnessed by the solar panels into high quality utility grade AC electricity that is used to power most of the 120 individual units in the complex.
"We decided to use the Xantrex GT 3.0 inverter because the GT 3.0 provides high efficiency, a wide DC input range, an integrated DC disconnect, along with ease of installation, which results in a lower total system cost," said Scott Carlson, President of Carlson Solar. "We also needed to select a reliable inverter for a system of this size, and the Xantrex GT 3.0 inverters, which we have been installing since 2004, have always had very good performance."
"We were happy to partner with both Carlson Solar on system design and installation and Fat Spaniel Technologies for the internet monitoring solution for this project," said Lloyd Gomm, Xantrex Director of Renewable Energy Markets. "More and more installers like Scott Carlson are discovering the reliability and the lower installed cost of the GT 3.0."
Of the 120 units in the apartment building, 90 will have meters connected to the individual solar power systems. Tenants in those units will see average savings of more than 50% on their electric bills. With a predicted energy performance of 252,000 kilowatt hours per year, this photovoltaic installation should pay for itself within seven years. "This installation will serve as a model for other residential developments, and I hope to use it in other projects in the future," said Carlson.
About Carlson Solar Electric Inc.
Carlson Solar Electric Inc. (www.carlsonsolar.com) is a licensed insured electrical contracting company specializing in the installation of solar electrical systems. Carlson has been installing solar electric systems in Southern California for more than 17 years. Carlson has expertise in stand-alone and utility-tied systems, and takes pride in being extremely cost-effective, with a focus on customer service.
About Xantrex
Xantrex Technology Inc. (www.xantrex.com) is a world leader in the development, manufacturing and marketing of advanced power electronic products and systems for the distributed, mobile and programmable power markets. The company's products convert raw electrical power from any central, distributed, or backup power source into high-quality power required by electronic and electrical equipment. Headquartered in Vancouver, British Columbia, the company has facilities in Arlington, Washington; Livermore, California; Elkhart, Indiana and Barcelona, Spain. Xantrex is publicly listed on the Toronto Stock Exchange under the ticker symbol "XTX".
Note that this news release contains forward-looking statements related to Xantrex Technology Inc. Such statements reflect the current views of Xantrex with respect to future events and are subject to risks and uncertainties that could cause actual results to differ materially from those contemplated in these forward-looking statements.
- 30 -
To view this release online, please click http://www.xantrex.com/web/did/1084/readnews.asp
Media Contact:
Cathy Gibson
Xantrex Technology Inc.
604.422.2589
cathy.gibson@xantrex.com
Featured Product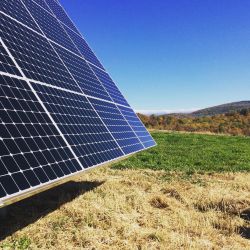 Designed and manufactured in the U.S., the AllEarth Solar Tracker is a complete grid-tied, dual-axis solar electric system that produces up to 45% more electricity than fixed systems. The tracker uses GPS and wireless technology to follow the sun throughout the day for optimal energy production. It has an industry-leading 10 year warranty and 120 mph wind rating, superior snow shedding, and automatic high wind protection. Its simple, durable design and complete system pallet simplifies costly procurement and installation time. Contact us about becoming a dealer partner or purchasing an AllEarth Solar Tracker.